StoryFutures Academy LiDAR and Volumetric Capture for Immersive Storytelling (Remote)
Monday 15th March 2021 - Applications now closed.

In this half day workshop, you'll hear from two cutting edge studios, ScanLAB Projects and NSC Creative, about two different forms of image capture - lidar scanning and volumetric video using Depth Kit. The workshop will demystify how both of these work in practice and how they lend themselves to different types of applications - from 6DoF VR to 360 films and AR apps.
Each studio will present their work, discuss the practicalities of how you go about capturing locations and characters in 3D, and set a hands-on task to be completed in small breakout groups that will enable participants to think deeply about how these sorts of 3D assets can be used to tell stories. The workshop element is aimed at problem solving and creative thinking in a collaborative group setting but due to the remote nature of the workshop you won't be doing any live capturing. Participants will be encouraged to think about various aspects of these forms of capture: the spatial relationships between the viewer and the characters or location, interactivity that can help to increase immersion and the importance of sound design in storytelling.

Participants should have access to a computer/laptop/Mac and a device capable of taking still images (phones and tablets suitable).



ScanLAB Projects is a pioneering creative practice that digitises the world, transforming temporary moments and spaces into compelling permanent experiences, images and film. Their primary medium is 3D scanning and with these assets, they design online environments, immersive installations and objects. Founded in 2010, they have worked with leading architects, broadcasters, scientists and artists from across the world. ScanLAB operate from concept, through to location scanning, and delivered product.Their work has featured in major TV documentaries and cinema screenings, been widely published and exhibited internationally.
NSC Creative is an award-winning studio that specialises in immersive content for XR, Fulldome, Theme Parks and Museums with over 20 years of experience. Heralded globally as innovators of immersion, they have installed immersive experiences in over 1000 venues across 70 countries in 25 languages. The studio has a wide range of expertise from pre to post production and are able to tackle the immense challenges of any immersive project. Situated at the National Space Centre, UK the studio has extensive experience of producing meaningful media, location based experiential design and captivating diverse, cross-generational audiences via immersive storytelling.
Experimental labs are held for small groups of up to 12 participants. Applicants may not have specific creative experience working with capture technology for immersive, but should should be able be able to outline why attending is of interest to their current practice. To apply, please complete the application form. Places will be allocated in accordance with our selection criteria (see below). These Labs are free to attend and we receive a high volume of applications, therefore there is no guarantee on receiving a place and we will not be able to provide application feedback.


Covid-19 notice: Due to COVID-19 restrictions, StoryFutures Academy are currently offering online sessions using virtual conferencing. In-person sessions held in our Immersive Labs at the National Film and Television School and Royal Holloway, University of London will resume in due course.
Key Dates:
Call Closes – 26th February 2021, midnight

LiDAR and Volumetric Capture Lab - 15th March 2021, 9:30 - 1:30pm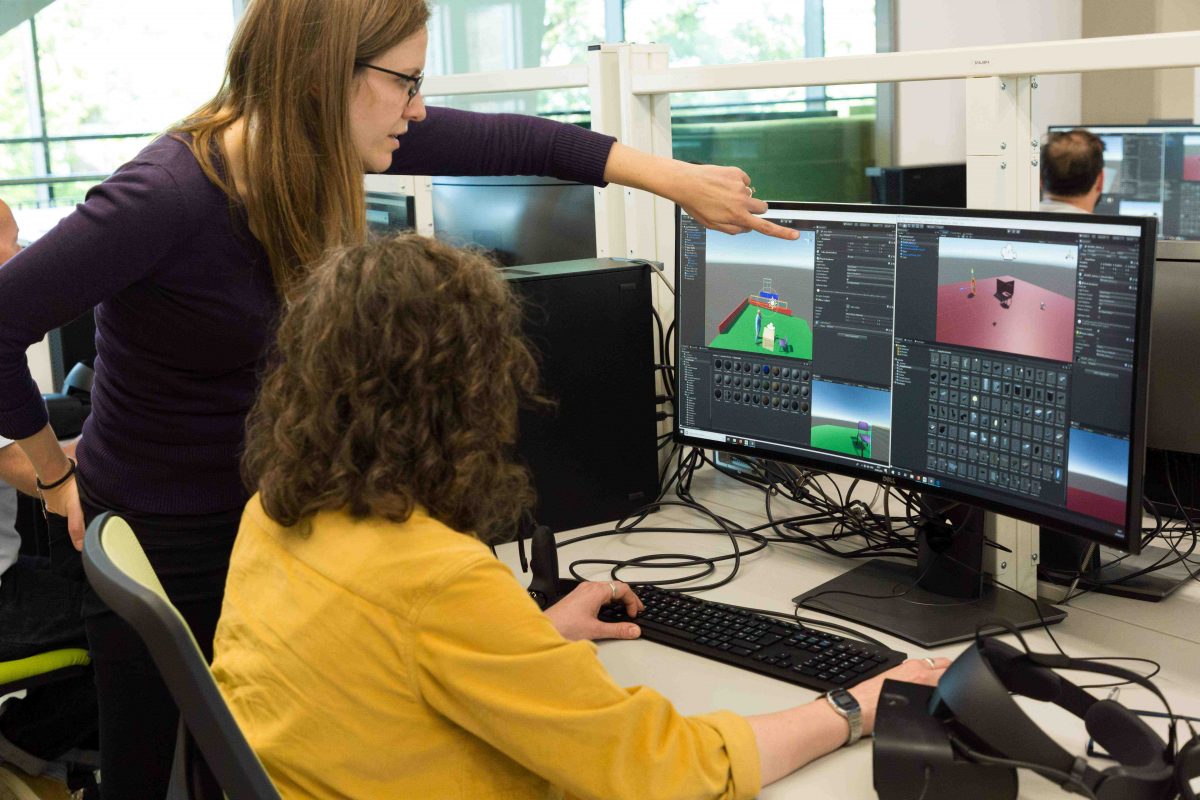 Past labs:
Game Engines for Creatives: Unity -
12th and 13th February 2020
National Film and Television School

Traditionally a core tool for games design, real-time game engines such as Unity are becoming a key tool for the creation of digital content production across many entertainment mediums including immersive, film & TV production. Participants of this skills lab will receive intensive practical experience through an introduction to the Unity software. Participants will learn to design and build interactive digital environments and scenes for VR, followed by an introduction to mobile augmented reality applications. By the end of this lab, participants will have gained a technical understanding of how real-time engines fit into the pipeline of digital interactive production.


Please see our webpage on Games Engine Labs for more information on this course.


Image Capture For Immersive: Photogrammetry
4th September 2020
REMOTE

With a focus on the emerging area of volumetric capture, participants will gain practical experience of tools and methods to capture photogrammetry (static volumetric imagery). This hands-on learning will be supported with presentations and development exercises from an industry-leading immersive technician. By the end of this lab, participants will gain a deeper insight into the requirements and limitations of both photogrammetry and other forms of image capture for immersive content. With guest speaker Philo van Kemenade.
Spatial Audio Sound Design (Skills Lab)
7th December 2020
REMOTE
Spatial audio technology is emerging as a key element of immersive content production. Through introduction to the capture and design of spatial audio recording, participants of this skills lab will receive intensive education in the benefits and limitations of sound design in the immersive arena. Participants will learn to design and build interactive sound environments through hands-on practical training within the Unity real-time game engine, along with development exercises in spatial sound design. By the end of this lab, participants will have gained an understanding of how and why spatial audio can provide a deeper and richer experience of immersive content.
Capture Technology For Storytelling
4th March 2021
REMOTE
Placing elements of the real world into virtual environments has long been a significant part of the digital rendering process. Originally this would have consisted of simple elements like voice recording or 2D sprites, however in recent years capture technologies have allowed us to bring more complex and high-fidelity assets in the work we create. In this one-day remote workshop we will look at motion capture, sound recording, LiDAR, volumetric capture, green screen, depth capture and photogrammetry and discover how these technologies are being employed in immersive storytelling. Participants will also be guided through a hands-on exploration of the photogrammetry workflow and capture their first digital asset. The Capture Technology For Storytelling lab is supported by EM3 LEP's 'Creative Tech Booster' project with StoryFutures.