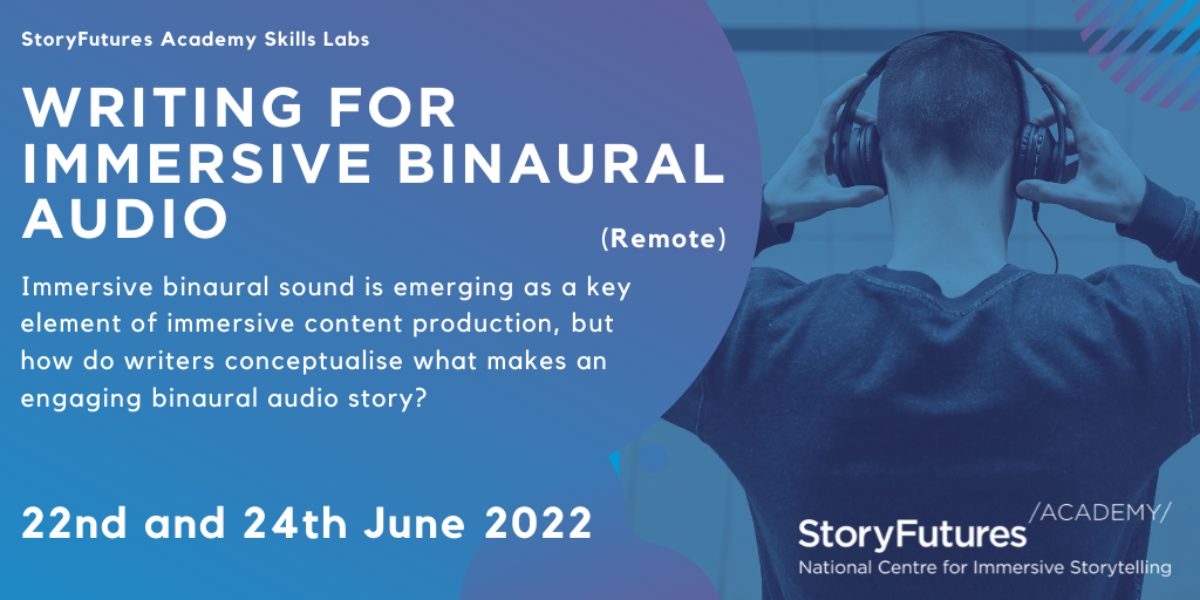 StoryFutures Academy Writers Rooms have been established to train writers and content creators for the immersive future. Writers Rooms will draw in writers and ideas generators from across sectors and disciplines to explore the possibilities of immersive technologies.
We will expose participants to new approaches and understandings of story form, bringing together writers from traditional screen industries with appropriate collaborators with relevant skills in drama, technology and design.

Writing For Binaural Audio, 22nd and 24th June 2022 - Now closed.
Immersive binaural sound is emerging as a key element of immersive content production, but how do writers conceptualise what makes an engaging binaural audio story?
StoryFutures Academy invites writers of all backgrounds with little to no immersive binaural audio experience to join our two half-days 'Writing For Immersive Binaural Audio Lab' which will cover the following:
An introduction to the binaural audio technology and how it is used
How spatial audio can impact a listener's journey through the story
Examples of how spatial storytelling can be used (including location specific trails)
Binaural audio writing exercise with feedback from spatial audio experts.
Guest Speakers
Gareth Fry, Sound Designer
Gareth Fry is a multi award winning sound designer, best known for his cutting-edge work in theatre, on productions such as Harry Potter and the Cursed Child, and Complicité's The Encounter. He has also designed events and exhibitions, from the V&A's landmark David Bowie Is exhibition, to being asked by Danny Boyle to design the sound effects for the Opening Ceremony of the 2012 Olympic Games. His expertise in binaural sound has also led to extensive work in VR / AR / XR, which has featured at the Sundance, Tribeca and Venice Film Festivals.
Recent work includes:
In Pursuit of Repetitive Beats - VR piece for East City Films and Coventry City of Culture
Museum of Austerity - AR piece for ETT, premiered at London Film Festival
Adult Children - VR piece for Donmar Warehouse, premiered at London Film Festival
Stones of Venice - spatial audio 360 film for 59 Productions, Rambert and Manchester International Festival
Draw Me Close - VR project, selected for the Tribeca and Venice Film Festivals.


Duncan Speakman, Composer & Sound Artist
Duncan Speakman is a composer and sound artist based at the Pervasive Media Studio in Bristol. He creates narrative sound led experiences that engage audiences in uncontrolled public and private space. He regularly creates bespoke work internationally including installations on trains in Guangzhou, loudspeaker symphonies in New Zealand, audio walks in Saitama, and sound installations in Porto; he has also recently developed a number of hybrid print/digital experiments. His current research is in the relationship between locative urban audio experiences and contemporary ecology, wrapping the questions in melancholy and romance. He set up and directed the arts collective Circumstance from 2010 – 2017 with Sarah Anderson and Emilie Grenier, later joined by Tom Abba. He continues now as a solo artist and researcher.

This lab takes place over two remote half-days over Zoom. Participant numbers are limited to 8 spaces to ensure participants get time for 1-2-1 feedback and there is a gap between both half day sessions to allow for project work. To apply, please complete the application form. Places will be allocated in accordance with our selection criteria. Applicants must be available to attend both labs dates. These Labs are free to attend and we receive a high volume of applications, therefore there is no guarantee on receiving a place and we will not be able to provide application feedback.
Key Dates
Open Call: Thurs 26th May 2022
Call Closes: Weds 8th June 2022, midnight.
Lab dates (remote):
Day 1 - Weds 22nd June 2022
Day 2 - Fri 24th June 2022


Applications for this lab are now closed.