How do you start telling Immersive Digital Stories? Let Punchdrunk show you how. - SFA's first Writer's Lab
StoryFutures Academy

June 3rd 2019
There are things that you notice when you are new to something that once you start getting good, you never see again. It's like when you start at a new job and can see all the problems in work flow clearly in a way that your colleagues can't. A couple of weeks later you are just part of the team and your insights are gone forever.
This short blog is about my first impressions of learning to become an immersive storyteller. It comes from a two-day workshop held at Punchdrunk's R&D village in Tottenham Hale. The workshops were organised by the Writer's Lab at the StoryFutures Academy.
Punchdrunk is a British Theatre Company, formed in 2000 by Felix Barrett. Since its inception, Punchdrunk has pioneered a form of immersive theatre in which the audience is free to choose where they go. The productions are legendary. The scale of their shows is vast, and the level of detail in the worlds is sublime. As they say themselves, in a Punchdrunk world, every rabbit hole leads somewhere and every envelope has something inside.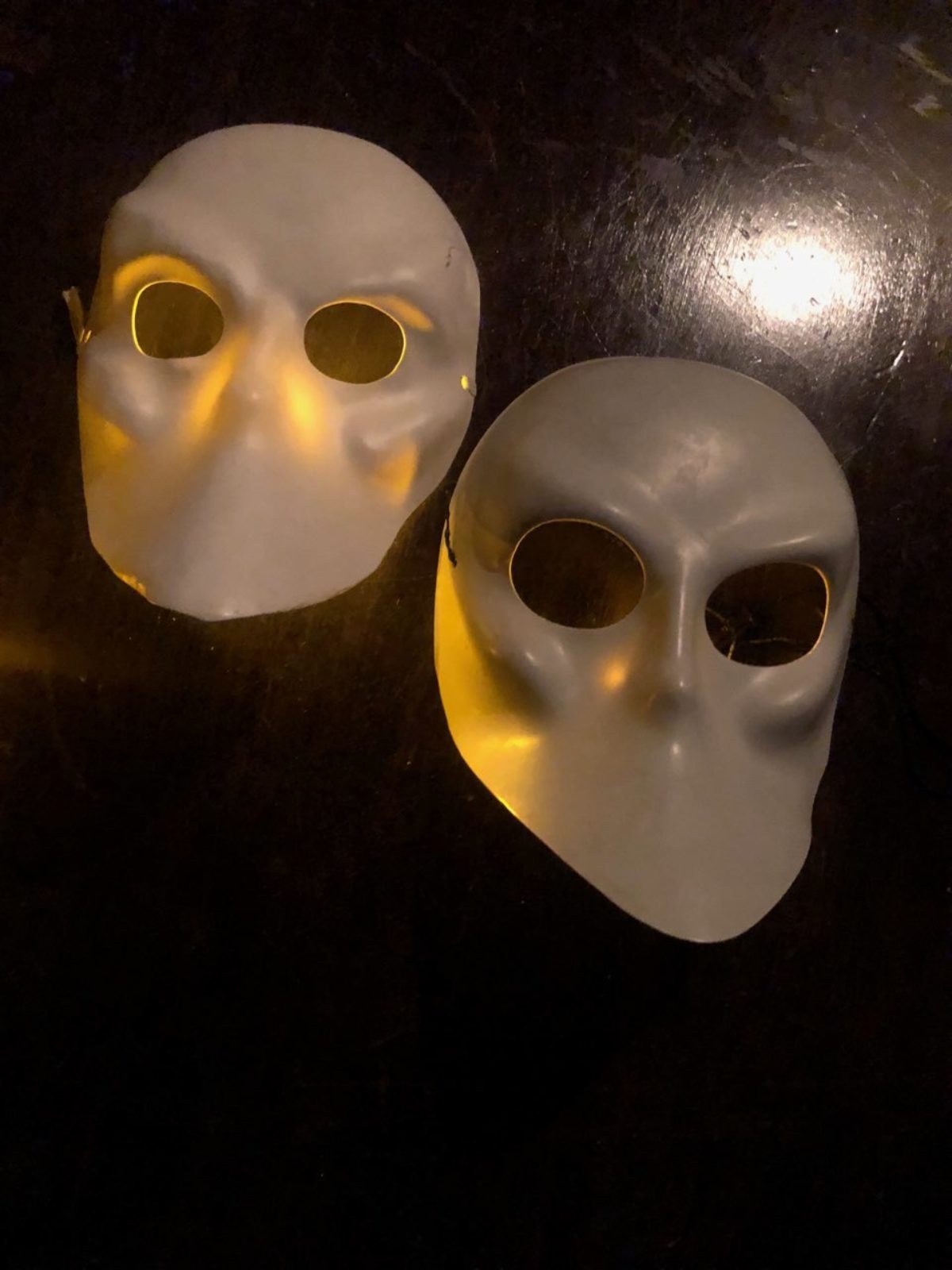 The shows spawn a kind of devotion in their audience which has seen some devotees return to the same show over a hundred times. Whether it be in Shanghai, New York or increasingly into schools most in need in London and beyond. Blowing people's minds is just what they do. If anyone can train you to be an immersive storyteller, they can.
Their R&D space is called space is called Fallow Cross. It is loosely based on a village in Devon which the founders visited as students.
It's part of the deal that to enter the Punchdrunk world you shed the outside world. You need to let go of the world of distraction and enter a new exploratory mode. Often their shows might take you through a series of darkened passageways. It is no different when going through the doors to Fallow Cross, the darkness draws you in. You become aware of detail slowly, you can't quite see to the end of a room. It isn't about being creepy. It's about being put into a state of alertness. Eyes wide-open. Ready to receive a story. In this state people drink in much more storytelling. To tell the truth, the participants in the workshop are more than happy to go through any door to Narnia. It's ten days before Christmas, work-life is fraught.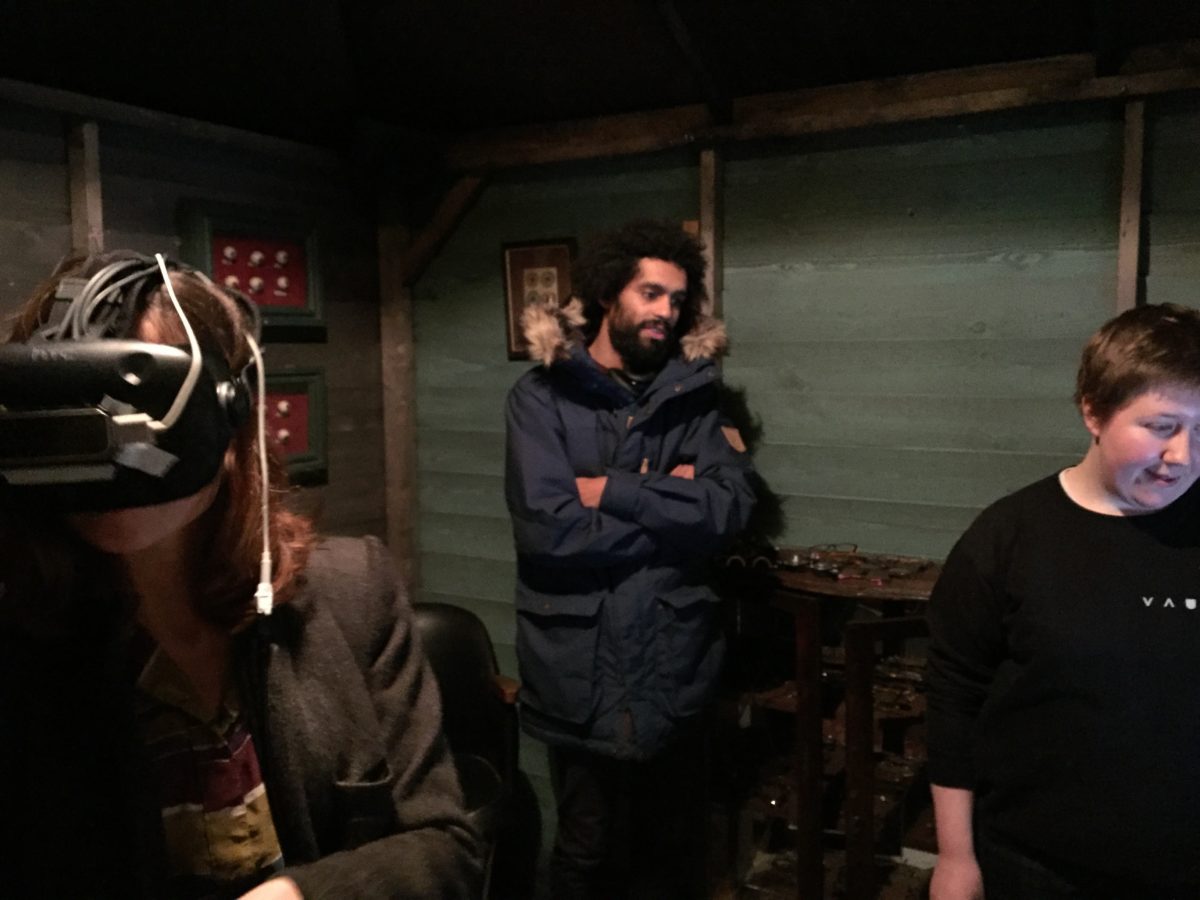 Punchdrunk's stories worlds are often set in the past, the exact date just out of reach. We are ushered into an old classroom.
Our guides for the two days are Pete, Alex and Joel. They form part of the Punchdrunk Enrichment team. Their goal — to go out to communities and schools and do the good work of blowing people's minds. Together, there isn't much they don't know about immersive storytelling, and as they start our lab, they brief us about the town of Fallow Cross.
Who are 'we' you might wonder, well we are guinea pigs selected from the worlds of Architecture, Engineering, Software Development, TV producing, Writing and Teaching. We have been chosen from many diverse disciplines, to see if we can create originality from our differences.
Punchdrunk brief us. We have two days to develop an idea for a possible AR/VR project which uses Fallow Cross. They are going to give us complete control of their 11,000 sq ft R&D space. They want to see if we can create stories that successfully span the real and digital world. The lights dim. A door opens. All is quiet. We step forward.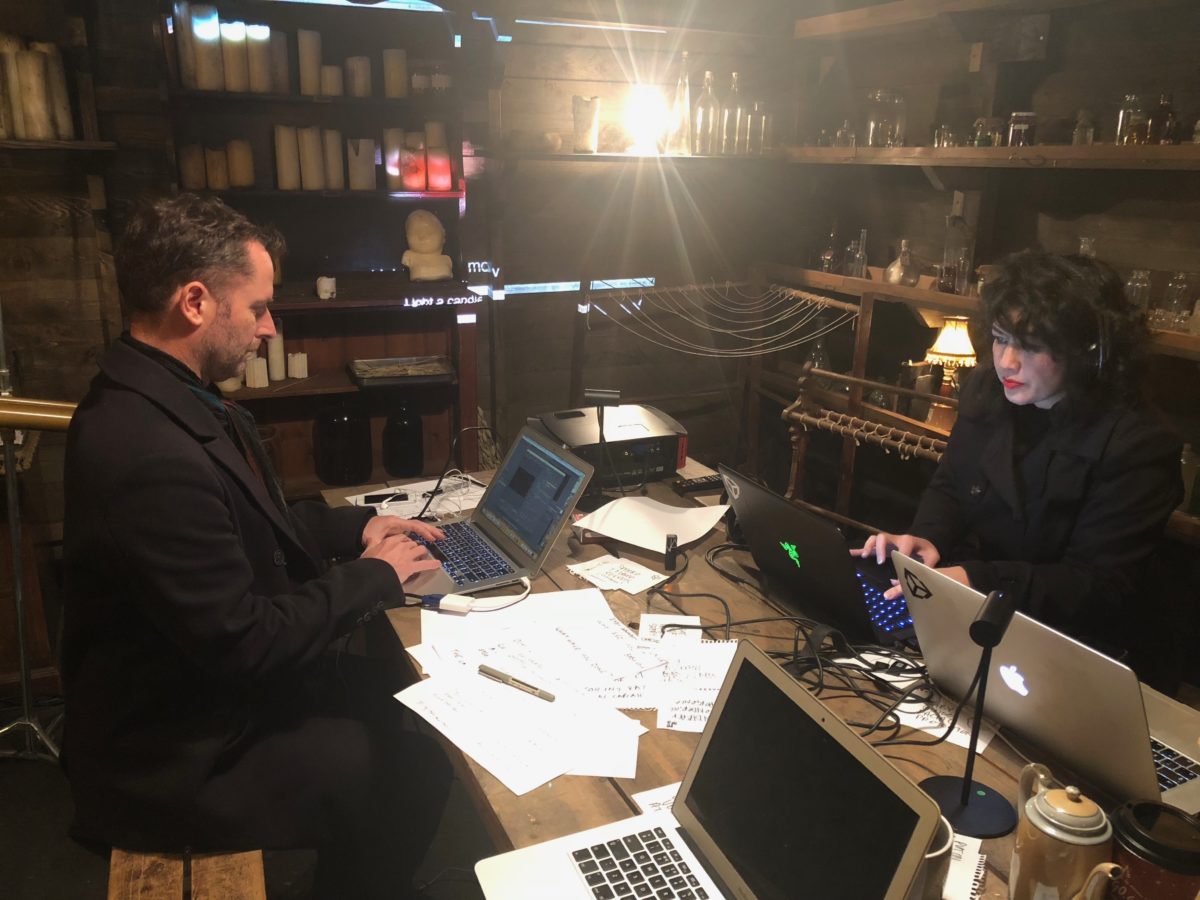 On day two, Joel started us off with a game of 'Werewolves'. He is the best Dungeon Master. It made me realise that Dungeon Masters are the best at creating immersive worlds. It's not so much about winning in R&D. It's about meeting up again and again and seeing how creative you can be to keep the whole thing going. A bit like life really.
Free play is so important in creativity. Punchdrunk let us play, they gave us control of every light and every speaker in every house, church, pub, in Fallow Cross. This meant that every space could react to the participant as they moved. In immersive stories, the audience is expected to take their own story forward. They are the centre. There is no narrative in a traditional sense. For a writer of stage or screen this is a shock. You can't guarantee that your audience will be looking at where the next narrative beat is located. As a team we learnt this the hard way. Our audience didn't go in the directions that we had hoped. Some people went straight to the finale without the steps we had hoped them to follow. Immersive storytelling is the art of herding cats. It's a place where you have to understand the logic of human behaviour. Punchdrunk are experts on logic as well as detail.
At the end of day two, we had a sharing. Four teams had developed immersive experiences, that incorporated some element of technology and VR. One team asked for Punchdrunk to bring out the masks for which they are famed. They duly obliged.
Space doesn't permit it. But a big conclusion for me, is that traditional narrative arcs, where we follow a character slightly more heroic than ourselves through a series of challenges until the reach a climax that releases us from all that tension, isn't going to cut it with immersive storytelling. In immersive stories you can only give the audience a sense of where they are in the narrative. Be too didactic in your arc and you are going to break the illusion of freedom. Punchdrunk teaches you that you have to create worlds big enough and free enough for a person's internal ruleset can be revealed. You can only guide, you cannot control. You have to be the kind of storyteller that is comfortable with being misunderstood.
Share this article: