Inclusive Design for Immersive Experiences Challenge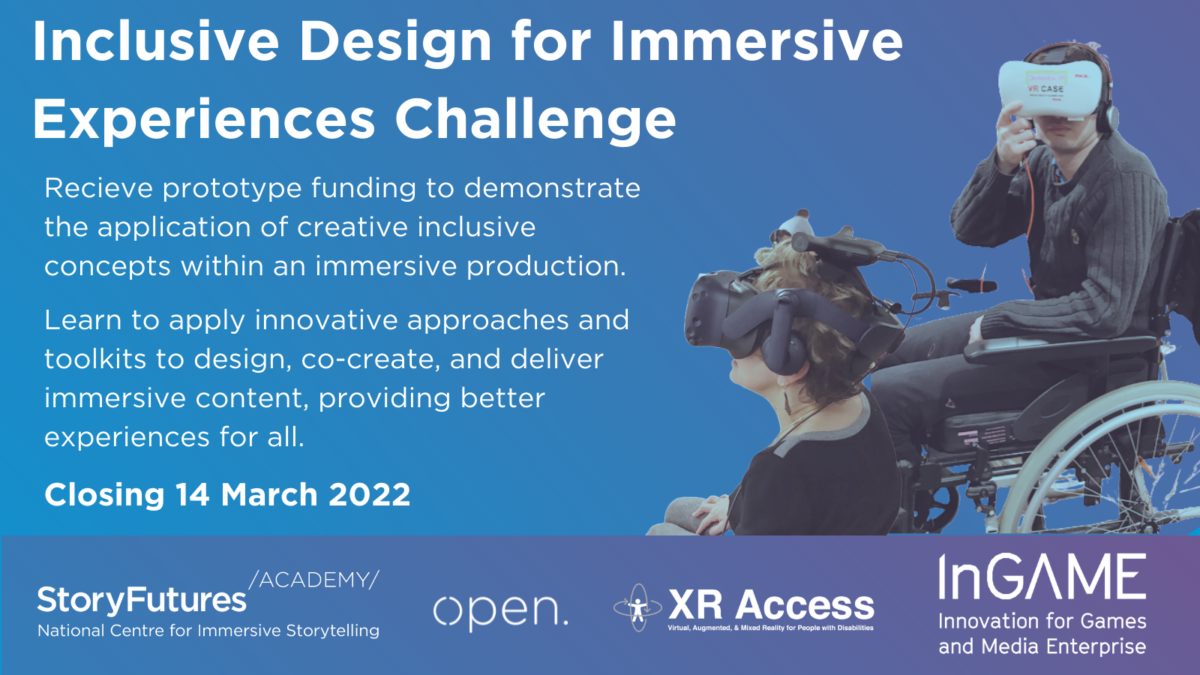 This call is now closed.
Are you a dynamic creative company with a track-record in immersive content creation? Do you want your content to be accessible to the widest possible audience? If so, you can pitch for £35,000 prototype funding to demonstrate the application of creative inclusive concepts within an immersive production.



The Inclusive Design for Immersive Experiences Challenge offers SMEs the opportunity to work directly with InGAME and StoryFutures Academy, Open Inclusion and XR Access, to pilot an experimental Inclusive Innovation Process. Learn to apply innovative approaches and toolkits to design, test and deliver immersive content that provides better experiences for all. Create immersive content that is more accessible and delightful to those with permanent lived experiences of disability. And to all of us who temporarily or situationally move, sense, think or feel differently. Inclusive design improves the reach, user experience and consistency of immersive experiences.
With access to cutting-edge expertise in inclusive design, immersive production, commercialisation support, audience insights and user testing, this opportunity includes focused workshops to help you upskill in and embed innovative user-centred design practises into your productions. The Inclusive Design for Immersive Experiences Challenge is a competitive process consisting of two stages:

The Inclusive Innovation Lab – a four-day highly interactive programme designed to rapidly upskilled SMEs in the practice of inclusive innovation and design (held online)
The Inclusive Design Accelerator – two teams are selected for a remote eight-week programme to test and embed inclusive innovation concepts and user-centred features within existing, near-to-market IP.
This call closes on 14th March 2022. Decisions will be communicated via email by the end of 22nd March 2022.


How Do I Apply?
This call is open to all immersive content production SMEs in the UK.
Ensure you are applying with the right organisation (InGAME for Scotland, SFA for England, Wales and Northern Ireland)
Read all guidance
Read the Heads of Terms
Read the guidance on submitting pitch deck
Upload a Pitch Deck to complete your application
Do you have questions?
If you are based in Scotland you can book a meeting with the InGAME team HERE.
If you are based in England, Wales or Northern Ireland you can join StoryFutures Academy for an informal webinar on Wednesday 23rd February 4-5.30pm. Register HERE.


StoryFutures Academy is the UK's National Centre for Immersive Storytelling, run by the National Film and Television School (NFTS) and Royal Holloway, University of London. Funded by the Arts and Humanities Research Council, part of UK Research and Innovation, the Academy develops cutting-edge creative training and research programmes, to ensure the UK creative workforce is the most skilled in the world in the use of virtual, augmented and real-time production technology for immersive storytelling.
Alumni of StoryFutures Academy labs have so far included Oscar and BAFTA winning Director Asif Kapadia, Oscar winning VFX Supervisor Paul Franklin and Turner Prize winning conceptual artist Gillian Wearing OBE.
With our partners, over £1m has been invested in UK immersive production, across co-productions with BBC3, and Production Booster and Kickstart development funding. The award-winning VR Documentary Common Ground was the first-ever funded co-production, premiering at the Tribeca Film Festival in early 2019. Violence, an artistic collaboration between film director Shola Amoo (The Last Tree) and producer Eleanor Whitley (Marshmallow Laser Feast), had its world premiere at the Tribeca Film Festival, as part of the Cannes XR Virtual at the Marché du film de Cannes, in June 2020. Laika, commissioned by StoryFutures Academy and directed by BAFTA and Academy Award winning Asif Kapadia, made its world premiere in VR at BFI London Film Festival 2021 as part of their Expanded programme.
InGAME is the AHRC centre for research and innovation in games and immersive technologies. Its purpose is to drive growth and innovation within the Dundee videogames cluster through experimental research and innovative models of collaborative R&D between industry and academia.
InGAME believes applying game design techniques, tools and technologies to real-world problems and challenges has amazing potential to drive positive change. Game design techniques, tools and technologies are transforming the world. Games are the sandbox for our near future. Game experiences and technologies are powering Web3 and its Metaverses. Game technologies provide synthetic environments for improving health and wellbeing, reducing environmental impact, boosting productivity, de-risking policy interventions and empowering radical innovation. And game design techniques can not only entertain us but motivate us to be happier, healthier and more productive by playfully designing meaningful incentives into non-game experiences.
Funded by the AHRC's Creative Industries Clusters Programme as part of the Industrial Strategy Challenge Fund and the Scottish Funding Council, InGAME is embedded in Dundee's vibrant and thriving videogames cluster. Led by Abertay University, in collaboration with the Universities of Dundee and St Andrews, InGAME's industry partnership network includes Sony Interactive Entertainment, Microsoft, Roblox, Outplay Entertainment, 4J Studios, the BBC, Innovate UK, Creative Dundee, Creative Scotland, Dundee City Council Scottish Enterprise, V&A Dundee, Ukie and Women in Games
Open Inclusion is an inclusive insight, design and innovation agency based in London and operating globally. It was founded in 2015 to infuse design with more inclusively human insights. We help organisations identify opportunities to design better experiences. Experiences that work more consistently for all, through pan disability and age-inclusive community engagement and research.
We all think, feel, move and sense differently. Open helps design and innovate for these differences, to create valuable and sustainable solutions. Working with our diverse community of +650 people in the UK (our direct community) and +250K people globally (through collaborative partnerships) we illuminate opportunities, build broader data and capture specific stories and use cases. These insights, fuelling Open's practical and market leading inclusive design and innovation process, provide a richer understanding of a solution space, support evidence-based prioritisation, and help design more consistently delightful solutions that we can all access, use and enjoy. Our clients include industry leaders such as Google, Microsoft, John Lewis, Aēsop, Merlin Entertainment, Colgate Palmolive and NatWest Innovation.
We are often engaged in the development and use of emerging technologies such as immersive experiences. These provide new opportunities to solve currently unmet needs, which are particularly prevalent in communities with diverse characteristics. By doing this work we also ensure we don't create new barriers in new formats, instead identifying solutions that will work more consistently, equitably and valuably for all. We empower organisations to identify and deliver better solutions whether digital or physical products, built environments, communications or customer services, through inclusive, participatory engagement. Listen more broadly. Create more valuably.