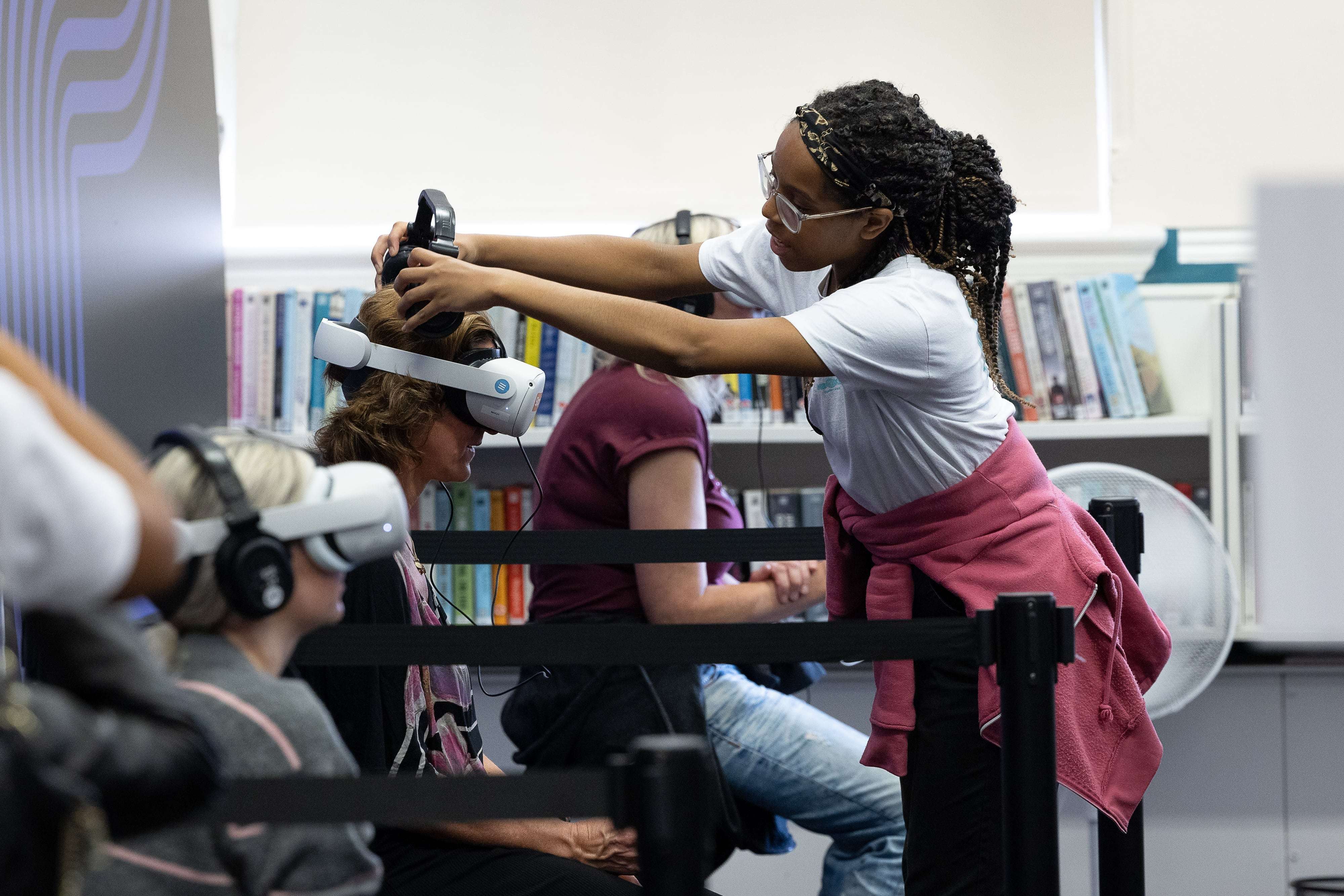 Prototypes
StoryFutures provides funding and training to SMEs and industry partners to create prototype immersive project, as well as support from our Audience Insight team to ensure a project is audience ready.

StoryFutures commissioned 7 eligible creative companies to use and interpret our national media archives, in partnership with the BFI and BBC. These SMEs prototyped new narrative VR experiences and storytelling approaches. A selection of VR works are now available to play for free in selected libraries on Meta Quest 2 headsets.
Get Punked!

Delve into Alex's teenage diary from the 70s & 80s and follow her as she discovers the world of punk music.

Kindred

After years of setbacks and rejections, Syd gets matched with a child, Ollie, and in the process helps redefine the meaning of family

Life Cycles

A journey through time in the UK that paints a picture of the cyclist through eras to understand the effect that two wheels and a frame can have.

The Museum of Imagined Futures

Get a glimpse of how humans and technology might live in balance with nature - explore what our oceans, forests and cities could look like in fifty years time.

Off The Record

Celebrate British South Asians and their rich musical heritage - from the rise of Bhangra in the 70s to the daytime raves of the 2000s

Promenade

Watch the untold story of Mike, a 2nd generation Greek Cypriot immigrant restaurant worker who became an influential RCA Textile Designer & Master Printmaker

Accessible Lives

In Accessible Lives, discover 100 years of cutting-edge inventions, assistive technology and the stories of people with disabilities using them.
StoryFutures China brings together two of the world's leading cultural institutions - The National Gallery in the UK and Shanghai Science and Technology Museum in China - to research, prototype and develop immersive storytelling experiences that both enhance visitor experiences on-site as well as allow for the Gallery and the Museum to take experiences to the audience.
In China - Keeper of Birds
Coming soon
In China - Keeper of Birds

Coming soon
VP R&D Discovery Pilot Programme
Our R&D programmes fuel innovation in screen and performance industries by developing new immersive tools, production methods, story formats and business models. We have funded 130+ R&D projects with leading creative businesses, academic experts, and major innovation partners from Discovery to The National Gallery to Heathrow Airport. Our collaborations work to unlock the huge growth opportunities offered by virtual and augmented reality, AI, haptics and more.