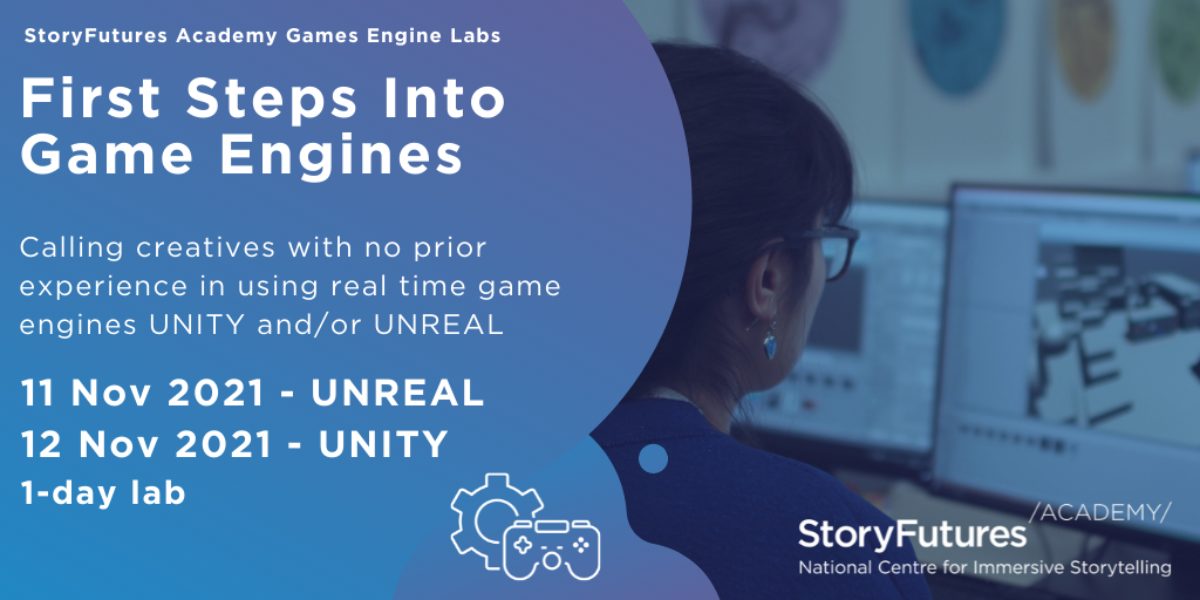 First Steps Into Game Engines:

'First Steps Into Game Engines' is a 1-day lab that aims to demystify the use of real-time game engines and will help you choose the right one for your project through the opportunity of getting hands on with either Unity or Unreal Game Engines.
This is an open-call for up to 10 participants per lab, and all applications will be considered that meet our eligibility criteria.
Information:

Real-time game engines are set to become the 21st century's most significant creation and distribution platform, impacting all sectors of the entertainment industries.

Although originally created to ease the development of computer games, real-time game engines have grown to include many uses such as TV and Film production, data visualisation, sound installations as well as virtual, augmented and mixed reality. This flexibility means that real-time game engines are the end point of most immersive workflows. For those just getting started the use of game engines can seem daunting and overwhelming.

First Steps Into Game Engines is supported by EM3 LEP's 'Creative Tech Booster' project with StoryFutures. EM3 LEP supports people and businesses across the West Surrey and Hampshire regions. StoryFutures Academy's First Steps into Game Engines course is free to access for companies across the country, with 3 places reserved for companies from the EM3 LEP region - simply provide your postcode and mark the appropriate box on your application form to confirm you are part of the EM3 LEP region (see application form).
These labs will be held in our immersive lab situated in the historical and beautiful grounds of Royal Holloway University of London in Egham, Surrey.


Upcoming Labs:
Thursday 11th November 2021 - UNREAL ENGINE 4 lab - Now Closed.
Friday 12th November 2021 - UNITY ENGINE lab - Now Closed.

Key Dates
30th September 2021 - Call Opens
25th October 2021, midnight - Call Closes
29th October 2021, approx. - Applicants are notified on their workshop status
11th November 2021 - UNREAL Workshop, Royal Holloway University of London
12th November 2021 - UNITY Workshop, Royal Holloway University of London