UK-Canada Immersive Exchange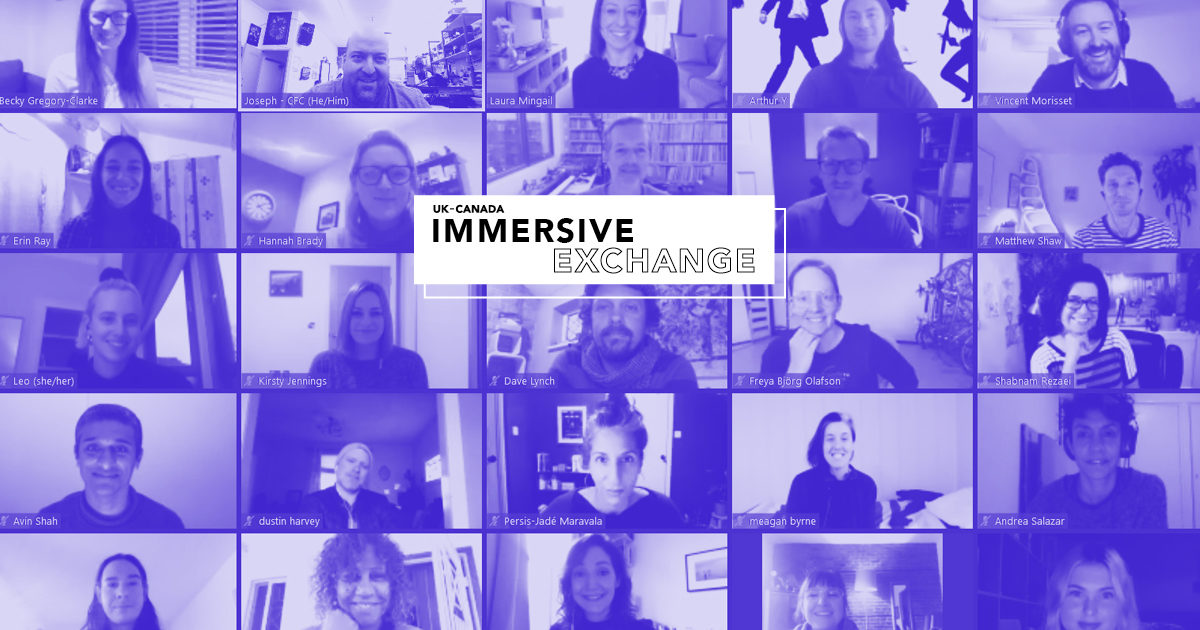 Participants Announced for UK-Canadian Co-Production Programme for Immersive Storytelling
24 creatives from Canada and the UK have been selected for the UK-Canada Immersive Exchange
London, Thursday 26 November, 2020 ‒ The participants for the UK-Canada Immersive Exchange, a new talent development and co-production programme for UK and Canadian immersive technology creatives and producers, have been selected. Twenty-four participants – 12 from the UK and 12 from Canada – were chosen from nearly 500 applications. They include six creative leads from each country – a mixture of artists, filmmakers, theatre directors and visionaries – as well as six creative producers from each country, who bring with them an impressive and varied range of experiences from across the creative spectrum.

The pioneering programme between the two countries, both recognized as leaders in immersive production, will for the first time provide structured opportunities for international collaboration and knowledge exchange in this important growth area for the arts and creative industries...
Read the full news article
The year-long programme is supported by a newly formed international collaboration between StoryFutures Academy (run by the National Film and Television School and Royal Holloway, University of London), Arts Council England, the Canada Media Fund, The Canadian Film Centre's Media Lab (CFC Media Lab) and the Canada Council for the Arts.
The UK-Canada Immersive Exchange will support and champion an international cohort of artists, filmmakers and creators from Canada and the UK, aiming to be future leaders of immersive storytelling. They will work with emerging technologies, including virtual reality (VR), augmented reality (AR) and mixed reality (MR). Mentors and experts from across the UK and Canadian creative landscape will support the programme, including those highly skilled in brokering international co-productions.
For more information on the UK-Canada Immersive Exchange, please visit:
http://cfccreates.com/programs/183-uk-canada-immersive-exchange