Announcing four Immersive Mental Health Fellows in collaboration with Nesta
StoryFutures

April 17th 2020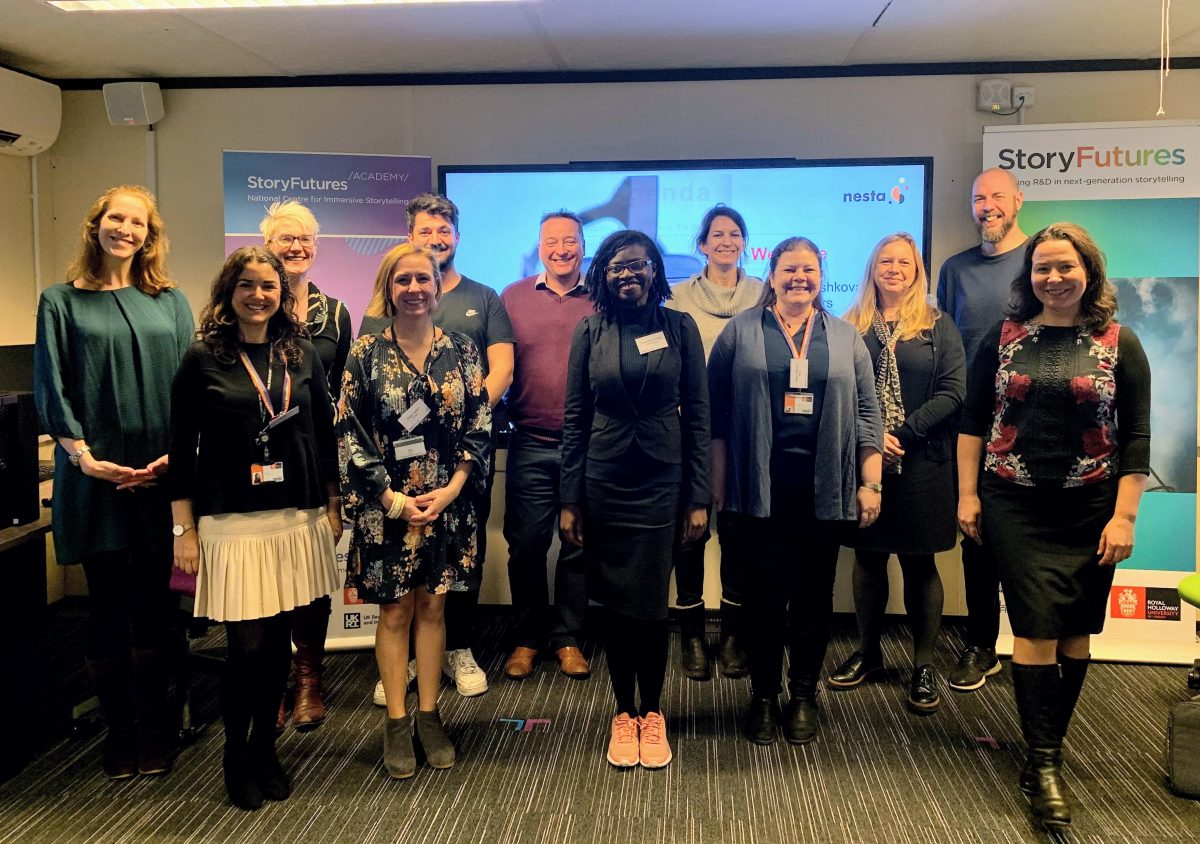 In the UK, one in four adults and one in ten children experience some form of mental illness. Numbers of those seeking help are soaring while healthcare providers struggle to cope with demand. In this context, approaches that promote good mental health practices, and prevent the development of mental health conditions are increasingly important.
This is why StoryFutures, the Creative Industries R&D catalyst have partnered with Nesta, the UK's innovation foundation, to develop a brand new immersive economy and wellbeing initiative. Our cohort of newly appointed Immersive Fellows will be exploring how experiential storytelling and psychological expertise can be combined to support better mental health and wellbeing. Four immersive companies from our cluster region will collaborate with Royal Holloway, University of London's world-renowned Psychology Department and experts in depression, emotional processing, and family mental health to develop and build a series of early prototypes to help in the prevention of certain types of condition.
The Fellowships will provide each company with £20,000 to fund their work and they will benefit from significant support in areas such as impact measurement, business modelling, creative editorial support and audience insight from teams at Nesta and Royal Holloway.
James Bennett, Director of StoryFutures and Professor at Royal Holloway said: "This is a ground-breaking initiative for our world-leading creative industries: we are matching great creative companies with cutting-edge psychology research to open up a new market opportunity and deliver value to the public at a critical moment for both public mental health and the vitality of the creative sector. Fusing different sectors will, we believe, generate innovation in immersive experiences for the benefit of all.
The companies who were selected for this fellowship following a rigorous application process are:
Wokingham-based digital content studio Austella will be working with academic partner and expert in emotional development Dr Dawn Watling to develop and pilot an immersive well-being application based on the psychological principles of psychoacoustics and psychovisuals.
Immersive healthcare experts and Richmond based studio Cassette, are partnered with clinical psychologist Dr Olga Luzon exploring the use of virtual reality as an experiential tool to enhance interoception.
Guildford based games company Play Well for Life will be working with a leading expert in child, and young peoples mental health Professor Helen Pote on an immersive board game that will facilitate storytelling and gameplay as a way to learn wellbeing skills.
VR Revival create uplifting social experiences in VR for currently underserved audiences and they will be working with an expert in emotional processing Dr Inês Mendes on a VR application to help with feelings of distress, inadequacy and failure through self-compassion.
Mansata Kurang, the founder of VR Revival, will be creating the first VR application to help adults to develop the skills to deal with feelings of distress, inadequacy, and failure through self-compassion. She said, "Super excited for this collaboration! Feeling empowered with International Women's Day just behind us and also after being selected as a 2020 FDM everywoman in Technology Awards finalist last month. I envision great things to come with this powerhouse of support now."

If you're a creative professional interested in immersive tech and storytelling, have a look at our latest Immersive Fellowship opportunities.

Share this article: