Announcing StoryFutures Academy Train the Trainer 2 Showcase
StoryFutures

July 30th 2021

Following the success of the first cohort of seven university projects upskilling over 100 trainers across the country for Train the Trainer, StoryFutures Academy announced a second cohort in January 2021. A further seven projects received awards totalling £119,000 and these projects were part of the Train the Trainer 2 (TTT2) showcased on Friday 30th July 2021.
The universities funded in this second round addressed some of the higher education sector's emergent challenges, bringing the sciences together with the arts (STEAM) to help teach our brilliant creators of the future a set of essential crossover skills.
"We're really excited by the initial findings of our second StoryFutures Academy Train the Trainer cohort. Last year, we set out to build higher education capacity to create a talent pipeline for immersive production and we're starting to see encouraging results. More than 2000 students will benefit from nearly 30 courses introducing them to the world of immersive production.
Bringing together academics from nearly 60 disciplines ranging from biochemical engineering to film studies, the projects worked closely with industry partners at the bleeding edge of immersive technology and production. In particular, three of the latest TTT2 projects broke new ground: testing, studying, and subsequently creating courses around state-of-the-art virtual production techniques, only recently being tested by Hollywood studios. Getting ahead of the game, these academics hope to train the first generation of virtual production crews who will be making the movies and TV shows we'll be watching in the years to come."
- Mary Matheson, Train the Trainer Executive Producer & Project Lead


UWE Bristol
'Can you hear me now': a forward-looking teaching programme to support students in designing and developing dynamic and sophisticated immersive soundscapes.

This project allowed UWE Bristol to develop a pioneering teaching programme supporting students in designing and developing dynamic immersive soundscapes. As a result of this programme, UWE Bristol was able to invest in a state of the art ambisonic microphone, the Sennheiser AMBEO VR which helped the team immeasurably in advancing their own understanding of different capture and post-production techniques, and the appropriateness of tools such as the ambisonic mic, binaural heads and shotgun mics in different contexts.

The workshops, mini-masterclasses, knowledge and materials developed during this pilot programme will now be nested within the foundational 'Practical Experiments in Immersion and Interactivity' module at UWE Bristol. The pilot activity took place during a module called 'StoryLab' in which students respond to live industry briefs in teams with the hope that the curriculum developed will arrive at an earlier moment in the student's development, and that it will complement and enhance the programme of skills training and challenge-led practical experimentation that sits at the heart of this module.


University of Surrey
'Transience of Memory': A set of creative collaborations, enabling multidisciplinary teams to use virtual production techniques in the making of interactive narrative experiences exploring the transient nature of memory.
At its core, 'Transience of Memory' is a creative brief for small multi-disciplinary teams of media and performance practitioners. Teams of approximately 5 students from various disciplines are tasked to work together to create an interactive narrative film. Teams are encouraged to think widely and creatively about the transient nature of memory, its relationship to the imagination, and its interaction with mood and emotion, with the aim of developing an engaging interactive story that they will subsequently produce as an audio-visual artefact. The Transience of Memory is an intense collaborative educational experience and enables both student teams and researcher-practitioners to create significant portfolio pieces which both demonstrate high-quality production values and deliver high levels of creative impact.

The University of Surrey aims to offer its students an array of technological tools and techniques to realise their creations – including character photogrammetry, performance capture, and live-action performance direction within the LED virtual production volume. Sound design aspects will also be a key consideration; with sound, specialists orchestrating a combination of recording, synthesis, and post-processing. They also aim to develop two core initiatives: Development of our new MA in Film, Animation, and Digital Arts (FADA), and Building and deployment of an experimental Virtual Production Studio (EAVS). The further development of the Transience of Memory exercise is a central part of the MA FADA offering.


University of Greenwich
'Virtual Production (VP)': An interdisciplinary approach to Virtual Production collaborations to enable the creation and delivery of curricula and teaching materials for VP development and production workflows, including the on-set use of motion tracking systems and rigs, as well as high-powered games engine workstations in film production.
The University of Greenwich aimed to look ahead to the industrial needs of the future and ensure it is producing highly skilled graduates with the correct skills to fill existing skill gaps, specifically in relation to VP. One of the aims of their project was to address the new agile or iterative workflow processes and procedures for a specific kind of virtual production, that is "green-screen hybrid" VP, in which actors are shot in a green-screen studio and inserted into a virtual environment created within a render engine such as Unreal, or Unity. As a result of this Train the Trainer programme, the University of Greenwich has created and modified three different educational pathways:
8-Week VP course inserted into an existing final year/Level 6 undergraduate module (BA Film and TV Production). With a key aim to expose students to elements of virtual production theory and practice, as an emerging film practice and what current and future opportunities exist in the sector.
Future Learn Short Course: A 6-week short course that introduces VP for those who are new to it, and a taster of what it is like to work in the VP industry is being prepared for inclusion and dissemination via www.futurelearn.com. With the intention of providing a taster of VP and act as a way of opening the market to further and more in-depth study, or even act as a recruitment funnel to encourage undergraduates to study at institutions offering VP training.
VP 2-Week Bootcamp: 2- week intense short course, or "bootcamp" for VP, which will be offered as a commercial proposition by the university from 2022. The course will be aimed at professionals working in the industry who want to speedily get to grips with virtual production with the aim of moving into this side of the industry.



De Montfort University
'Transdisciplinary Prototyping': training staff across Performance, Game Development, AI, Game Art, Media, Production, Film Making, Immersive Journalism, VFX, Music Technology and Audio Technology to enable students to work collaboratively to develop immersive experiences.
This project addressed one of the key challenges of immersive storytelling - working in and across transdisciplinary teams. The Institute of Creative Technologies (IOCT) at De Montfort has developed a model of transdisciplinary creative rapid prototyping (RIPA) currently used with their industry projects/Postgraduate Curriculum. This project piloted the potential use of this model of transdisciplinary intensive labs for immersive storytelling through teaching-led workshops. Staff from Performance, Game Development, AI, Game Art, Media Production, Film Making, Immersive Journalism, VFX, Music Technology and Audio Technology came together in transdisciplinary teams for training and practice around immersive storytelling, providing access to the necessary technical and collaborative skills. Both staff and students discussed how to share expertise across programmes as well as developing joint curricula and new curricula.
This project addressed 3 key areas: Interdisciplinarity; Game Engines in new contexts (using real time game engines and/or gaming mechanics in collaborative storytelling contexts across film, television, theatre and music), and Key Skills: (skills gaps including programming, real time game engine technical art, interaction design, creative direction, production, volumetric capture and interactive writing). The train the trainer programme built on recent external and internal investment into immersive storytelling at De Montfort University which resulted in the following implementations:
Redeveloping the Media Production BA to include a mandatory strand in Creative Technologies, to include Immersive and Experimental Media (level 5) and Future Technologies: Immersive Project (level 6).
Redesigning the Creative Technologies (MA/MSc) to include specific pathways, one of which would be Creative Technologies: Immersive Practice.
An Extended Realities society for students, focusing on immersive practice. This will enable students from all areas of the university to come together outside of formal teaching areas to develop immersive projects.


Royal Holloway, University of London
'Interaction design for the masses': a ground- breaking STEAM project enabling technical and non-technical students to collaborate in the design of user-centred prototypes for XR, developing skills in visual, audio and haptic interactions.
This teaching-led project brought together a cross-disciplinary team from Royal Holloway – Computer Science (CS), Electronic Engineering (EE) and Psychology (PS) – to develop a new module called "User-Centred Design", which will be offered to students from CS, EE, Media Arts (MA) and PS. Presenting an interdisciplinary approach to prototyping and interaction design for immersive environments. A cross-disciplinary activity by nature, interaction design benefits from being taught by a multi-disciplinary team. The "User-Centred Design" module draws upon existing content from CS (Human-Computer Interaction) and PS (Human Performance), which was adapted for non-technical audiences (both in terms of content and assessment) and extended with further material: audio interactions; eye-tracking; haptics. The pedagogical material is supported by a 3D testing environment that was developed in the context of this project.
Interaction design relies on fast prototyping and is often taught with a traditional paper/scissors approach that we value and will certainly teach. However, a modern interaction design course also relies on computer-based prototyping, and the most cost- effective way of providing this approach is with game engines, especially if it incorporates 3D audio. Using game engines to develop interaction demos, and allowing teachers and students from any background to experience complex interactions from simple building blocks. Thus, the game engine becomes a vehicle for teaching about interaction design, allowing trainees to understand the main concepts and considerations without needing computer code, allowing the tool to be used by educators without programming skills.


Queen Mary University of London in partnership with The Ideas Foundation
'Engineer the Story': will train engineers in storytelling skills to help with their research, business development, and employability.
Queen Mary aimed to develop a storytelling module programme for engineering students who study BEng and Meng programmes in mechanical, aerospace, chemical, and biomedical engineering at the School of Engineering and Materials Science (SEMS). The project aimed to improve communication skills and connect engineering students and researchers at all levels with the creative technology experts, thus increasing personal growth, attributes, and success for all our graduates. They wanted engineers to know how immersive storytelling can help them change perspectives as well as inform and educate others about their work. They also planned to develop the skills of academic staff in the benefits of storytelling.
Queen Mary has created a prototype digital storytelling course -- using Typeform and the chat function to get feedback on the workshop, they were able to see that there was a significant improvement in storytelling from the responses gained. They also created a workflow of the different parts of planning the workshop, including – evaluation tools, PowerPoint presentations, and Eventbrite invitations that can be used for future workshops, and also created a padlet of resources that can be shared.


Manchester Metropolitan University, School of Digital Arts
'Genre soundtracking': students will help to develop an immersive 3D soundscape as part of an expanded documentary on acoustic surveillance.
Through a curriculum unit called "Co-Labs", Manchester Metropolitan aims to explore aspects of future storytelling, enabling students to obtain a hybrid of creative and technical skills through interdisciplinary participation in live creative and digital sector research. This project aimed to prototype not only new skills in sound design for immersive environments, but also ways of delivering research-led teaching. This project aimed to prototype some of the pedagogical delivery of the Co-Labs, the new, cross-disciplinary, 6-week, 15-credit unit at the School of Digital Arts (SODA). With students, the goal was to ascertain how soundtracking can be harnessed in novel ways to challenge notions of immersion and distance within expanded documentary environments. Participating students explored models of genre soundtracking in the context of an expanded documentary project, Acoustic Kitty.
Through online workshops led by a cross-disciplinary research group at SODA, students developed prototypes in groups allowing audience interaction with a 3D soundscape, where genre sound was layered with audio storytelling assets. By testing these prototypes, researchers will explore possibilities for the emergence of sound grammar in immersive experiences. Students also received a one-day masterclass in the 'psychology of soundtracking' from Barry Adamson, musician and film composer who has worked with David Lynch and Nick Cave. The educational ambition of the project was both structural (the development of the Co-Labs) and research-led (encouraging students to think of themselves as researchers uncovering new genre boundaries in immersive sound).
The Train the Trainer initiative was set up to support the development of UK trainers, and to address the chronic shortage of graduates with the right skills essential to the growth and success of the immersive sector in the UK.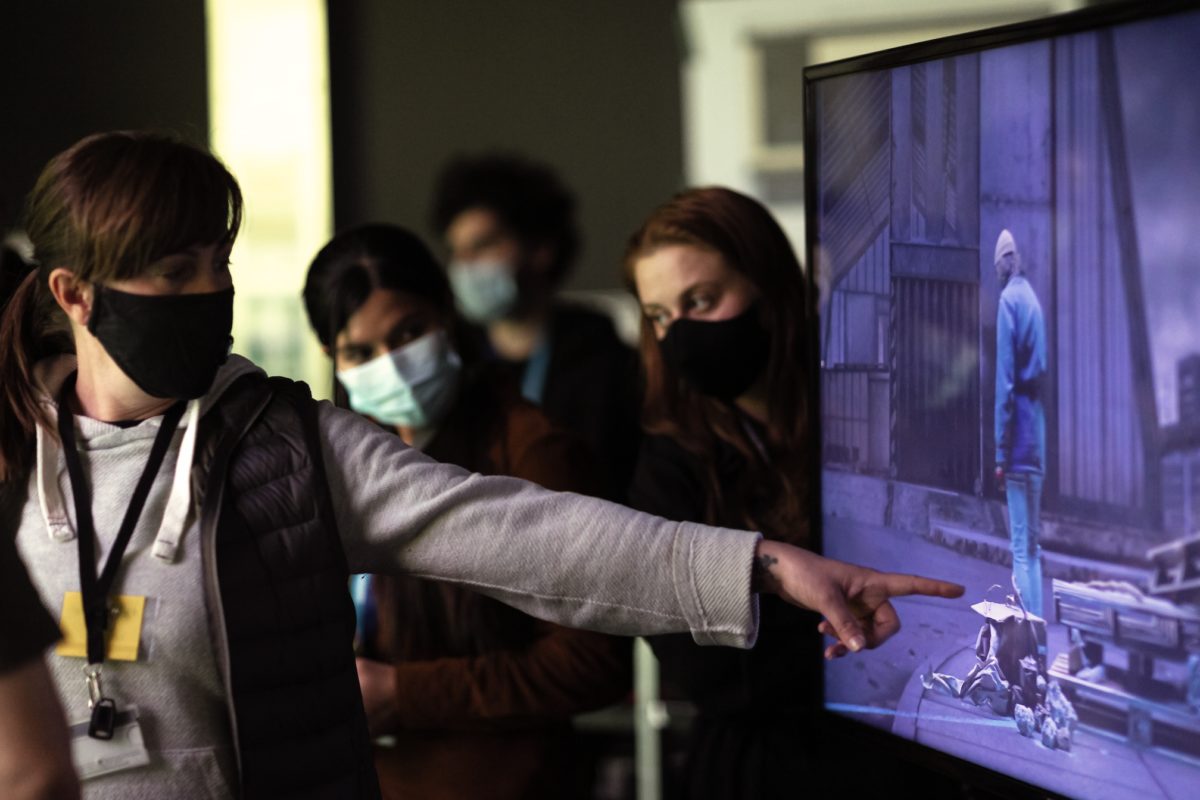 So far, 108 trainers have been involved and 22 university courses will now benefit from new methods of teaching and new materials created in the first round of completed Train the Trainer projects that were showcased in January.
The higher education courses impacted by Train the Trainer Cohort 1 activities include 12 disciplines from the fields of Film production, Media Arts, Engineering, Drama and Music, Games Design, Screenwriting, Ethnographic Documentary Filmmaking, Media Communications, Digital Animation, Creative Computing.
These projects delivered new innovative approaches to teaching; from Falmouth University's virtual rehearsal and performance space bringing technicians and performers together using Mixed reality tools; Bath Spa's new insights into how VR and AR storytelling experiences can be better marketed to audiences; National Film and Television School helping to promote professional development; Royal Holloway University of London developing the use of AR cards to physically engage students during virtual teaching to the extensive work of UCL on immersive skills development and production workflows.
'The outcomes to date have exceeded all expectations,' says StoryFutures Academy, Executive Producer, Amanda Murphy who runs the programme, 'The success is down to how well these teams of educators from many different disciplines collaborated throughout, and were able to use insight they gained from working with industry collaborators and mentors to ensure the outputs were relevant for next generation storytellers. All project teams pushed into new territory, and over 300 students and academics from 12 different disciplines have already been involved. It's been a truly interdisciplinary approach and the roll out means these numbers will only grow'.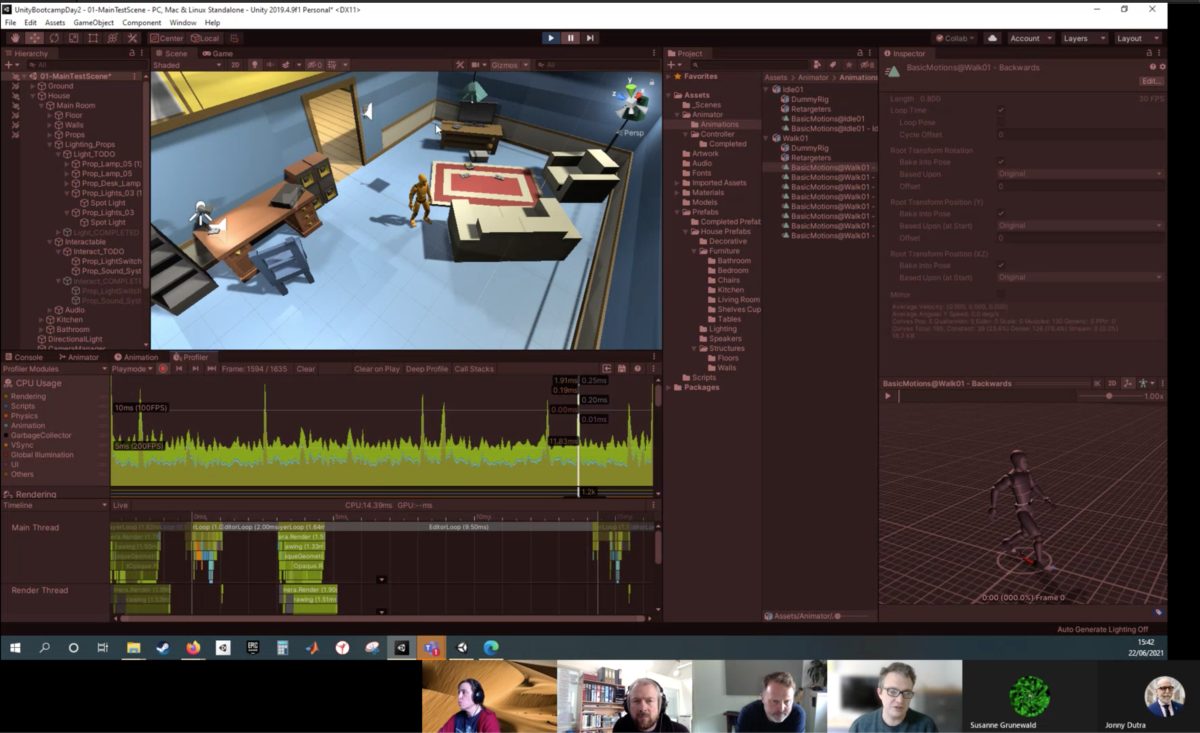 Congratulations to our latest cohort!
If you are interested in learning more about these projects, please contact Lauren.Quinn@rhul.ac.uk
Share this article: