Announcing Train the Trainer Funding
StoryFutures

January 31st 2020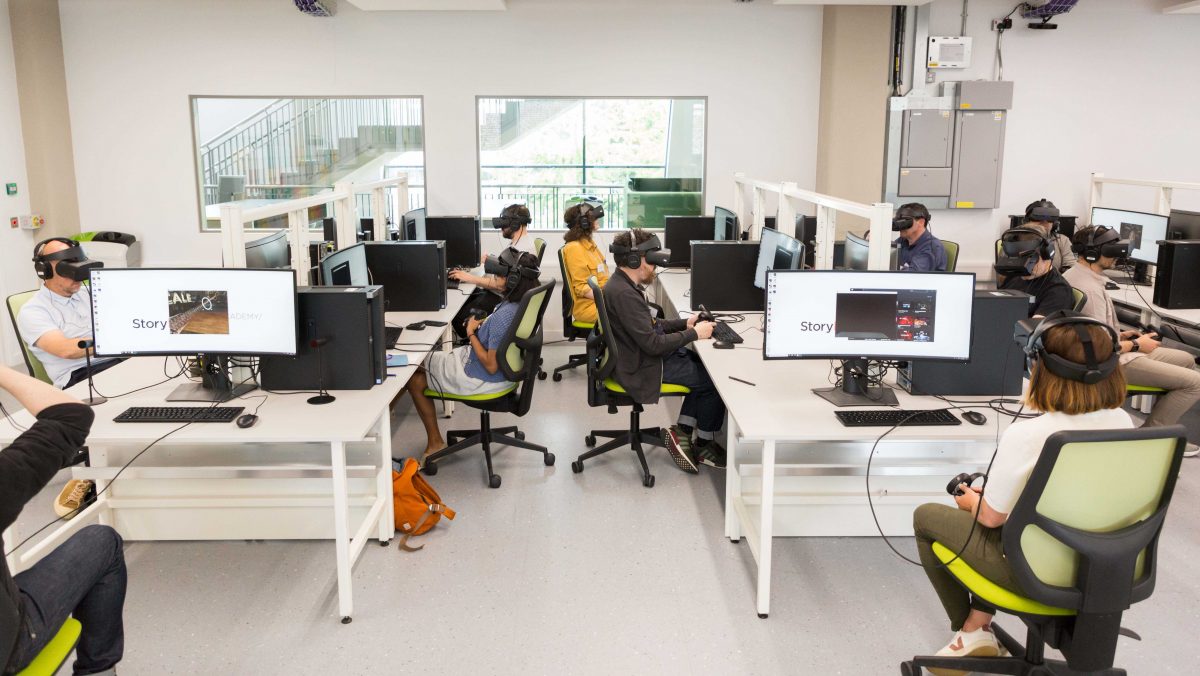 Following the launch of our 'Skills for Immersive Experience Creation: Barriers to growth in the UK Immersive Economy' report, we are pleased to announce Train the Trainer Funding. The fund will be for applications that enable researchers and teachers in UK higher and further education undertake research and teaching development in immersive storytelling. Funding is available between £10,000-£20,000 and we expect to support 10-16 projects at a variety of values within that range over two cohorts in 2020-21, that enable HE and FE staff to design and integrate research and teaching materials into courses for undergraduate, postgraduate, further and widening participation education students. Our overall aim is to support the growth and development of a UK-wide talent-pipeline to help make the UK a world-leader in immersive storytelling.
This fund is open to educators working in any Higher Education Institution in the UK and to those working in Further Education or Non-traditional education sectors working in partnership with Higher Education.
The fund has two streams:
A. Trainer-led: Funding for training workshops run by, and for, UK teaching-focused staff to create workshops, training scenarios and tools that will develop a UK skills base by enabling teachers to explore how to train students and other trainers in immersive storytelling.
B. Researcher-led: Funding for specific immersive projects that allows UK researchers to create an immersive experience or prototype that will develop a UK skills base by enabling student participation on the project.
We are interested in applications that address the following priority areas identified by Skills for Immersive Experience Creation report launched by StoryFutures Academy in January 2020:
1. Interdisciplinarity, from STEM to STEAM: Projects or workshops that deliberately fuse arts with the sciences to promote interdisciplinary team building, bring together teams from disciplines such as computer science and media; engineering and drama; art and design and physics;
2. Game Engines in new contexts: Projects or workshops that use real time game engines and/or gaming mechanics in collaborative storytelling contexts with other screen industries, such as film, television, theatre and music.
3. Storytelling Innovation: Projects or workshops that allow researcher or trainers to explore established storytelling forms within immersive contexts or tackle emergent problems in immersive, such as point of view, editing, spatial sound and attention, haptic engagements etc.
4. Key Skills: Projects or workshops that address areas where skills are seen as crucial to successful projects and/or gaps have been identified as an industry concern, such as programming, business development, real time game engine technical artists, interaction designers, creative directing, producing, UX Designer, Motion/Volumetric capture artists, or interactive writers. Projects that tackle more than one key skills role are welcome.
The current call will open March 2020, with a 2nd cohort expected to be recruited in late 2020.
Share this article: