StoryFutures Academy partners with Creative England's Ideate Programme
StoryFutures

July 6th 2020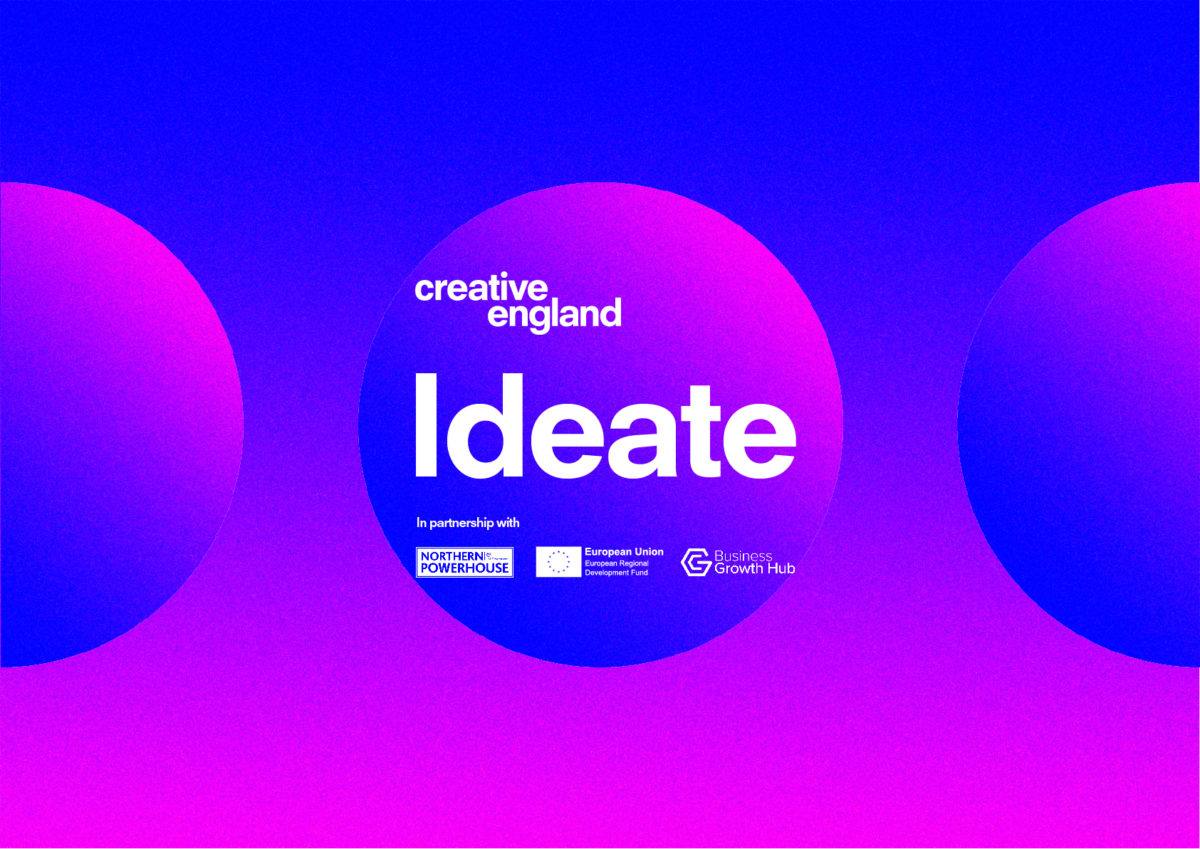 -

Ideate: StoryFutures Academy Bootcamp
Ideate is a programme for Greater Manchester-based creative businesses looking to expand into immersive storytelling. The programme brings together leaders from the ever-growing world of immersive: from AR/VR to audio and sound design, theatre and experiential events. The programme is ideal for creative businesses working in screen industries such as film, TV and games through to theatre organisations looking to take the first step into immersive content production.
StoryFutures Academy have partnered with Creative England to run a Bootcamp for Ideate participants for those established in the film, television, theatre or games industry who are keen to explore immersive storytelling. This is an opportunity to take part in an exciting fast-paced intensive two-day Bootcamp focusing on developing the skills and knowledge you require to become a creator in VR/AR or MR.

StoryFutures Academy – How to Become an Immersive Creator
This two-day Bootcamp offers participants the opportunity to gain an understanding of the landscape and what is happening in immersive production, and to get up to speed with the potentials of VR/AR and MR; the technologies, workflows, models and skills involved in content production. There is also a chance to experience and discuss some examples of 360 and VR pieces, to get a flavour of how projects are financed and marketed, and to hear from the audience insight team who can share their findings about the user point of view.
The Bootcamp will be delivered virtually on Zoom. It is run by industry experts who will deliver case studies and share their insights.
Eligibility
The Bootcamp is for creative professionals working in film, television, theatre or games
Applicants must have at least 2 production credits in their field (e.g. two film credits, two published games, two theatre credits, two television credits etc)
Applicants must be interested in VR/AR/MR and looking for an opportunity to move into immersive storytelling
Applicants must be registered businesses or registered freelancers (ie either a company registered on Companies House or a registered sole trader with a UTR number)
Applicants must be registered to a Greater Manchester address or trading out of Greater Manchester (e.g. your office is based here or you conduct a significant portion of your work here)
Companies hosting a Placement must meet the EU's definition of an SME (fewer than 250 employees and an annual turnover less than €50 million

Additional notes
As part of the application, you will be asked to provide a 500-word expression of interest about why you are interested in immersive experience creation

StoryFutures Academy provides funded Placements for established TV, theatre and games professionals to gain 'on the job' experience on a live experience production for up to 10 weeks. Priority will therefore be given to applicants interested in going on to a paid placement. (One or more funded placements will be offered with companies in the Greater Manchester area)
StoryFutures Academy is also committed to diversity and this will be a consideration
Venue: Virtual delivery via Zoom. Attendees will receive home kits to experience content
Date: 9th & 10th September
The deadline to apply for the Bootcamp is 12pm on Friday 24th July 2020
APPLY NOW
You will be notified of the outcome of your application via email on the Thursday 6th August 2020.
For an informal chat about the Bootcamp, or any questions you might have, please reach out to us at immersive@nfts.co.uk

For more information about StoryFutures Academy, please see below.
About StoryFutures Academy Bootcamps and placements:
StoryFutures Academy offers creatives and world-leading storytellers (from Film, TV, theatre and Games) the opportunity to leap into the exciting and growing world of immersive storytelling and become an intrinsic player in exploring its potential.
Our intensive Bootcamp training is aimed at getting participants up to speed with immersive, enabling them to learn new skills and explore cross overs. Following training, there are opportunities for funded professional placements working on live immersive projects with creative companies, as they welcome a much-needed diverse range of talent.
So far StoryFutures Academy has funded 10 professional placements including:
a Creative Director at Rewind on Top Gear's first ever venture into an immersive stunt Buckle Up;
Producers working on an exciting climate change project at Surround Vision and on new AR projects at Nexus Studio;
a Senior Script Development Executive from high end drama at Passion Pictures;
writers, one on Peaky Blinders first ever VR piece at Maze Theory and another working on AI driven narrative at To Play For, working on the charisma.ai platform.
It has been a truly successful initiative so far providing invaluable 'knowledge share', plugging skills gaps to enable projects, and even creating new jobs as many have stayed on and continued to work at their placement Company.
Participants in Bootcamp programmes are eligible to explore other onward journeys aside from paid placements, such as kickstart or booster funding, tier 2 training opportunities and attend other StoryFutures Academy masterclasses and events. They are expected to give a maximum of 3 days back to StoryFutures Academy (by end. 2023) sharing the learning from this with other participants and/or students.

If you are a company making immersive content experiences, and are interested in hosting a professional on Placement, get in touch with us here.

Share this article: