Pop, Pour, Drop. How StoryFutures and Heathrow made virtual recycling a reality.
StoryFutures

October 1st 2019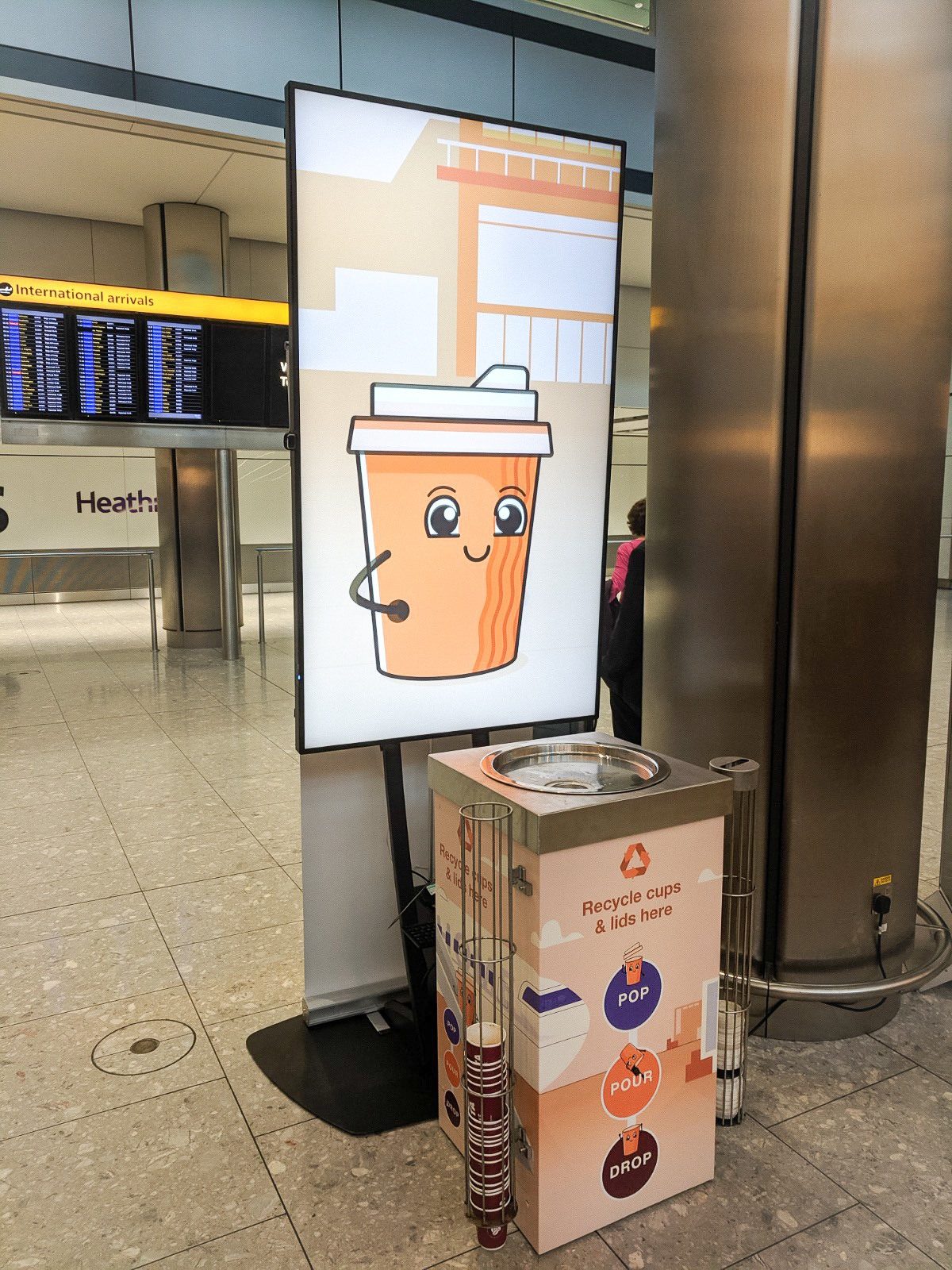 When Heathrow gets put into numbers, it becomes astounding. 475,000 flights and over 80 million passengers heading to or from one of its 5 terminals last year. It is growth that is not scheduled to stop any time soon & it is growth that has serious consequences. To keep growing, sustainability has to be at the forefront of Heathrow's future plans. In charge of exploring the future of sustainable air travel is the Heathrow Centre of Excellence for Sustainability, who bring together, experts, entrepreneurs & academics to create transformational change.
In April this year, StoryFutures announced a collaboration with Heathrow & Costa Coffee & together we launched a behaviour change challenge for small and medium enterprises (SMEs) within the region. Companies were tasked with prototyping an immersive experience aimed at encouraging visitors at Heathrow T5 to engage with sustainable behaviours and with the aim of recycling many more paper coffee cups inside Terminal 5. Heathrow is planning an investment in new passenger facing bins in all terminals because a single item placed in the wrong bin can prevent its entire contents from being recycled. Cross contamination is a very big deal.
At stake for the SMEs was the chance to get immediate funding to turn an innovative idea that would up recycling rates in T5 into a practical and deliverable pilot. Fast forward just six months and the winning SME, Surround Vision, are introducing the world to Cupsy.
Cupsy lives on screens above the new bins and uses facial and object recognition technologies to pick up on visitors' coffee cups and their day to day reactions. If it sees you holding a coffee cup. Cupsy will help you with what to do when you are finished with your drink. Cupsy will even celebrate if it sees you recycle your cup.
You can meet Cupsy yourself, from 1 October 2019 to 18 October 2019 in the Arrivals hall of terminal 5. During that time StoryFutures and Surround Vision will be conducting extensive audience research & analytics works as we try to understand as much as possible about how people interact with the prototype and if we are able to up recycling rates inside Terminal 5.
FAQs
1 What is StoryFutures? StoryFutures is an R&D collaboration anchored by Royal Holloway, University of London. It aims to support regional companies and the growth of the UKs economy by collaborating with partners like Heathrow on a series of pilots that we can test in front of audiences to better understand the potential of immersive storytelling and next generation technologies.
2 Who made Cupsy? Cupsy was produced by creative agency & immersive specialists Surround Vision working in partnership with StoryFutures. Surround Vision is a specialist VR & AR production studio. With clients such as Sky VR and Google Arts & Culture, the team at Surround Vision are experts in producing ground-breaking stories across live action, motion graphics, CGI, and immersive content.
3 How does Cupsy work? Cupsy uses object recognition technologies & artificial intelligence to "see" coffee cups and to recognise human emotions. Over many months Cupsy has been trained so that when it sees a cup it knows to trigger a specific set of animation sequences and to reward certain types of recycling behaviours.
Cupsy is powered by Computer Vision & captured footage is only used in real-time to process object and emotion recognition. Cupsy does not store or save any video footage so it does not keep any record of the people that step in front of it.
4. How can I get in touch? For more information on the Pop Pour Drop Challenge or to find out more about StoryFutures please email us at storyfutures@rhul.ac.uk
Share this article: