StoryFutures Immersive Community Producers
StoryFutures

May 7th 2021
StoryFutures and its partners, including StoryFutures Academy: The National Centre for Immersive Storytelling, are developing an unprecedented storytelling project mixing film, augmented reality and location-based physical experiences. We are on an inherently human mission to inspire people across the UK to explore their world, their history and to encourage a conversation about:

Who are we? Where did we come from and where are we headed?
The project will draw on the expertise of the British Film Institute and their world-leading heritage in film, as well as award-winning television production company Uplands TV and historian and broadcaster, David Olusoga. Our partnership also includes design-led cultural experts ISO Design, immersive experience creators Nexus Studios, and place-makers ProduceUK. With the support of The Reading Agency and their network of libraries, we plan to engage communities in at least 16 different towns and cities across the UK.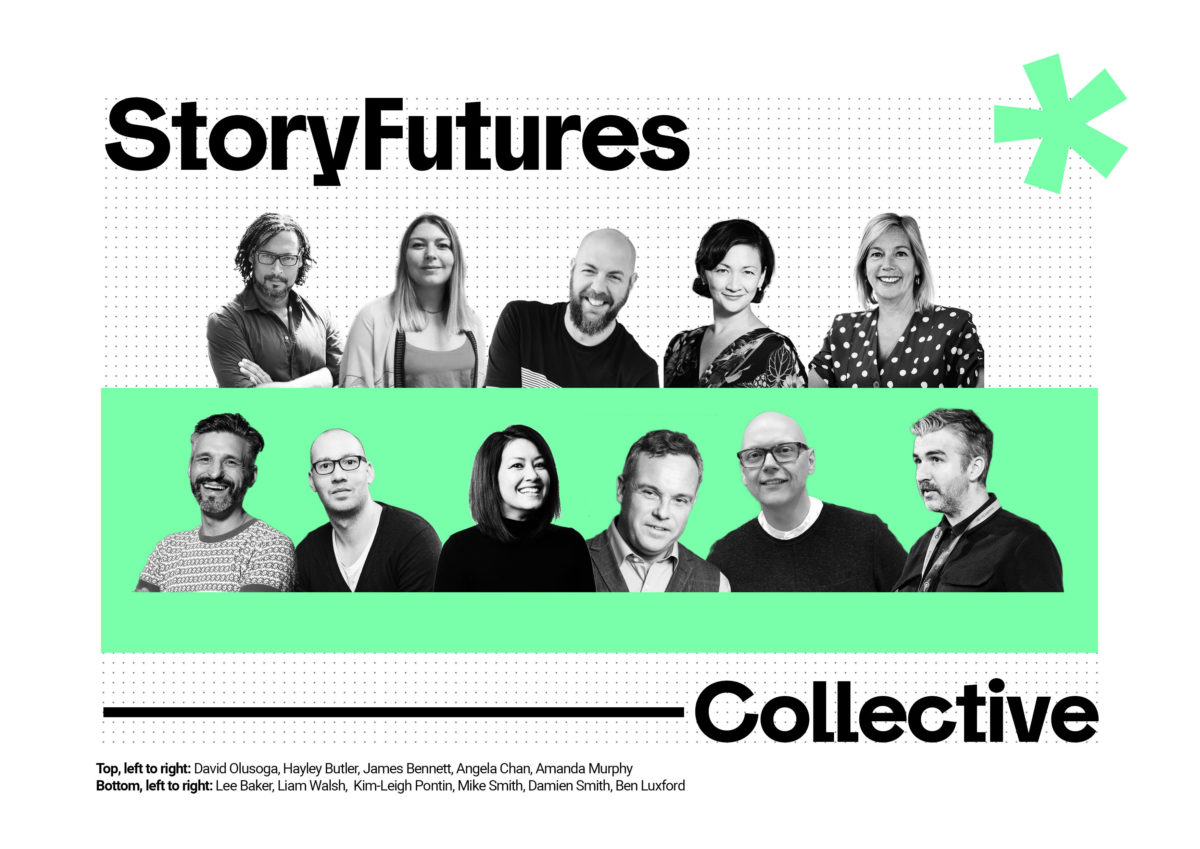 As part of our R&D at StoryFutures, we are looking for two exciting community producers to work with the project partners to help us shape our approach to community storytelling in immersive and engage with the research and development challenges ahead of the main project.
Working over 10 weeks, starting on the 1st June 2021, our Community Producers will explore storytelling and creative workshop formats, the BFI archive, location-based parameters as well as a series of community-generated challenges that will help us to establish our ways of working.
We are looking for brilliant people who like making exciting, creative things happen and supporting people to develop their own ideas, skills, and creativity. We are seeking storytellers with curious minds and change-makers to establish ways of working with communities and creatives across the UK from a diverse array of backgrounds.
StoryFutures and its partners are committed to equality of opportunity for all staff and applications from individuals are encouraged regardless of age, disability, sex, gender reassignment, sexual orientation, pregnancy and maternity, race, religion or belief and marriage and civil partnerships.
Our project seeks to amplify the voices of underrepresented groups in the creative industries and build a new generation of immersive storytellers.
We want our community producers to represent the communities of the UK. As part of our commitment to diversity and inclusion we actively encourage applicants from black, Asian or minority ethnic backgrounds, working-class backgrounds and applicants with disabilities.
There are two opportunities that will appeal to different types of creatives outlined below. On offer is £15,000 (+ VAT), for time, expenses, rights, and asset clearances for a period of approximately 10 weeks starting 1st June 2021.






The deadline to apply is 23 May 2021 at Midnight
Read on and apply for each opportunity below:
Opportunity 1: Immersive Community Producer
A key part of our project relies on the ability to galvanise, enthuse and co-ordinate the contribution of communities across the UK in a new form of storytelling. In order to do this, we need people committed to working with those communities and to unearthing historically based stories that we can tell using immersive technologies.

We are looking for an immersive community producer to work with communities local to Lambeth, London for a pilot R&D and scoping exercise to gauge what matters to the future of those who live there, unearthing human and historic stories in line with our project themes.

Find out more
Apply for Opportunity 1
Opportunity 2: Mobile Community Producer
A key part of our project will involve the creation and production of a series of location-specific mobile augmented reality experiences. These will integrate archive content, create new forms of archive content and allow users to explore their towns in playful and gamified ways that unlock amazing and hitherto untold stories and moments of wonder.
We are looking for a Mobile Community Producer to work with Nexus Studios, together with StoryFutures, Produce UK, and The Reading Agency to help develop and inform the production of our mobile augmented reality experience.

Find out more
Apply for Opportunity 2
Share this article: