Introducing StoryFutures Presents, our new live talk series on the Future of Storytelling
StoryFutures

June 5th 2020
This month we are kicking off an all-new format, StoryFutures/Presents, a series of talks that will invite people across a breadth of storytelling formats to give vital insights into the future of storytelling. Starting us off on the 11th June is Jason Crouch, a maker, researcher and creative technologist working in creative, technical and production roles across live performance. After the talk, viewers will have a chance to put questions to our panel of experts on narrative and storytelling.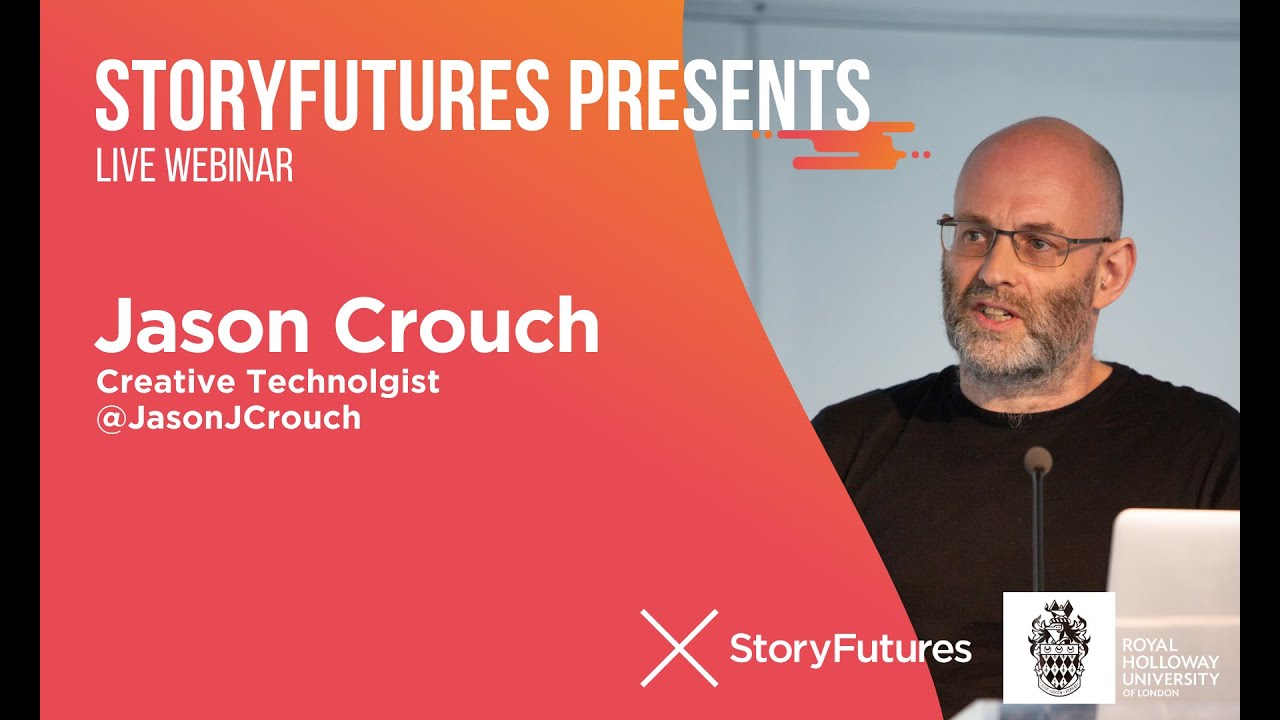 StoryFutures/Presents: A state of contemporary storytelling series, exploring emergent theory and creative practice
A platform showcasing novel and timely perspectives from makers and researchers across the expanded immersive field; including immersive theatre and embodied live practices, interactive digital narrative and XR alongside platform agnostic design approaches. We will consider how developments in immersive storytelling are shaped by current funding and production realities while reflecting on the evolution of new forms within the context of Media Arts and Digital Performance history.
If, to paraphrase Nam June Paik, we innovate not by winning the game, but by changing the rules, what rules are currently ripe for re-imagining? What cultural forms could we unlock by doing so? What futures might that enable? William Gibson recently talked of the increasingly daunting task of conceiving any future against the escalating strangeness of the world we are living through. A concern echoed in the Conceptual Emergency declared by the International Futures Forum, who describe how "the world we have created has outstripped our capacity to understand it. The scale of interconnectivity and interdependence has resulted in a step change in the complexity of the operating environment." Gibson, like pionering scenario planner Pierre Wack before him, suggests the ability to conceive of a future proceeds directly from a deep engagement with, and reimagining of, the present. Perhaps surveying present storytelling from this peculiar moment of change may offer useful vantage points to illuminating some of our possible storyfutures?
11th June: Jason Crouch
Title: But tell me, where's the stage?

At the heart of theatre storytelling is the gathering together of audience and performers in this place, at that time. The word theatre itself is derived from the ancient Greek 'viewing place': so, theatre is defined not by architecture but by the action and intent of the people who assemble there. Theatre transforms and encompasses space: it can exist inside your headphones, or in a cavernous hall built with unknown intentions but co-opted, now, for telling a story.
Yet, the stories we tell using online and digital tools are as much an interrogation of the place we choose to tell them in, as they are of the characters in the stories themselves. Even as we use these tools in our day to day life, we find the narratives that fit into platforms are, through choices made in their design, a subset of those which could find their place there. As storytellers in a connected world, it is our duty to also reveal how technology influences the telling, how the shape of the infrastructure can drive the story and choose who can take part.

About Jason
Jason has written and produced plays, created and collaborated on performance at many different scales. Projects have included work theatres and digital performance labs, including Contact in Manchester and Culturehub in NYC, building multi-sited events that united remote performers and audiences from different time zones, on one stage.

Jason Crouch's Thesis
Mediated messages – Jason Crouch
https://e-space.mmu.ac.uk/619496

Collaborators & colleagues
Culturehub, NYC

Gateshead International Festival of Theatre
International Festival of Theatre (GIFT)
Twitter: @GIFTfest

Pinheiro & Lisa Parra
https://daniel-pinheiro.tumblr...

Gudrun Soley Sigurdardottir
https://www.gudrunsoley.com/ab...

Paula Varjack
Twitter: @paulavarjack
http://paulavarjack.com/about....

Audre Lorde
(link is to a new collection of her work edited by Reni Eddo-Lodge)
https://www.theguardian.com/bo...

Raymond Williams
The Technology and the Society (1974)
David Buckingham
Introducing Identity (2008),
book chapter 'Youth, Identity, and Digital Media'
Dan Hill
https://www.cityofsound.com/bl...

McGrath, in conversation with Rebecca Atkinson-Lord
http://exeuntmagazine.com/podc...

Chris Thorpe, Theatre is a Laboratory
https://www.theguardian.com/st...

Social capital: networking in Generation X.' The Generation X Report.
A Quarterly Research Report from the Longitudinal Study of American Youth
Miller, J. D. (2013)
http://lsay.org/GenX_Vol2Iss2....

Tim Etchells
http://timetchells.com/

Artwork and Artists
Hole in Space (1980)
Kit Galloway and Sherrie Rabinowitz
Hello (1969)
Allan Kaprow
(final segment in The Medium is the Medium)
You With Me
Artistic Director of Kaleider, Seth Honnor discussing You With Me
https://vimeo.com/119760810

Forced Entertainment
Twitter: @ForcedEnts
End Meeting For All
https://www.forcedentertainmen...


Hidden Track – Playful, political theatre
Twitter: @HiddenTrackTC
https://hiddentrack.org.uk/
Coney - interactive theatre makers - creating games, adventures and play where people can choose to take a meaningful part
Twitter: @agencyofconey
https://coneyhq.org/

Punchdrunk enrichment
https://www.punchdrunk.org.uk/...

Lemn Sissay
@lemnsissay
https://www.lemnsissay.com/
Dr. Safiya Umoja Noble – Algorythms of Oppression
https://safiyaunoble.com/
Cathy O'Neil – Weapons of Math Destruction
https://mathbabe.org/
Algorithmic Justice League
https://www.ajlunited.org

Facebook influencing the emotions of users
https://www.theguardian.com/technology/2014/jun/29/facebook-users-emotions-news-feeds
Share this article: