Three StoryFutures Academy supported projects selected for the Venezia 79 Immersive Line-Up
StoryFutures

August 30th 2022

StoryFutures Academy is thrilled to announce that we have three immersive projects selected for the Venice Immersive for Venezia 79 (2022) - all projects have been supported by StoryFutures Academy training and funding programmes. Peaky Blinders: The King's Ransom and Kindred are "in competition", while (Hi)Story Of A Painting: The Light In The Shadow is being showcased as part of the "Best Of Venice Immersive".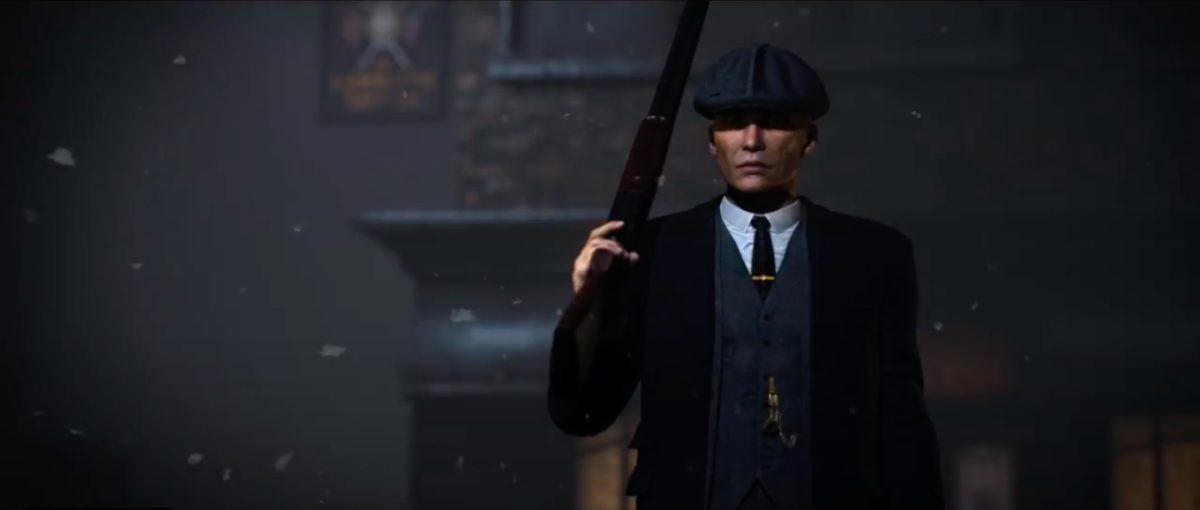 Brought to you by the team behind The Edge of Time and The Lonely Assassins, Peaky Blinders: The King's Ransom is an immersive narrative virtual reality game directed by Russell Harding, Tim Jones and Marcus Moresby from Maze Theory, and is the first VR game inspired by the epic gangster drama.

Gain allegiances and dig into the world of crime, facing the infamous crime boss Tommy Shelby (voiced by Cillian Murphy) and his brother Arthur (voiced by Paul Anderson) in the legendary back-street gang. How long will you survive the dangerous streets of Birmingham and London, how far will you earn the characters' trust, and will you be able to complete your mission?
Maze Theory is a digital entertainment studio that focuses on the creation and development of immersive entertainment experiences and games across multiple platforms - from PC to Virtual Reality.
Peaky Blinders: The King's Ransom was supported by StoryFutures Academy, the National Centre for Immersive Storytelling jointly run by the National Film and Television School (NFTS) and Royal Holloway, University of London. In the early stages of this project, StoryFutures Academy worked with Maze Theory on a two day Writers Room exploring the different processes of writing for TV and Virtual Reality, and one writer was offered a funded StoryFutures Academy placement to tell stories of the Peaky Blinders in their new immersive environment.
Read More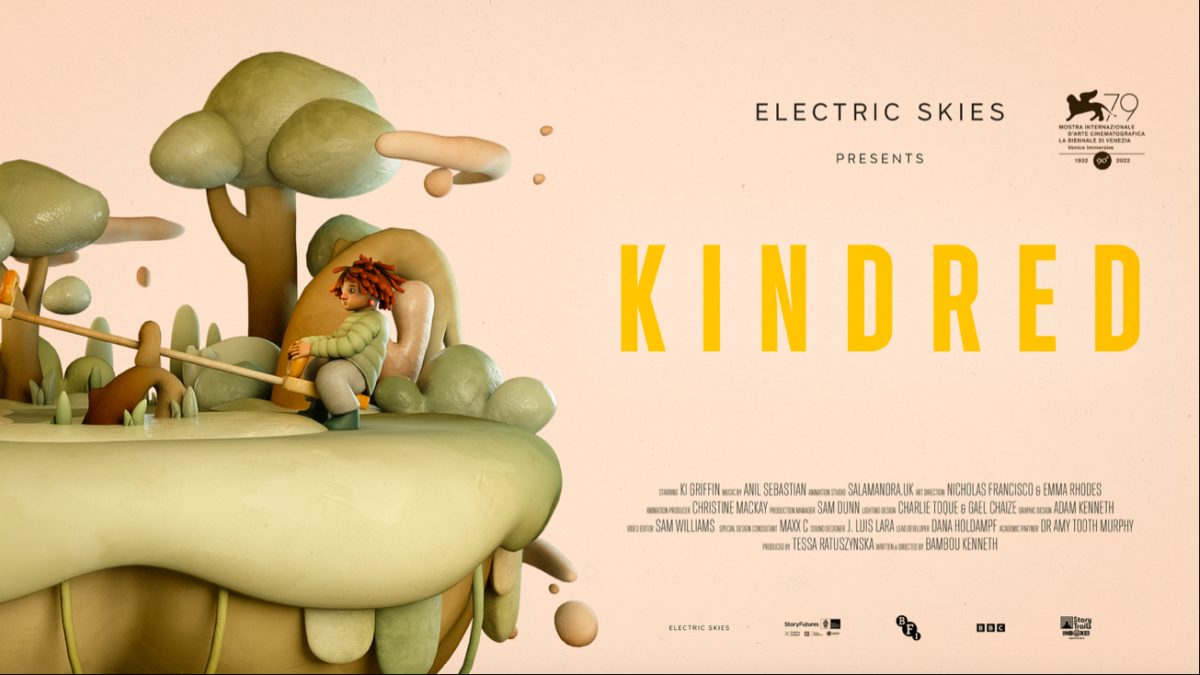 Kindred is an animated VR film based on the remarkable true story of an aspirational parent called Syd, and their ground-breaking journey through the adoption process in the UK, experiencing first-hand the highs and lows of a dream shared by so many. After years of setbacks and rejections, Syd gets matched with a child, Ollie, and in the process helps redefine the meaning of family.
Kindred is directed by Bambou Kenneth and produced by Tessa Ratuszynska, StoryTrails creative, under Electric Skies.
Kindred was funded by StoryFutures as a part of their 'BFI Immersive Archive Challenge'' and is one of seven VR experiences showcased as a part of StoryTrails: An immersive storytelling experience led by StoryFutures Academy, which is run by Royal Holloway, University of London and the National Film and Television School (NFTS). StoryTrails harnesses the magic of immersive storytelling to bring to life untold stories from the past, through the magic of the 3D internet using augmented and virtual reality to reanimate public spaces in towns and cities across the UK. In partnership with the BFI and BBC, and with the support of 50 creative practitioner work placements, StoryTrails is touring 15 locations in the UK, as part of UNBOXED: Creativity in the UK. See where it's going next:
Slough (The Curve), 3rd and 4th September 2022
Lambeth (Brixton Library), 10th and 11th September 2022
Lewisham (Catford Library), 17th and 18th September 2022
Read More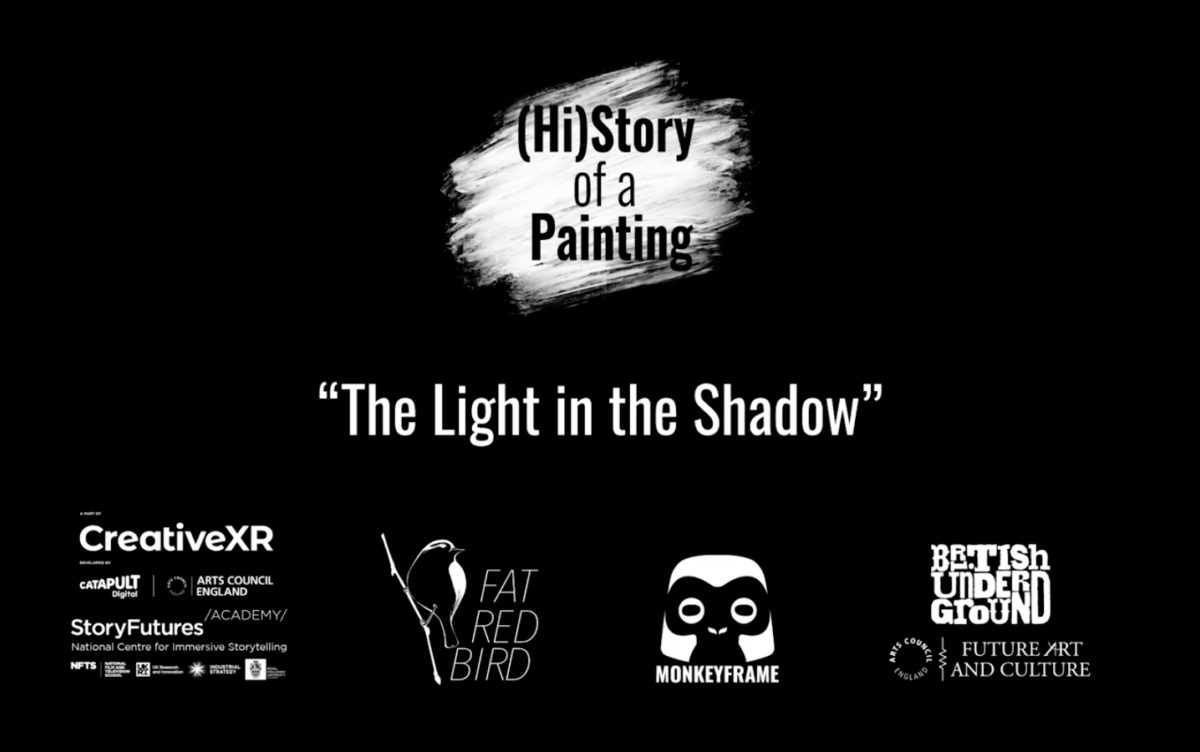 Directed by Quentin Darras and Gaëlle Mourre, the second game in the (Hi)Story Of A Painting series The Light In The Shadow will be showcased as the Best Of Venice Immersive.
In this VR experience, history meets technology to tell the inspiring story of artist Artemisia Gentileschi's work and life. It recounts her journey with art, explores her composition, and teaches about her painting technique.
StoryFutures Academy partnered up with Creative XR in 2020 to mentor (Hi)Story Of A Painting creators in story development, design and continuing narrative through a number of workshops and masterclasses.

Read More

Honorary Mentions
Venezia 79 has also selected 'In Competition' Matthew Shaw and William Trossell's Framerate: Pulse Of The Earth. The experience was created by ScanLAB Projects, and reveals alterations caused by human-centred industry and the vastness of nature. Matt is an alumni of the UK-Canada Immersive Exchange programme, an international collaboration between StoryFutures Academy, Arts Council England, the Canada Media Fund, Canadian Film Centre's Media Lab and the Canada Council for the Arts. We are delighted and proud to see his work being recognised by Venezia 79.
We are also delighted to see May Abdulla, director of Goliath: Playing With Reality, another project supported by StoryFutures Academy, is part of the VR Jury for Venezia 79 this year and we wish her all the best.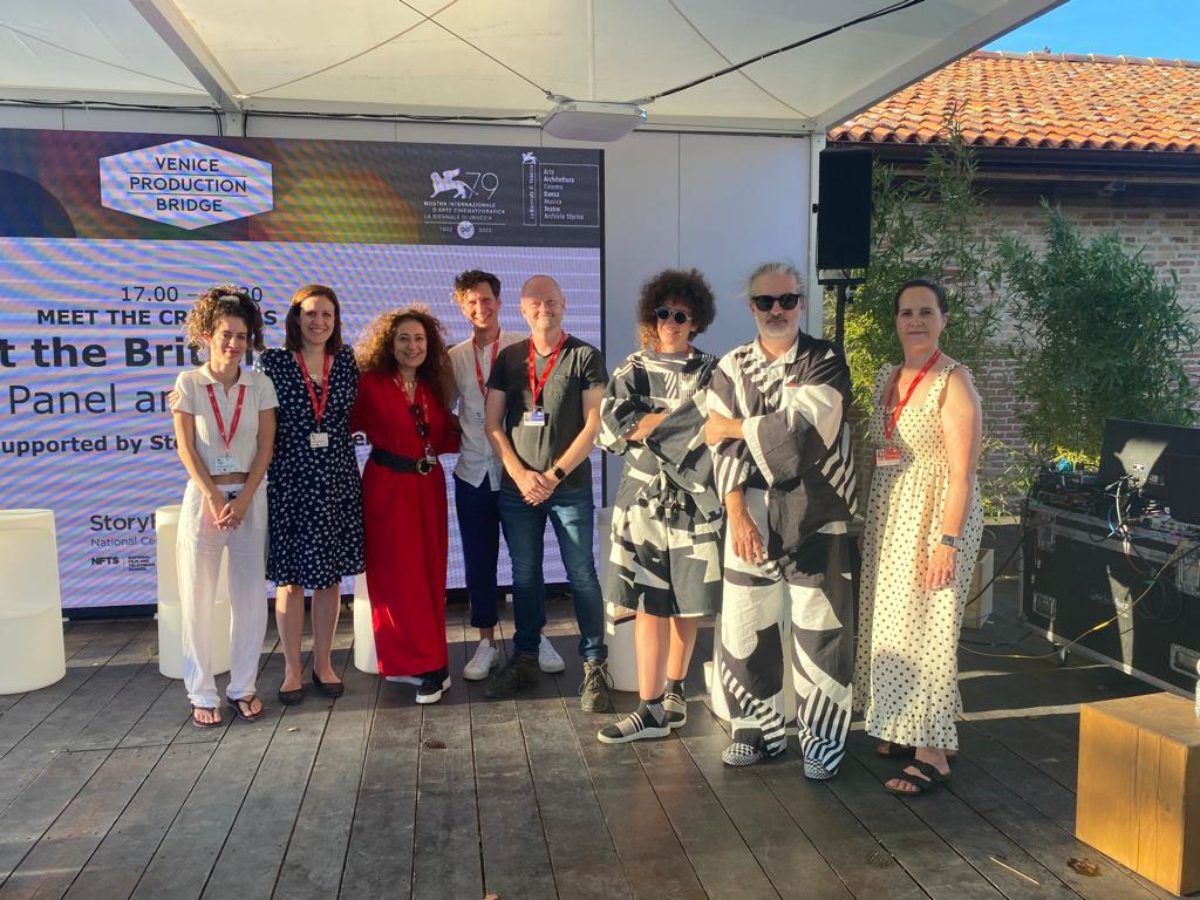 On Friday 2nd September 2022, approximately 100 Venezia 79 accreditations and pass holders attended the Meet the British Creators Panel and Cocktail at AREA RELAX on the Venice Immersive Island (Isola del Lazzaretto Vecchio).

Supported by StoryFutures Academy and introduced by Becky Gregory-Clarke, Head of Immersive, the panel was hosted by Venice Immersive Programmers Liz Rosenthal and Michael Reilhac who held a Q&A with British creators including:
Meet the Creators
Becky Gregory-Clarke notes in her blog article on returning to the larger-than-ever, in-person Venice immersive festival exhibition. As well as the shift in technology and immersive experiences since her last visit pre-pandemic in 2017:
"There's far less 360 video content, of course, but it is definitely not absent. Indeed, the selection on offer demonstrates a maturing approach which proves it is still a highly effective and evocative medium, when used in the right way. 'All That Remains' (Craig Quintero - Taipei), for example, is an unnerving piece of theatre that is so ingeniously staged, it shows a tantalising glimpse of what photoreal immersive theatre performances could look like in the future."
You can read more of this blog article by clicking the button below.


Read More
Share this article: