StoryFutures Academy Virtual Production Skills Report
StoryFutures

November 3rd 2021

Bennett et al.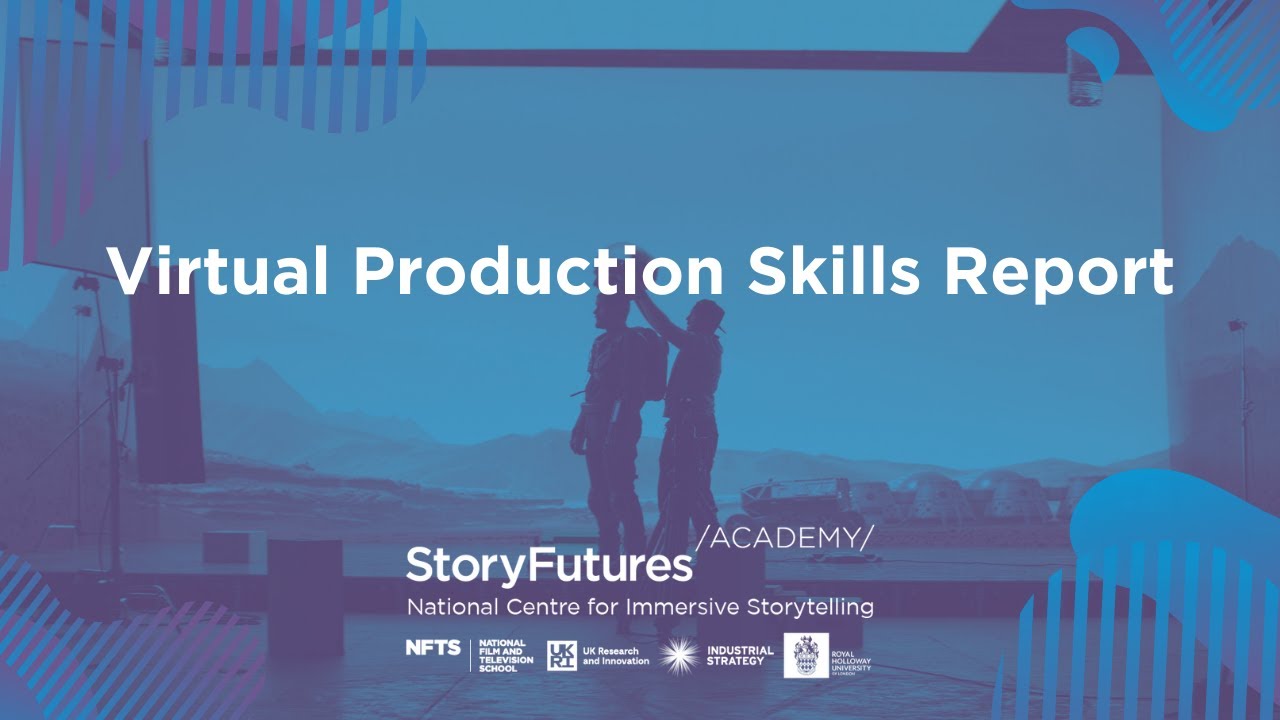 About this event:

Date: 04/11/2021

StoryFutures Academy – the UK's National Centre for Immersive Storytelling, run by the National Film and Television School (NFTS) and Royal Holloway, University of London, launched their interim Virtual Production (VP) Skills Report. This Interim StoryFutures Academy Skills Report provides a map of the Virtual Production (VP) skills needed across the film and TV industry. As with the roll out of the technology itself, the skills mapping will need to grow more widely to include games, theatre, and live production, and also look more broadly across the UK creative industries. Our Report identifies both the hard and the soft skills demands of the creative industries required to translate innovation practice into economic growth. It shows how VP changes the way key Departments operate - internally and with other Departments - during Preproduction, Production and Postproduction.
Authors
Prof. James Bennett is Director of StoryFutures Creative Cluster and Co- Director of StoryFutures Academy and the StoryTrails UnBoxed project. He is Professor of Television and Digital Culture at Royal Holloway, University of London. When he's not immersed in the future of storytelling, he likes running, sea swimming and Vegemite.
Dr. Claude Heath is Senior Research Fellow at StoryFutures in the ethnography and mapping of creative workflows in the media industry, using participatory co-design, drawing and visual research methods. His research background is in human-computer interaction and cognitive science. He also has an international track record as a visual artist with work held in national and private collections worldwide.
Fiona Kilkelly is Acting Head of Immersive at StoryFutures Academy, the UK's National Centre for Immersive Storytelling run by the National Film and Television School and Royal Holloway, University of London. Fiona established Immerse UK, the UK's immersive technology network in 2016, is Co-Founder of XR Health Alliance UK and has worked in the strategic development of emerging technologies within the creative industries for over 20 years.
Prof. Peter Richardson is Professor Of Creative Industries at Royal Holloway, University of London, he has been Principal Investigator on three major EU- funded projects researching emerging cinematic technologies. Peter has 28 years experience as a Director of music videos, commercials, documentaries, opera, visual effects supervision in film, and recently as Producer and Executive Producer on VR and VP projects.
Acknowledgments
Amy Adun, Grace Baird, Matthew Bett, Sarah Brown, Iqra Bukhari, Anar Dale, Annalise Davis and the Fireworks team, Mark Flanagan, Becky Gregory- Clarke, Johnny Johnson, Lindsay Keith, Bon Lie, Mary Matheson, Michael McKenna and the Final Pixel team, Anne McNeill, Amanda Murphy, Jodi Nelson-Tabor, Moira Noble, Isaac Partouche, Lauren Quinn, Sarah Smyth, Paul Stephenson, Beatrice Sutcliffe, and a special thanks to all of our interviewees quoted in this Interim Report 2021.
Share this article: