StoryFutures presents 'The Evolution of Immersive Storytelling' Masterclass, with Lord David Puttnam
StoryFutures

March 23rd 2023
Watch the Masterclass recording by clicking the video above.
On Tuesday 7th March 2023, StoryFutures: The National Centre for Immersive Storytelling hosted a masterclass on The Evolution of Immersive Storytelling, with opening thoughts from Lord David Puttnam CBE and hosted by Becky Gregory-Clarke, Head of Immersive, StoryFutures.
David Puttnam, CEO and Chair, Atticus Education, delivered an insightful opening talk titled "You ain't seen nothin' yet", in reference to the wealth of opportunity that developing technologies now offer storytellers, taking the audience on a journey from the birth of cinema, where audiences immersed themselves in the stories they saw on screen and how, as technology has evolved, so has the audience experience. The talk also included a brief dive into how technological advances have allowed for new mediums of storytelling, from interactive gaming to visual effects in Film and TV, to fully immersive technology such as Virtual Reality.
David was then joined by a panel of industry experts in the creative industries, focussing on the question "Where do we go from here?"; discussing some of the ground-breaking work our panellists' have achieved in immersive storytelling within the creative industries over the past 5 years and where they see it going in the future. Co-hosted by David Puttnam and Becky Gregory-Clarke, Head of Immersive, StoryFutures / National Film & Television School, the panel included:
Andrew McGuinness - Founder / CEO, Layered Reality
Dr Jo Twist OBE - CEO, Ukie
John Cassy - Founder, Factory 42
Prof. Amanda Murphy - Senior Executive Producer, StoryFutures x StoryTrails and Royal Holloway, University of London
May Abdalla - Executive Director, Anagram
StoryFutures is incredibly privileged to have collaborated with David Puttnam on this masterclass. He is a legendary independent producer of award-winning films including The Mission, The Killing Fields, Chariots of Fire, Midnight Express, Bugsy Malone and Local Hero. Together these films have won 10 Oscars, 13 Golden Globes, 31 Baftas, 9 Emmys, 4 David di Donatellos and the Palme D'Or at Cannes. He has been a leader of our industry for more than 40 years, shaping policy in the House of Lords and holding key roles at BAFTA, Channel 4, the Film Distributors Association and the National Film & Television School, where he still serves as President. He is also Chair and CEO of Atticus Education, an online education company founded in 2012 that delivers audio-visual seminars to students all over the world.

Hosted at the BFI Southbank, this masterclass event saw over 100 attendees, including notable industry names: Director, Sarah Gavron, Paul Franklin, Director & VP Consultant, DNEG, Kim-Leigh Pontin, Meta, Lawrence Chiles, The National Gallery and Sarah Burselm, Head of Business Development, Niantic. As well as those from the Film Distributors' Association (FDA), Meta, UK Screen Alliance and Hartswood Films.

Becky Gregory Clarke, Head of Immersive, StoryFutures, added,
"It was such an honour to have Lord Puttnam hosting our StoryFutures Masterclass. As somebody who has witnessed so much technological advancement in the creative world over his career, it was fantastic to hear him champion the next generation of storytelling. The immersive field has experienced such a rapid and exciting period of change over the last few years, and between them our panel represented an incredible body of work originating in the UK, which is reaching ever bigger audiences as it continues its journey out into mainstream consciousness. 'You ain't seen nothing yet' could not be a more fitting title for this occasion."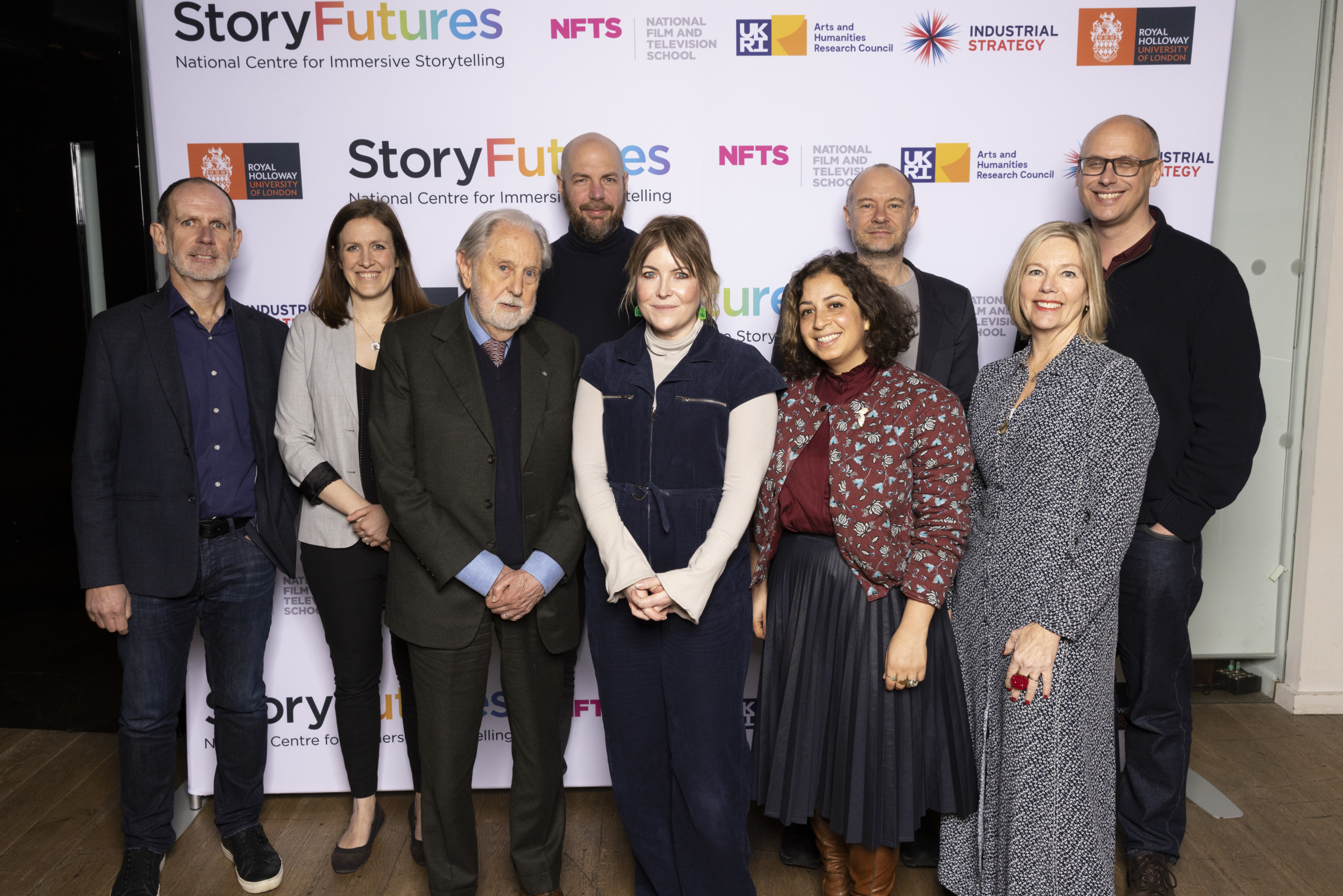 Share this article: