Pioneering a new form of multisensory cultural engagement
MoCoFX's trail-based multisensory augmented reality game is pioneering a new form of multisensory cultural engagement.
Tudors Augmented is a multi-sensory AR story-based game, pioneering a new form of engagement with key cultural heritage sites. Through this trail-based AR game, we give you a critical role to play in the stories that have shaped our history, transporting you, not only on a physical journey, but on a journey back in time. Tudors Augmented takes you to a heightened level of immersion with 3D holographic characters and a first-of-its-kind mobile scent badge, augmenting our 2020 reality with the sights, sounds and smells of Tudor life. As scent is the only one of our five senses that connects directly to the memory forming part of our brains, we are (quite literally) creating more memorable engagements with cultural heritage.
While the prototype has been designed around the site of the lost palace of Oatlands in Surrey (Henry VIII's Queen's Palace), the experience we have designed is eminently scaleable – both to other historical periods (eg. Romans Augmented) as well as to local points of historical interest within a town or city (eg. Oxford Augmented).
The project has multiple benefits both for the cultural heritage sector as well as for society as a whole.
As we know, COVID19 has seen visitor numbers and turnover at key cultural sites plummet. Tudors Augmented connects family audiences to cultural heritage through fun, highly immersive, gamified experiences that utilise the latest technologies to maximise immersion in stories of intrigue within the Tudor court. The experience aims to get families out and about – promoting wellbeing – while keeping them COVID safe. The game can be experienced either: inside the cultural heritage sites themselves; or remotely in homes and schools, for those who can't, or prefer not to travel physically to the site. This remote version of the game will enable heritage sites to commercialise their digital footfalls, and as Tudors Augmented operates on the user's own smartphone, it saves institutions money on upfront hardware investments while enabling them to offer state of the art interactive digital experiences.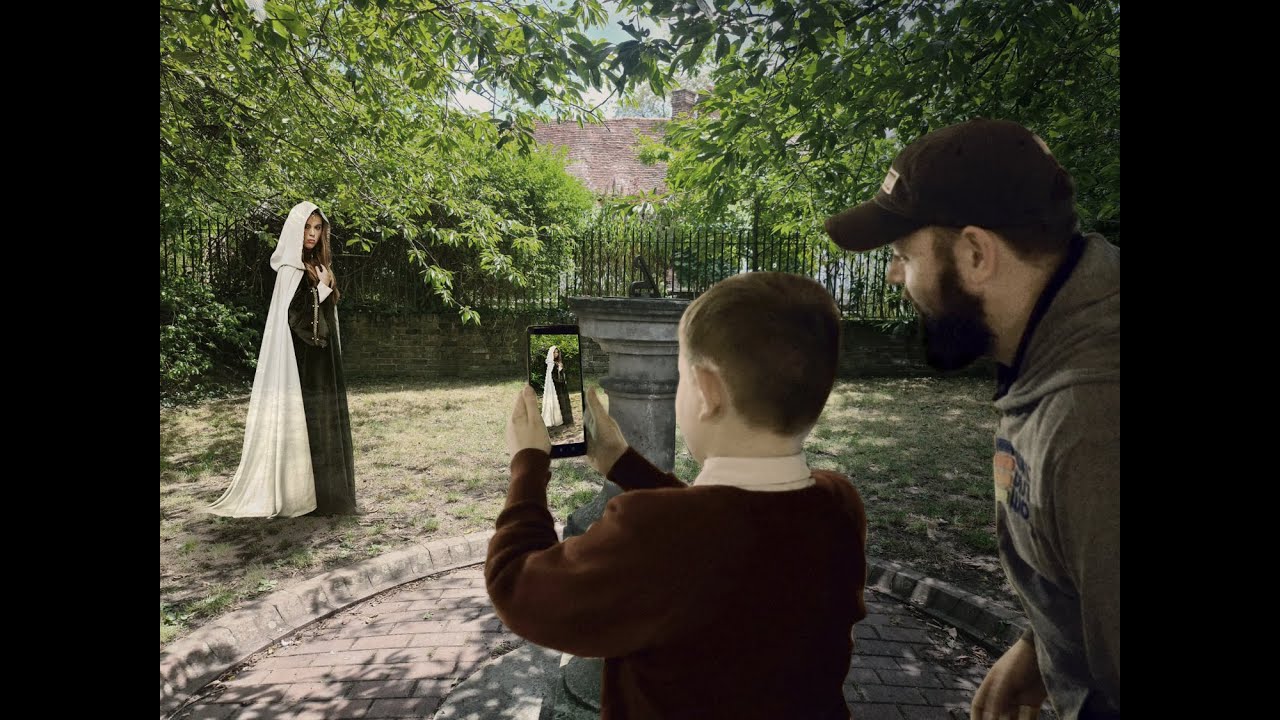 We also intend to promote social inclusion and accessibility through the project:
– We have designed storytelling experiences (and commercialisation models) that appeal to diverse audiences. The majority of cultural heritage sites have disproportionately low BAME visitor numbers. We plan to attract families from diverse backgrounds through our selections of characters and stories.

– The multi-sensory element of the games will appeal to children/adults with physical and learning disabilities, for whom being able to learn through more than one sensory system at the same time is valuable.

- The remote game will enabled people with a disability to access the game from home (which we hope will work towards redressing a difference between the 10% of individuals with a disability who currently access the physical sites versus 18% in the general population.)
Hardware
Smartphone and our own patented first-of-its-kind mobile scent device
Team
Charlotte Mikkelborg - Creative Director
Glen Winchester - R&D Lead Scent Device
Amaury La Burthe - AR Lead
Hannah Platts - Multisensory Research Lead
Partners
Surrey County Council
Elmbridge Museum
Novelab
StoryFutures - Royal Holloway, University of London
Givaudan (supporting on scent development)