Virtual Production Skills Labs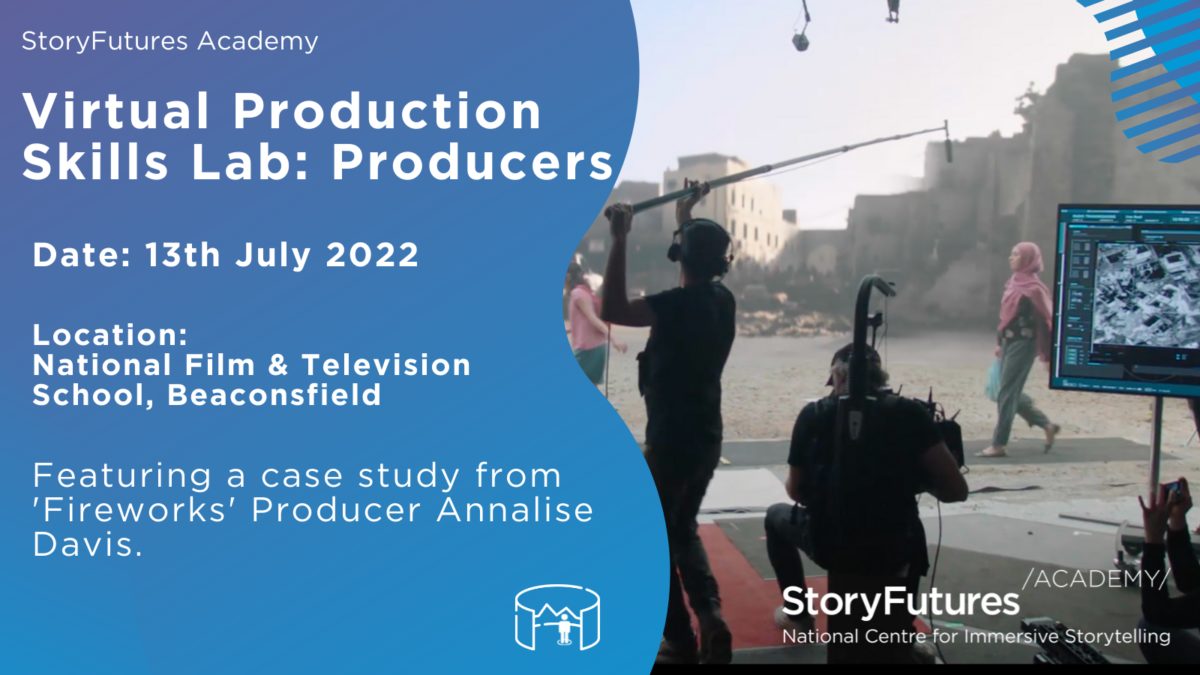 This one day hands-on course is aimed at Producers, Line Producers Production Managers and coordinators in fact anyone interested in understanding how a virtual production works. You will gain an understanding of how the technology works, what specialist teams required and the various roles and responsibilities on an ICVFX shoot which allow you to deliver the creative vision.
Participants will have the opportunity to learn about ICVFX technology, through the case study and demonstrations of Paul Franklin's recently completed short film 'Fireworks', made by Wilder Films, and shot entirely on a VP volume.
Fireworks Producer Annalise Davis will talk participants through the production workflow of a VP shoot such as 'Fireworks'. The session will help participants have a better understanding of how Virtual Production can be incorporated into your next production. With support from StoryFutures Academy Professor Peter Richardson (VP Lead) and Johnny Johnson (Lead Technician).
StoryFutures Academy Virtual Production Labs are industry vocation specific, tailoring the course outline to meet sector-specific needs. These sessions are run in small groups of 12 and are intended to provide hands-on learning with a LED Wall, granting participants the ability to expand creative thinking in effective and efficient ways.

Virtual Production (VP) is a rapidly growing area of content production. By combining CGI, game-engines, and virtual and augmented reality technologies, Virtual Production enables completely new ways of making film and TV, from virtual scouting, to set design, to real-time, on-set visual effects. Virtual Production techniques will impact many core disciplines within filmmaking, from cinematography to production design, VFX, animation, directing, and beyond.

This VP lab, along with many other training opportunities from StoryFutures Academy, are designed to bring the games and screen sectors into virtual production and address the skills gap identified by the 'Virtual Production: A Global Innovation Opportunity for the UK Report' published by StoryFutures Academy in November 2021.
This lab is now closed.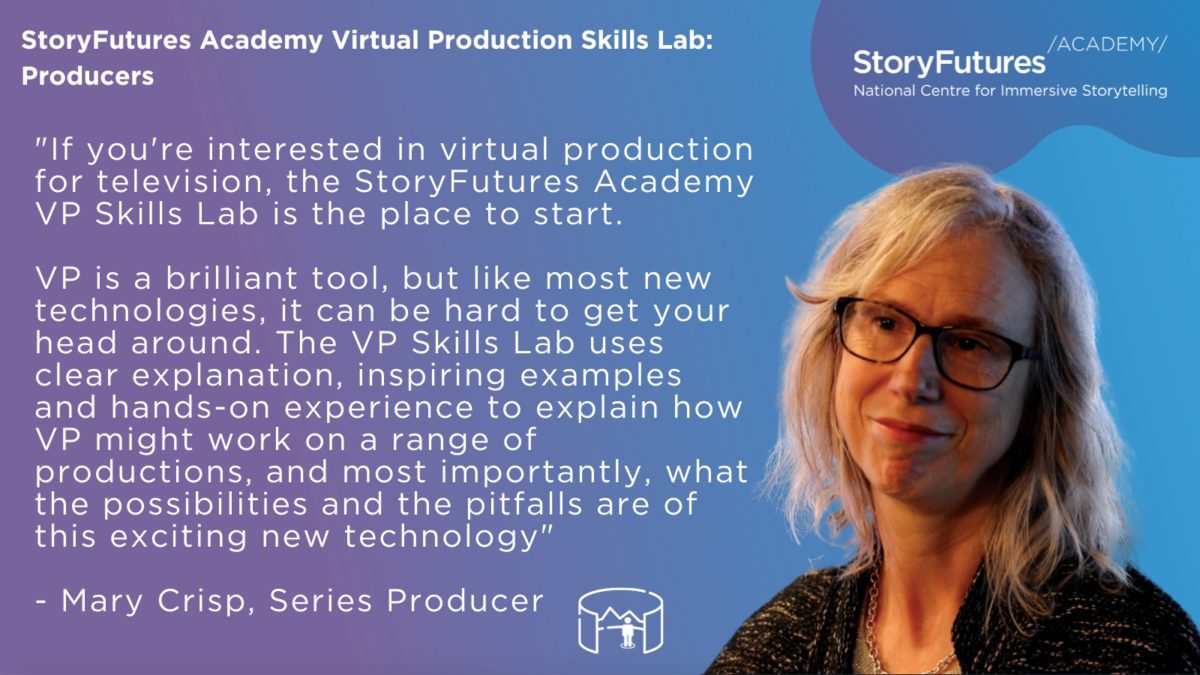 Fireworks Synopsis
A tense thriller exposing the life-changing decisions those at the top can deliver.

With an MI6 operation underway on an active target on the other side of the world, London-based Ops Leader GILLIAN LYE and her team are forced to make tough decisions. State of the art virtual production technology brings to life the blurred images on the MI6 screens and we see the real, innocent people who may become collateral damage.

Directed by Paul Franklin, produced by Annalise Davis, and written by Steven Lally, short film FIREWORKS is presented by Wilder Films, in association with Epic MegaGrants, Dimension, DNeg, Lipsync, and StoryFutures Academy: the National Centre for Immersive Storytelling.
Annalise Davis | Producer, Wilder Films
Annalise Davis (Wilder Films) has just completed principal photography on feature film 'No Way Up' starring Colm Meaney and Phyllis Logan, a survival thriller set underwater. Her recently completed short film "Fireworks", directed by double Academy Award winning director Paul Franklin, utilised cutting edge Virtual Production techniques, and will have its US premiere at TriBeCa this month.
Previously Annalise produced feature film UP THERE which won BAFTA (Scotland) Awards for Best Film and Best Director as well as the main prize at Santa Barbara International Film Festival. She served as the co-producer on THE RAILWAY MAN, starring Colin Firth and Nicole Kidman, and the UK producer on TIGERS, directed by Academy Award-winning Danis Tanovic.
Following this Annalise worked as a tutor and Head of Production at the prestigious National Film and Television School, where she oversaw over 160 short films a year, across multiple genres (fiction, TV, documentary, Science and Natural History, animation and commercials).
Annalise has also produced several award-winning short films, including Palme d'Or nominated AFTER TOMORROW, and Royal Television Society winning AFTER, as well as EIFF best film nominee AN ACT OF LOVE.
Who is it for?
This lab is aimed at Producers, Production Managers an Coordinators and anyone interested in understanding how a virtual production works.

StoryFutures Academy Virtual Production Skills Lab: Producers, Wednesday 13th July 2022. 9.30am arrival for 10am start, finishes at 5pm.
Topics covered include:
Planning – The factors to consider when deciding on Virtual Production.
Preparation – How VP prep differs from a normal production
Pre-visualisation
Narrative designer vs. Games designer.
Communication between two cultures and the different different departments that we don't see on traditional productions.
Crew – An overview of the crew needed and how they fit into a film crew.
Budgeting and Scheduling.
Production.
Post Production.
The producer's role in running a Virtual Production, to include the challenges around how it impacts on the rest of the filmmaking.
This StoryFutures Academy Virtual Production Lab will be held at the National Film and Television School (NFTS), Beaconsfield, HP9 1LG.

To apply, please complete the application form. Places will be allocated in accordance with our selection criteria. These Labs are free to attend and we receive a high volume of applications, therefore there is no guarantee of receiving a place and we will not be able to provide application feedback.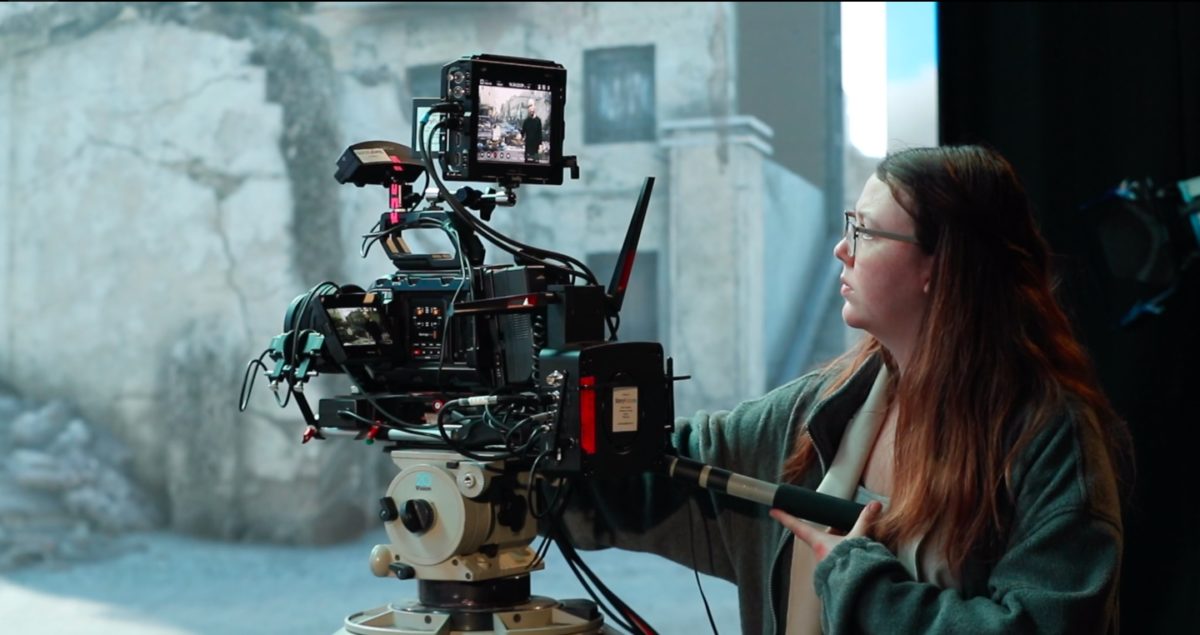 This lab is now closed.
KEY DATES
Wednesday 1st June 2022 - Call Opens
Wednesday 22nd June 2022, midnight - Call Closes
Wednesday 13th July 2022 - Virtual Production Lab: Producers. 9.30am arrival for 10am start, finish by 5pm. National Film and Television School, Beaconsfield.


This lab is supported by EM3 LEP's 'Creative Tech Booster' project with StoryFutures. EM3 LEP supports people and businesses across the West Surrey and Hampshire regions. StoryFutures Academy's Virtual Production Lab is free to access for companies across the country, with 3 places reserved for companies from the EM3 LEP region - simply provide your postcode and mark the appropriate box on your application form to confirm you are part of the EM3 LEP region (see application form).