Four Groundbreaking Immersive UK-Canadian Co-Production Prototypes Headed to SXSW
StoryFutures

March 2nd 2022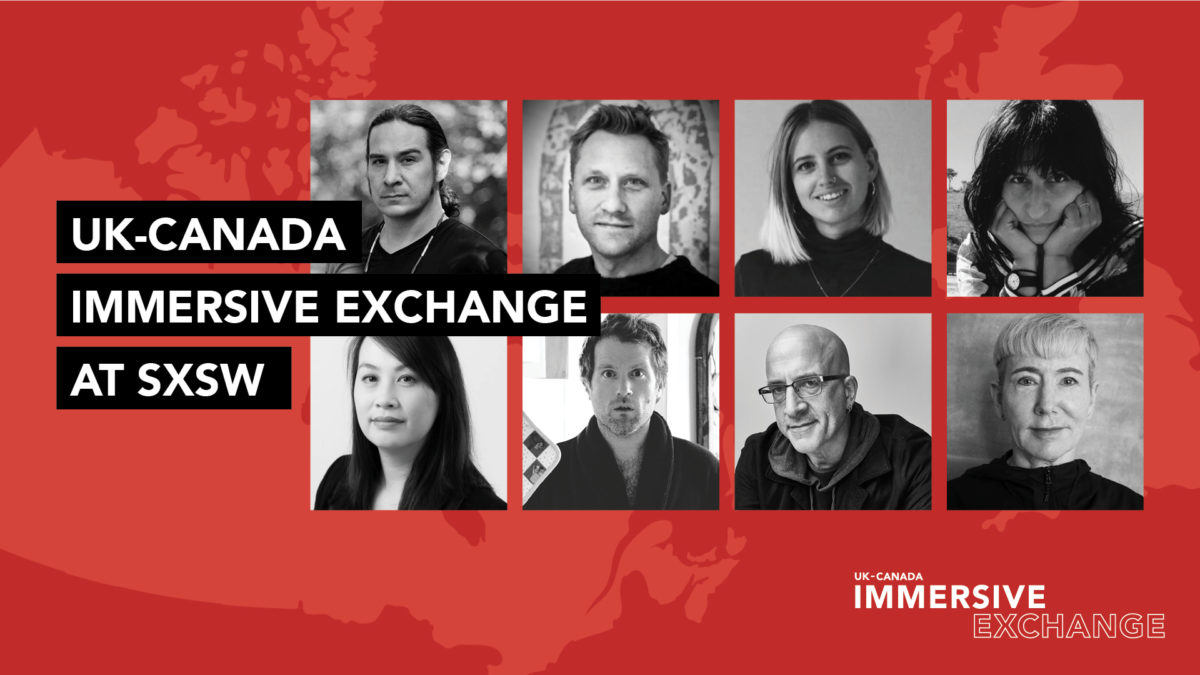 Launched in November 2020, the UK-Canada Immersive Exchange is a talent development and co-production program developed to support and champion UK and Canadian immersive technology creatives and producers. The inaugural program supported and funded six co-productions, including four "prototype projects," which each received £25,000 / $40,000 CAD, and two "audience-ready" projects, which each received £100,000 / $170,000 CAD, and ultimately pioneered groundbreaking new forms of immersive media projects and storytelling across virtual reality (VR), augmented reality (AR), mixed reality (MR) and spatial audio.

Each project team reflects an international collaboration of creators from the UK and Canada, who worked together entirely remotely during COVID-19 to design and build these projects. The program was successful at breaking down barriers between companies and artists working together across borders and territories, especially under such challenging global circumstances. The unique program design encouraged innovation and helped set the stage for these collaborations, co-productions and new immersive concepts to form.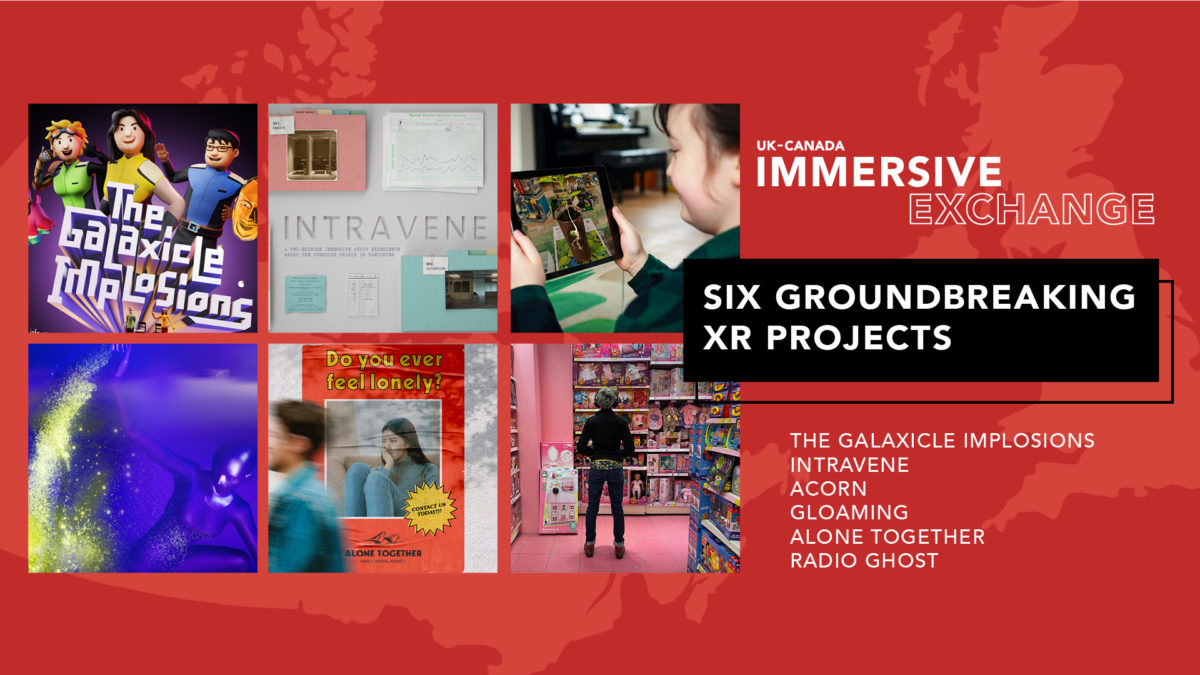 The following four prototype projects will be available for an exclusive first look to SXSW attendees from March 13-15, 2022, 11 a.m. to 6 p.m. CT at the Fairmont in the Congressional Ballroom, Booth 118:
1. Acorn (AR): Acorn is a form of enchantment that immerses users into the wonder of nature through connection. Players are bewitched by the simple action of planting a single acorn and experiencing the fullness of its life as it grows to an ancient oak. Acorn is an AR experience inspired by The Promise, winner of the New York Times Best Illustrated Book of the Year (2014) by Nicola Davies and Laura Carlin.

Creative team: Chi Thai (UK), filmmaker (fiction, documentary, immersive), three-time Cannes Lions finalist, BFI Vision-awarded producer; and Casey Koyczan (Canada), Tlicho Dene interdisciplinary artist, composer and VR/360/XR producer.
2. Alone Together (AR): Inspired by the concept of family rental agencies that provide fake family members to lonely people seeking companionship, Alone Together is a means to meet and engage with virtual beings while navigating what's real. This self-generated performance combines AR, artificial intelligence and hologram production, and mixes them with theatrical storytelling and user interactions.

Creative team: Dustin Harvey (Canada), theatre maker and creative director, project curator of XOSECRET; and Jon Meggitt (UK), co-founder of Arcade, a digital practice specialising in immersive technology.
3. Gloaming (VR): Gloaming is a one-hour immersive multi-site VR experience and live performance that simultaneously connects two groups on opposite sides of the world, one at dawn and one at dusk, each in a multisensory art installation. Audiences are given VR headsets allowing them to conjure new ways of interacting with each other while being guided by a live motion-capture dancer.
Creative team: Leonie Rae Gasson (UK), multi-reality director, fusing live performance with VR to make experiences from a queer neurodivergent perspective; Athomas Goldberg (Canada), digital artist and creative technologist, co-founder of Pepper's Ghost New Media and Performing Arts Collective, Creative Director of Shocap Entertainment; Dave Lynch (UK), pioneering creative director, inventor and co-founder of Immersive Networks.
4. Radio Ghost (Spatial Audio): Inspired by the Japanese concept of Tsukumogami, a Shinto belief that every object has a spirit, Radio Ghost is an app-based ghost-hunt that transforms malls into fantastical spaces, and uses binaural sound and multi-player game design to encourage playful collaboration, physical activity and ethical consumption.


Creative team: Persis Jadé Maravala (Yemen-UK), artistic director of multi-award-winning not-for-profit digital arts/theatre company ZU-UK; Lynn Hughes (Canada), artist-designer and researcher focused on the intersection of game design, immersive interactive experiences and live action role playing; and Jorge Lopes Ramos (Brazil-UK), executive director of ZU-UK and Associate Professor of Contemporary Performance at the University of Greenwich.


These creators will also participate in a panel at SXSW, UK & Canadian XR Project Pitching Power Hour, on March 14, 2022 from 10 to 11 a.m. CT, where they will discuss the creative and collaborative process behind their XR prototype projects, as well as possible funding and collaboration opportunities to bring these prototypes to market.



Additionally, two audience-ready projects were developed as part of the UK-Canada Immersive Exchange:
The Galaxicle Implosions blends technology, improvisation, animation, interaction and music to create five episodes of an animated sci-fi comedy series that will be performed live simultaneously in front of three separate audiences (VR, in-theatre and YouTube) and co-created by the users. Watch a teaser of the experience here.
The creative duo behind the project is Fred Deakin (UK), a multidisciplinary artist, musician, half of the Mercury/Brit nominated band Lemon Jelly, and founder/director of digital design studio Airside; and Rachael Hosein (Canada), co-founder/CCO of Flipside XR, New Media Manitoba Board of Directors member, and co-founder of the Winnipeg Alternate Reality Club.
They recently completed live industry previews of their project at Tall Stories Studio in London, UK, which involved live actors in VR headsets who were also in front of an in-person audience, as well as a live-stream in 2D for a global audience watching from home.
Intravene is a two-episode immersive audio experience. Using binaural 360 degree sound, listeners are plunged into the heart of the overdose crisis in Vancouver, Canada, a critical public health emergency. The project amplifies the voices of drug users, narrating the story of the Vancouver drug crisis from the point of view of those people most affected by it: users and frontline workers.
Immersive experience makers Darkfield (UK; David Rosenberg, Glen Neath, Victoria Eyton and Andrea Salazar), documentarian Brenda Longfellow (Canada) and Crackdown Podcast (Canada; Garth Mullins, Sam Fenn and Alex de Boer) joined forces in this groundbreaking partnership to create Intravene using innovative technology. The team is gearing up for a public launch and participation at festivals in 2022.



The UK-Canada Immersive Exchange is supported by an international collaboration between StoryFutures Academy, the National Centre for Immersive Storytelling (run by the National Film and Television School and Royal Holloway, University of London), Arts Council England, the Canada Media Fund, the Canadian Film Centre's Media Lab (CFC Media Lab) and the Canada Council for the Arts.
Additional SXSW showcase funding was provided by the Future Art and Culture programme presented by British Underground and supported by Arts Council England, as well as the Canada Media Fund.
For more information on the UK-Canada Immersive Exchange, please visit:

Share this article: