Innovation with Impact - How we are making the virtual and the augmented a positive reality for Coventry UK City of Culture 2021
StoryFutures

May 26th 2021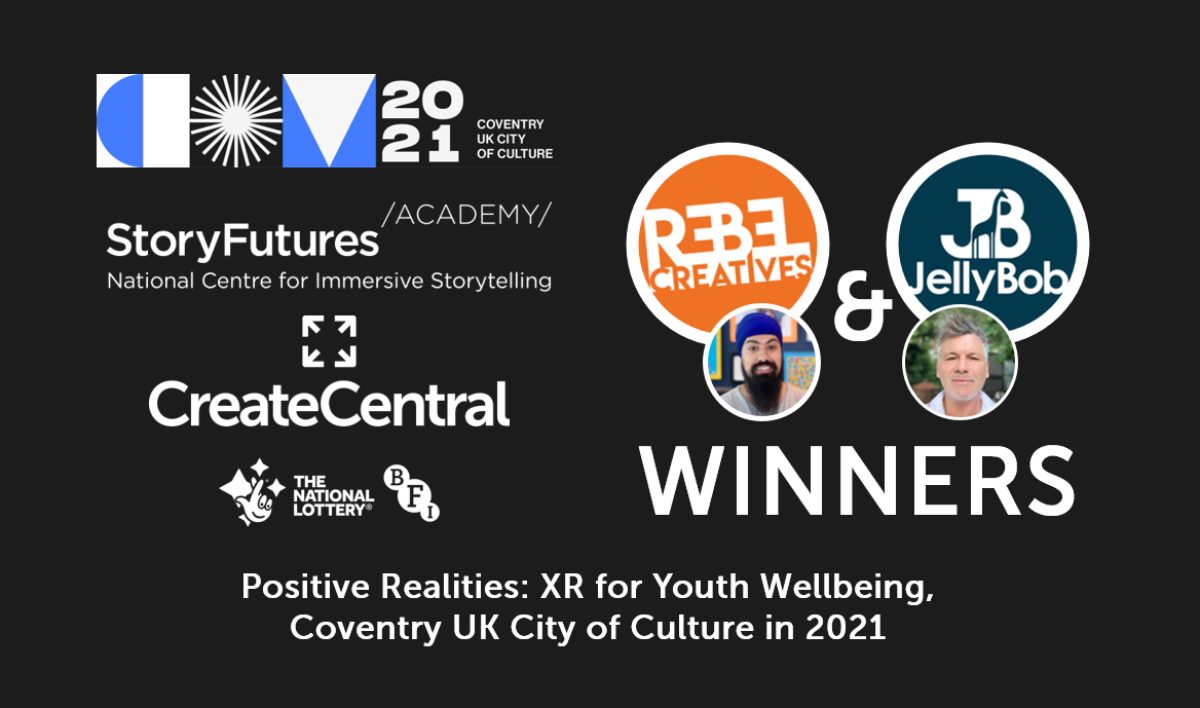 Last year we announced an open innovation challenge - "Positive Realities" a partnership and a pathfinder project that would explore innovative new approaches to health and wellbeing for Coventry UK City of Culture 2021.
Create Central invited the region's most creative thinkers in film, TV, performance, games and digital media to immerse themselves in the rapidly growing world of augmented and virtual reality and then develop a prototype that would use those technologies to positively impact the wellbeing of young people in Coventry.
After workshops with local young people, training from StoryFutures Academy, the UK's National Centre for Immersive Storytelling, and a rigorous selection process, we are delighted to announce that the awarded team has been chosen. Amrit Singh, Creative Director at Rebel Creatives and Nigel P. Harris, Creative Director at JellyBob are collaborating on a web-based augmented reality project called "Urban Jungle" that they will be prototyping in time for a series of outdoor events in Coventry this summer.
They will be working closely with our partner agency, Positive Youth Foundation and a cohort of "Digital Ambassadors" between the ages of 16 and 25, who will co-curate a series of place-based experiences and stories that will talk to their lived experience of Coventry in 2021.


"As creative professionals who are new to the immersive technology world, we're really excited to be part of this brilliant initiative. It's allowed us to experiment and develop an innovative and co-curated prototype with local talent, using our existing experience and knowledge of working in the content creation, creative and TV production industries." - Amrit Singh, Rebel Creatives.
"We're looking forward to showcasing a series of geo-located immersive experiences accessed via Web-AR that have been co-curated with young people from Coventry. By working alongside local artists, musicians and creatives, we hope to link different communities by opening a positive window with a focus on the well-being of young people from Coventry." - Nigel P. Harris, JellyBob.
Rashid Bhayat, director of Positive Youth Foundation said: "We are really excited to be working with Amrit and Nigel and by the opportunities that the Positive Realities project presents to young people. This project has the ability to use creative technologies to inspire young people, whilst addressing positive outcomes relating to young people's relationships with culture, community and well-being.
"Working with Coventry's young people and engaging them in new opportunities that will leave a positive impact for them and the entire city, is what our work at Positive Youth Foundation is all about. We look forward to working with the team on the next phase of the project."
THE POSITIVE REALITIES PARTNERSHIP
The UK's creative sector makes a vital and varied contribution to our health and well-being. Most of us know there are things in our lives we enjoy doing which help us to stay well. Films, books, games, arts and stories of all kinds can help us process the world around us and increase an understanding of ourselves and others. But the way we can tell life enhancing stories is evolving. New tools such as real time game engines and haptic technologies can create virtual worlds and the chance to touch and smell as well as to see and hear.
You can explore the world from a different point of view, experiencing new perspectives in a virtual world that can alter your behaviour in the real one. Positive Realities is a partnership between organisations committed to the creative renewal of our region and that believe it is great storytellers and great creative companies that will immerse audiences in these new worlds and that will make the virtual and the augmented an exciting new reality.
Ed Shedd, Create Central Chair, said "Create Central was set up to support the creative content sector to embrace new technologies and provide the building blocks for the future of media. With the support of the BFI, awarding funds from the National Lottery, as part of BFI National Cluster Growth Fund Agreement, this is a fantastic project that will demonstrate the benefits of collaborative working in the region."
"We know from our research that immersive technologies are proving to be powerful tools that can help improve health and wellbeing. We cannot wait to see how Jellybob, Rebel Creatives and the young people of Coventry use them and what they come up with", Professor Will Saunders, Chief Creative Officer, StoryFutures Academy.
Tony Guillan, Digital Curator at Coventry City of Culture Trust said: "We're thrilled to have partnered with StoryFutures Academy, Create Central and Positive Youth Foundation to deliver the Positive Realities programme, supporting regional companies to explore innovative cultural applications of immersive tech, with a focus on improving the wellbeing of young people in the city.
"Rebel Creatives and JellyBob bring a wealth of experience to this exciting challenge and will be collaborating with a team of young 'Digital Ambassadors' at PYF who bring their own creativity and diverse experiences of Coventry life to the project.
"We will be releasing more updates as the project progresses and look forward to sharing what the teams create together for young people across the city this summer."




Share this article: