'One Story, Many Voices', A StoryFutures Academy Immersive Audio Project with Imperial War Museums
StoryFutures

December 16th 2021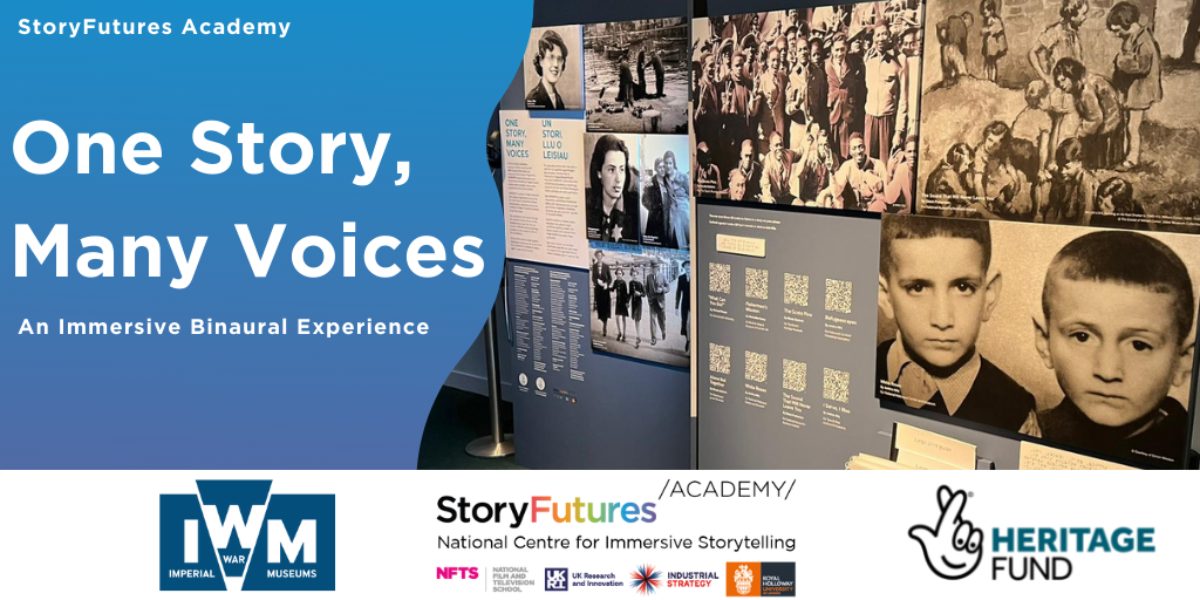 On Wednesday 20th October 2021, Imperial War Museums (IWM) London opened the doors to its new Second World War and The Holocaust Galleries. As the Second World War and the Holocaust pass out of living memory, IWM will bring unseen objects, untold stories and unheard voices together to help visitors to understand the most devastating conflict and genocide in modern history.
Alongside the opening of new Second World War and The Holocaust Galleries at IWM London, IWM's Second World War and Holocaust Partnership Programme (SWWHPP) supports eight cultural heritage partners across the UK to engage with new audiences and share hidden or lesser-known, local stories related to these histories.
One Story, Many Voices is an innovative digital installation project which brings together a group of celebrated writers, local communities and members of SWWHPP with expertise in binaural sound recording provided by StoryFutures Academy (UK's National Centre For Immersive Storytelling, run by the National Film and Television School and Royal Holloway University of London). Together they imagined and created immersive sound worlds with diverse voices reflecting on war and conflict and its impact on our lives today.
Writers attended the StoryFutures Academy Audio Lab which introduced them to the possibilities of the technology, and also discussed ways of dealing with such sensitive issues. StoryFutures Academy also worked with SWWHPP Project Manager, Rachel Donnelly, SWWHPP partners and members of local communities they are working with around the UK, so they too could understand what the technology might offer.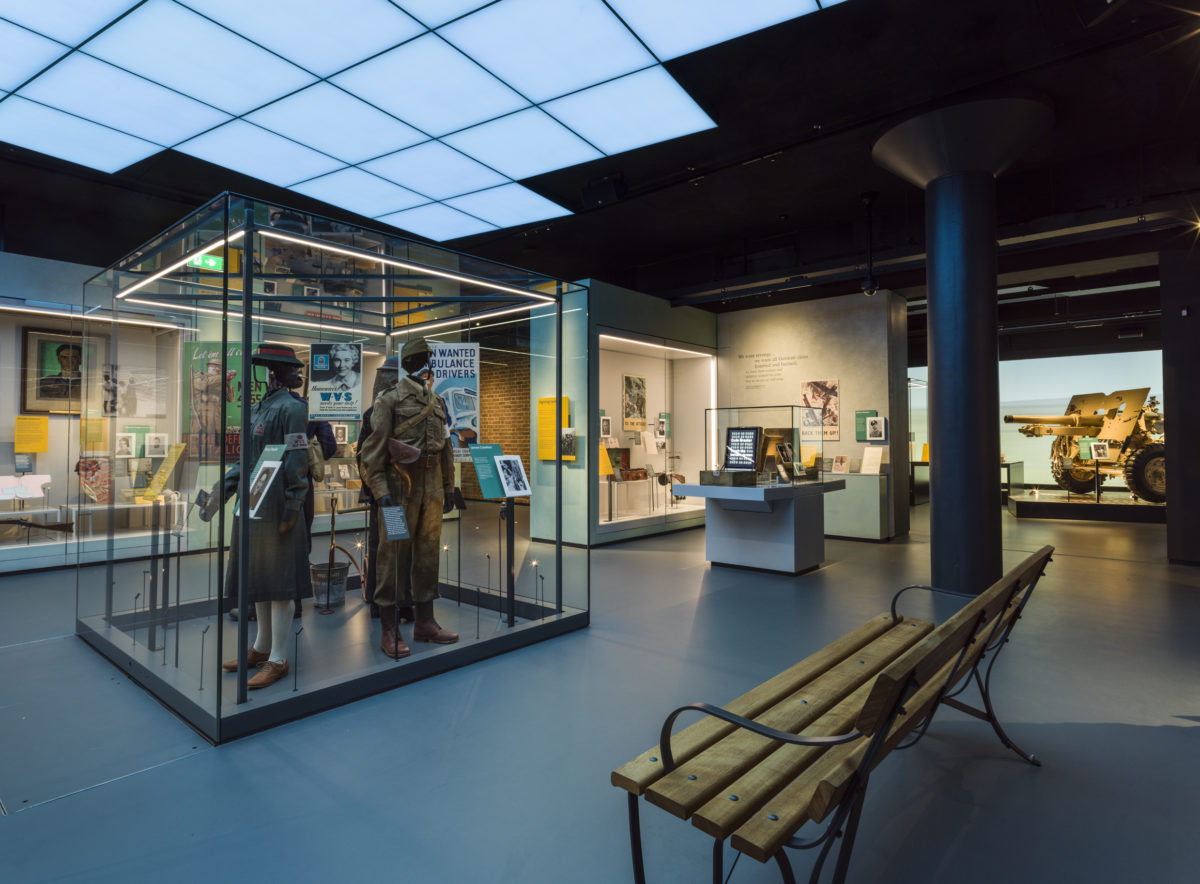 The stories range from a powerful tale by Mercedes Kemp of Breton Fisherman who fled to Cornwall to carry on the fight against the Nazis, to Amina Atiq's moving poetic conversation with Holocaust survivor Simon Winston set in the garden of the National Holocaust memorial in Nottingham and Michael Rosen's devastating poem about the fate of his refugee relatives is contrasted with the story of a Syrian refugee who has found shelter in Aberystwyth.
Other stories dramatize memories of the Belfast Blitz, a German-Jewish refugee who makes a new home in Manchester, a woman's experience as a bus conductor in wartime Tyneside, a reflection on Honduran soldiers supporting the war effort in Scotland, and the Holocaust survivors who settled in Yorkshire.
Professor Adam Ganz, Head of the StoryFutures Academy Writers Room said: "it was a great honour to work with the IWM, their Second World War and The Holocaust Programme Partners and a group of talented writers from all over the country to find and tell stories which evoke this momentous past.
We are delighted that their work will be heard by visitors to the new Imperial War Museums' Galleries and will then travel around the country so they will be heard in the communities where these stories are part of the collective memory".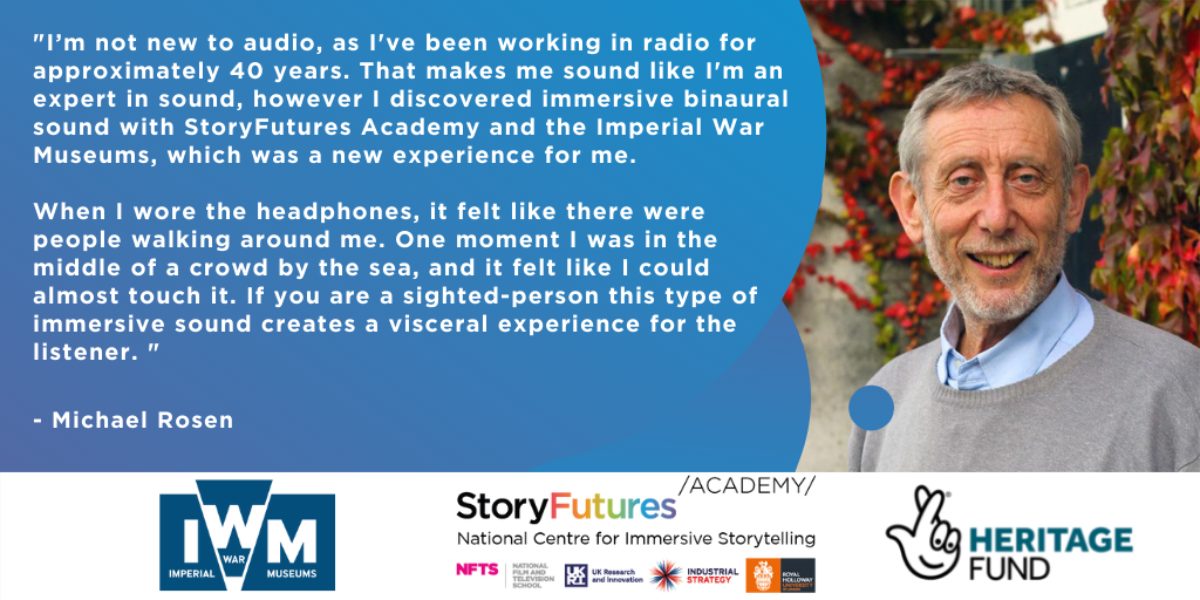 The binaural stories are written by:
Amina Atiq who worked with the Holocaust Survivors' Friendship Association, Leeds and Huddersfield; the National Holocaust Centre and Museum, Nottinghamshire and Tyne & Wear Archives & Museums.
Nicola Baldwin* who worked with Manchester Jewish Museum.
Mercedes Kemp for Wildworks Theatre Company, who worked with Bodmin Keep and the Museum of Cornish Life.
Glenn Patterson who worked with National Museums Northern Ireland.
Michael Rosen who worked with Aberystwyth University/Prifysgol Aberystwyth.
Make sure to use headphones for the full immersive experience.
Listen Now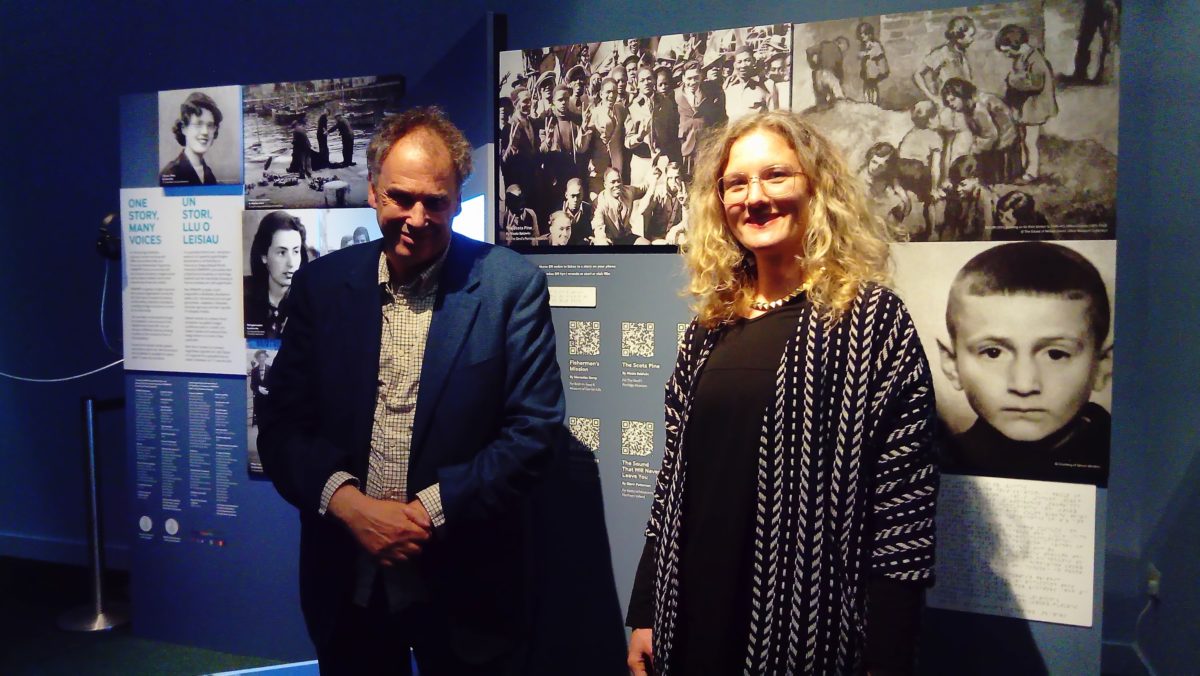 The installation has been designed by creative agency, Joi Polloi, and is currently situated at the Imperial War Museum London until 19th December 2021. The installation will be touring the UK in 2022 - 23, see dates below -

Holocaust Survivors' Friendship Association at Huddersfield University, 11 Jan - 11 Feb 2022.
Bodmin Keep – 19 Feb to 12 Mar 2022.
Museum of Cornish Life – 19 March to 16 April 2022.
The Devil's Porridge Museum, Scotland - 25 April to 5 June 2022.
Tyne & Wear Archives & Museums – 18 June to 14 August 2022.
National Museums Northern Ireland – Open to public until early November 2022.
Aberystwyth University Arts Centre – 9 November to 3 January 2023.
Manchester Jewish Museum – Early January to mid Feb 2023.
National Holocaust Centre and Museum, Nottinghamshire – Mid Feb to end March 2023.
IWM and StoryFutures Academy would like to thank the following people and organisations:
SWWHPP members
Centre for the Movement of People at Aberystwyth University
Cornwall Museums Partnership (Bodmin Keep, Museum of Cornish Life)
Go Industrial (The Devil's Porridge Museum, The Scottish Fisheries Museum)
Holocaust Survivors' Friendship Association
Manchester Jewish Museum
National Holocaust Centre and Museum
National Museums Northern Ireland
Tyne & Wear Archives & Museums
Writers - Amina Atiq, Nicola Baldwin, Mercedes Kemp for Wildworks Theatre Company, Glenn Patterson, Michael Rosen.
* Nicola Baldwin also worked on another piece outside of the StoryFutures Academy co-production, with the Devil's Porridge Museum in Scotland to imagine how a Honduran serviceman might have experienced the cold Scottish winters far away from home, during the Second World War.
StoryFutures Academy – Executive Producers: Adam Ganz, James Bennett, Sarah Smyth. Sound Design: Grace Baird, Joe Butcher, Neil Cullen, Rich Hemming, Alex Stroud.
Installation design – Joi Polloi
Audio Visual and Digital design – IWM, Joi Polloi, Donal Whelan.
Graphic design – IWM, Joi Polloi
Set Fabrication – AM System
Translations (text & audio) – Cornwall Council, Kamila Koronska, Bethan Mair.
Sign language – Weald BSL, Bernard Kinov
Braille translation – RNIB
Access consultant – Goss Consultancy Ltd
You hear the voices of – Santiago Acevedo, Amina Atiq, Rachel Bavidge, Charity Bedu-Addo, Tim Cartwright, Ghofran Hamza, Laura-Sophie Helbig, Stephanie Houtman, Bernard Kinov, Kamila Koronska, Noni Lewis, Sara Lloyd, Sion Meredith, Angela Ness, Conor O'Donnell, Louise Parker, Geraint Pickard, Michael Rosen, Edward Rowe, Simon Winston, Becky Wright.
Generously funded by The National Lottery Heritage Fund and StoryFutures Academy
Thanks to National Lottery players.
Sign up to TestXR!

If you would like to provide your feedback on the experience sign up to TestXR and complete a short survey. Whether you tried our experience onsite or listened to the audio online, our researchers can use your insights to improve storytelling within these emerging creative technologies.

Join TestXR
Share this article: