StoryFutures Academy Launches 'Fireworks' short film World Premiere and Masterclass
StoryFutures

March 11th 2022
On Thursday 10th March 2022, StoryFutures Academy (The National Centre for Immersive Storytelling, run by the National Film and Television School and Royal Holloway, University of London) launched the world premiere and masterclass of short film Fireworks that uses cutting edge Virtual Production to tell its story.
Situated at the Curzon Soho, the premiere saw over 150 guests including those from Epic Games, the BFI, DNEG, Dimension and a wide array of creatives who work in the film, television and theatre industry. There was an electric atmosphere from the guests surrounding Fireworks and its pioneering use of Virtual Production technology, which is achieved by combining cutting-edge games engine technology, like Epic Games' Unreal Engine, with large high-resolution LED screens, to create highly realistic 3D scenes live on set.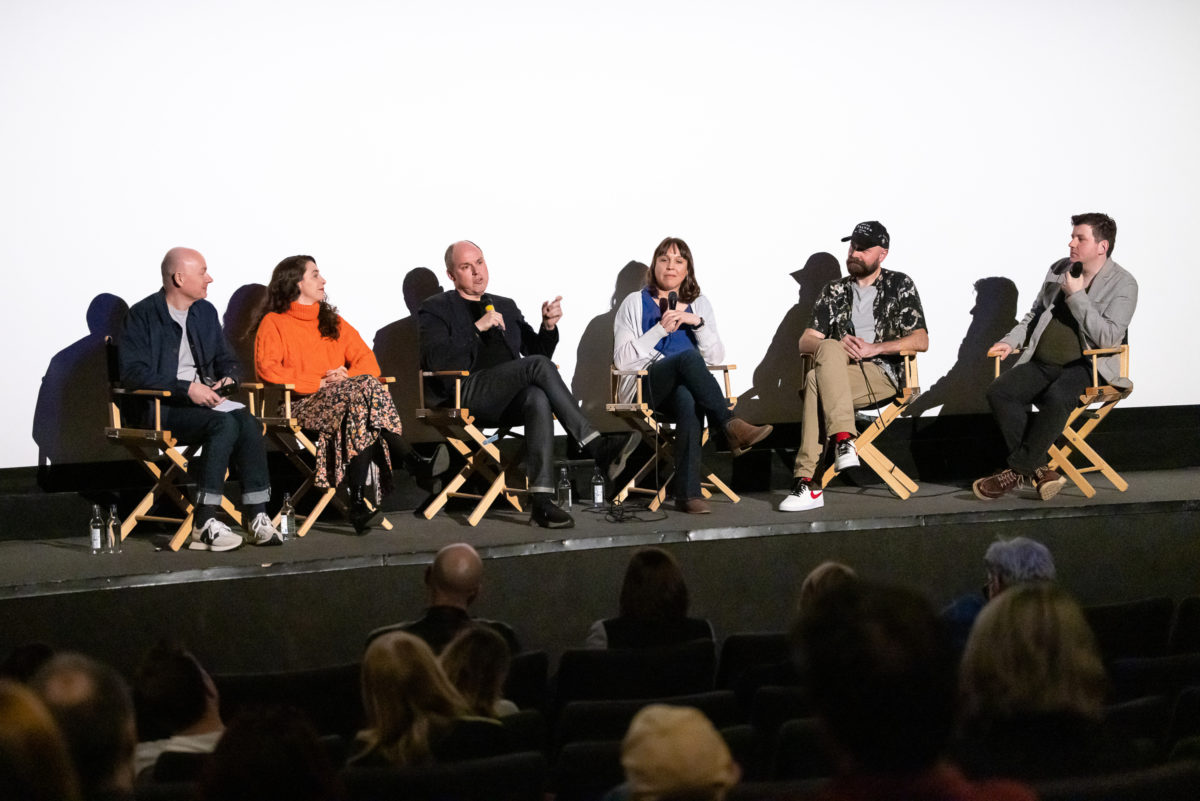 Following the premiere screening, StoryFutures Academy Virtual Production Lead Prof. Peter Richardson welcomed Fireworks cast and crew to the stage for a Masterclass discussion on working with VP: Two-time Oscar and BAFTA Award winner Paul Franklin (Interstellar, Inception); BAFTA Award winner Annalise Davis (The Railway Man, Up There) for Wilder Films; acclaimed screenwriter and playwright Steven Lally; VP Supervisor and Co-founder and CTO at Dimension Callum MacMillan; Actress Raghad Chaar (I Hate Suzie, Star Wars: Rise of the Skywalker). Guests also enjoyed some clips of the Fireworks 'behind-the-scenes' videos created for future VP training & development. You can watch the Fireworks BTS clips here.
Fireworks stars Charlotte Riley, Denise Gough, Ivanno Jeremiah, Sophie Wu, Hammed Animashaun, Raghad Chaar, Elysse Adil. Told in real time in the moments before a potential strike on a Tripoli target, the film uses ground-breaking Virtual Production techniques to tell its story. Directed by double Academy Award winner Paul Franklin, produced by BAFTA winner Annalise Davis, written by acclaimed screenwriter Steven Lally. A Wilder Films production, in collaboration with Dimension, DNEG, Epic Mega Grants, Lipsync and StoryFutures Academy.


Fireworks will be screened publicly for the first time in the UK at Crystal Palace International Film Festival as part of Fab Eclectic Mix on Wednesday 23rd March 2022 and the Poppy Jasper Festival in the US on Sunday 10th April 2022.
StoryFutures Academy & Future Screens NI, also announced 'VP Futures' earlier this week, a Virtual Production training & development programme for UK Screen Sector, supported by Industrial Light & Magic (ILM) and Epic Games. This groundbreaking partnership will deliver a package of targeted virtual production training, development and production support for the creative screen industries in the UK. This UK wide programme is designed to bring the games and screen sectors into virtual production and address the skills gap identified by the 'Virtual Production: A Global Innovation Opportunity for the UK Report' published by StoryFutures Academy in November 2021.
StoryFutures Academy is also delighted to announce its upcoming Virtual Production 'Hands on Skills Lab' with some of the team behind Fireworks, Dimension's Callum MacMillan and Ed Thomas on Wednesday 20th April 2022. Applications open on Wednesday 16th March 2022.


Share this article: