UK-Canadian co-productions awarded £300,000 for Immersive Storytelling Exchange Initiative
StoryFutures

July 6th 2021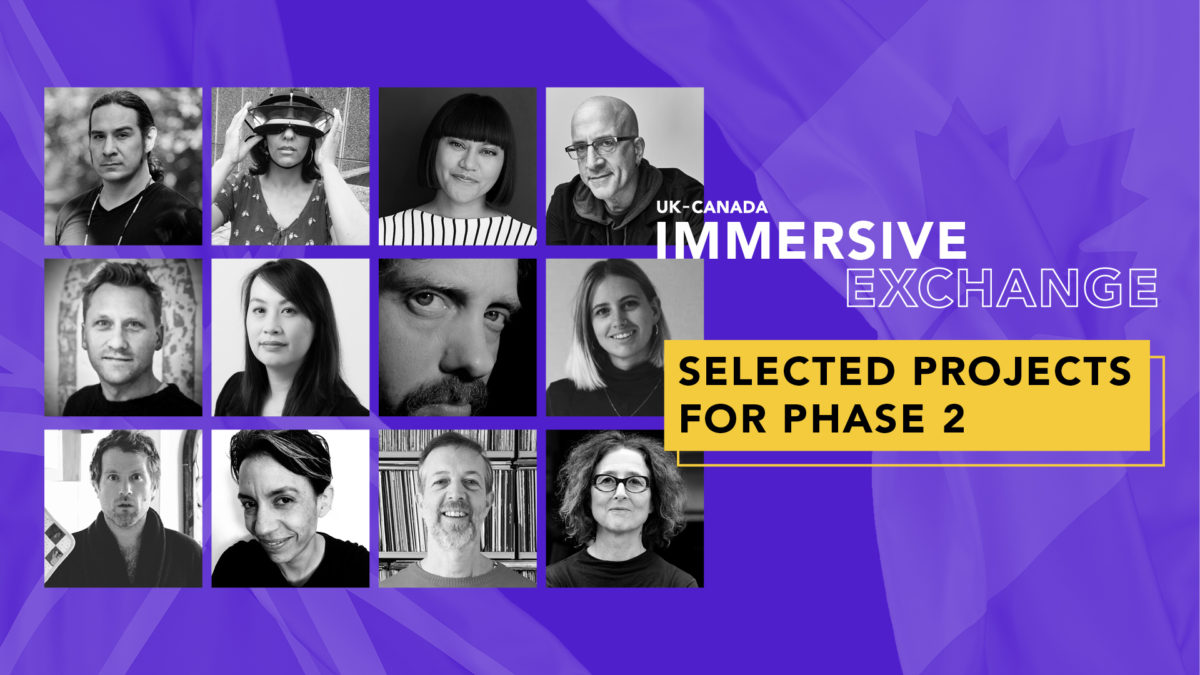 Six creative projects have been awarded a total of £300,000, as part of the next phase of the UK-Canada Immersive Exchange - a talent development and co-production programme for UK and Canadian immersive technology creatives and producers.
Twenty-four participants – 12 from the UK and 12 from Canada – were originally chosen from 500 applications for the talent development phase of the exchange, which concluded in February 2021. They included six creative leads from each country – a mixture of artists, filmmakers, theatre directors and innovators – as well as six creative producers from each country, who brought with them an impressive and varied range of experiences from diverse backgrounds across the creative spectrum.

From this talent development group, 6 co-productions have been chosen, including two 'audience-ready' projects, each receiving a total of up to £100,000, and four 'prototype' projects, receiving approximately £25,000 each, with the finished projects previewing in early 2022.

"We were thrilled to see the breadth of co-production projects that were developed between the UK and Canadian teams," shared Laura Mingail, Program Co-Lead, UK-Canada Immersive Exchange, on behalf of the Canadian Film Centre Media Lab. "The immersive experiences that will receive funding and further support during this next stage of the UK-Canada Immersive Exchange include VR, AR and spatial-audio content that range from social impact-centric stories to wildly entertaining experiences.This range of content would not have been possible without having started with such a diverse cohort in terms of both backgrounds and experiences."


The year-long programme has been developed to support and champion an international cohort of artists, filmmakers, producers, companies and creators from Canada and the UK, aiming to be future leaders of immersive storytelling. Embracing emerging technologies, including virtual reality (VR), augmented reality (AR) and mixed reality (MR), the accelerator will pioneer new forms of immersive storytelling by bringing together participants representing a wealth of backgrounds and experiences from games, TV, film, theatre, performing and visual arts, and other forms of digital and interactive media.


The UK-Canada Immersive Exchange is supported by an international partnership between StoryFutures Academy - The UK's National Centre for Immersive Storytelling (run by the National Film and Television School and Royal Holloway, University of London), Arts Council England, the Canada Media Fund, the Canadian Film Centre's Media Lab (CFC Media Lab) and the Canada Council for the Arts.
"We are absolutely delighted that the UK-Canada Immersive Exchange programme has led to such a brilliant set of collaborations and projects, especially under such challenging global circumstances," added Becky Gregory-Clarke, Program Co-Lead, UK-Canada Immersive Exchange and Head of Immersive, StoryFutures Academy. "The intent behind this programme has always been to break down barriers between companies and artists working together across borders, and we are incredibly proud of the way they have embraced this challenge and of the work they've done together so far. We can't wait to experience the incredible immersive worlds they create."
Audience-Ready Projects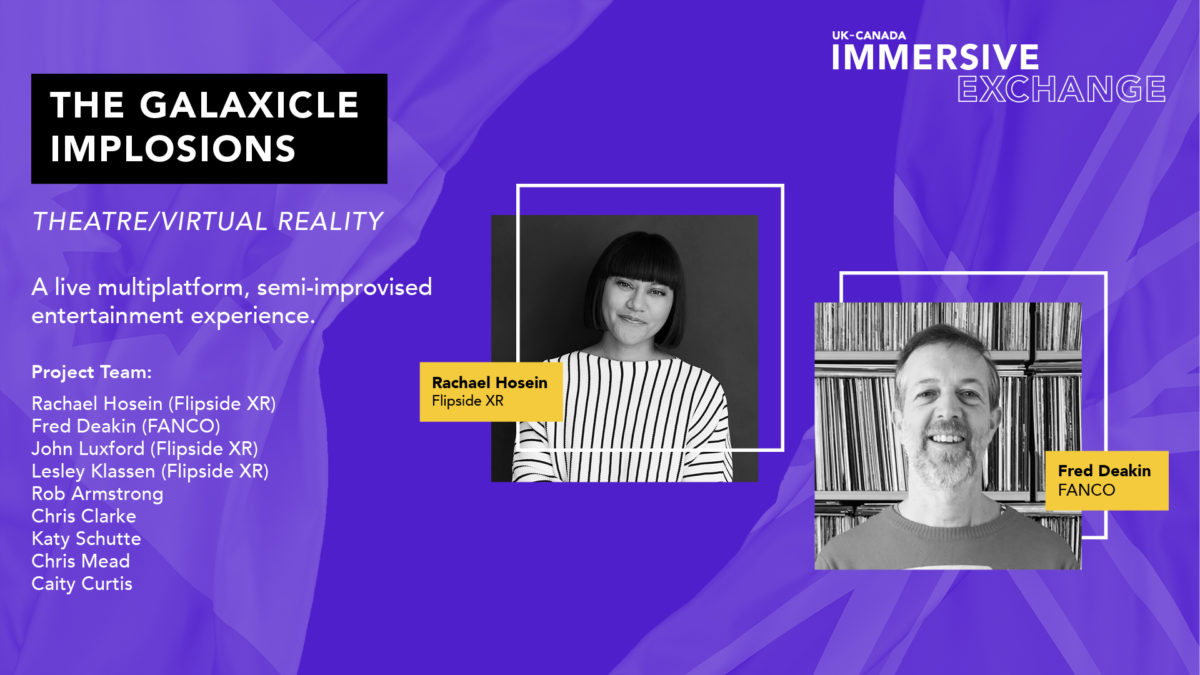 THE GALAXICLE IMPLOSIONS - a live multiplatform, semi-improvised entertainment experience.

A collaboration led by RACHAEL HOSEIN, co-founder/CCO, Flipside XR; Director,, New Media Manitoba Board of Directors; co-founder, Winnipeg Alternate Reality Club and FRED DEAKIN, multidisciplinary artist; musician; half of the Mercury/Brit nominated band Lemon Jelly; founder/director of digital design studio Airside. With creative support from John Luxford, Lesley Klassen, Rob Armstrong, Chris Clarke, Katy Schutte and Chris Mead.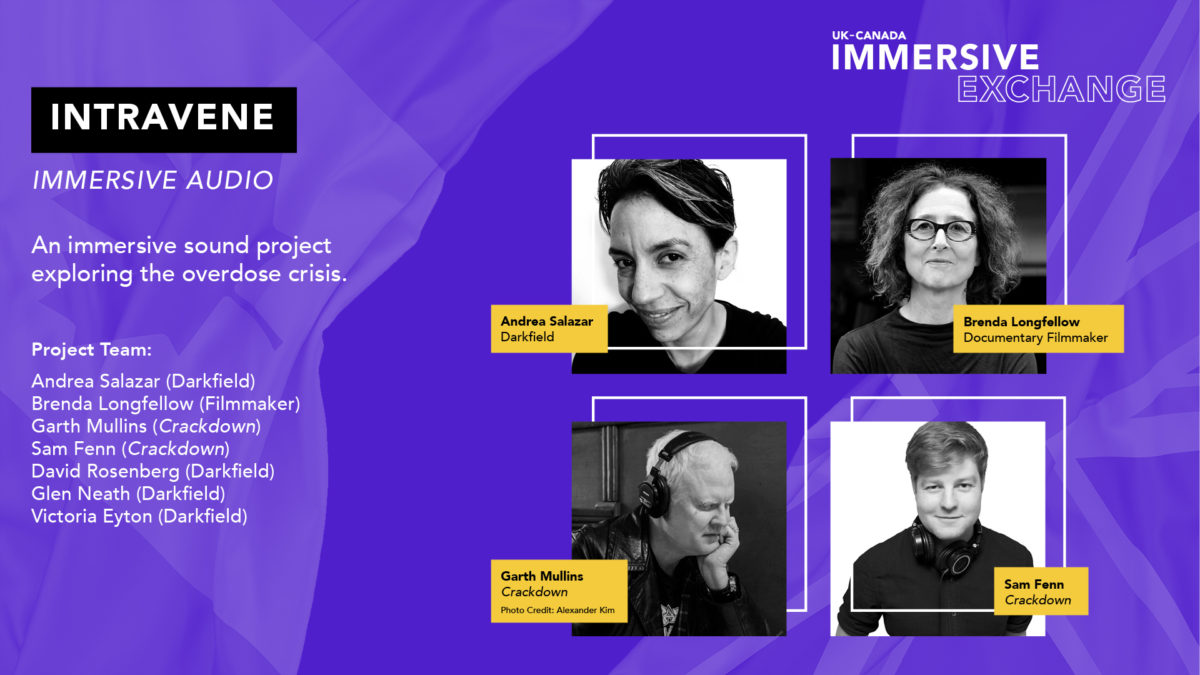 INTRAVENE - an immersive sound project exploring the overdose crisis.

This project is being developed by ANDREA SALAZAR, co-founder and executive director, Darkfield, a multi-sensory sonic theme park as well as makers of 3D storytelling at home experiences, alongside BRENDA LONGFELLOW, interactive director; award-winning filmmaker; professor, Department of Cinema & Media Arts, York University, GARTH MULLINS, host and executive producer of the podcast Crackdown and SAM FENN, Senior Producer of Crackdown. The wider creative team includes David Rosenberg, Glen Neath and Victoria Eyton (Darkfield).

Prototype Projects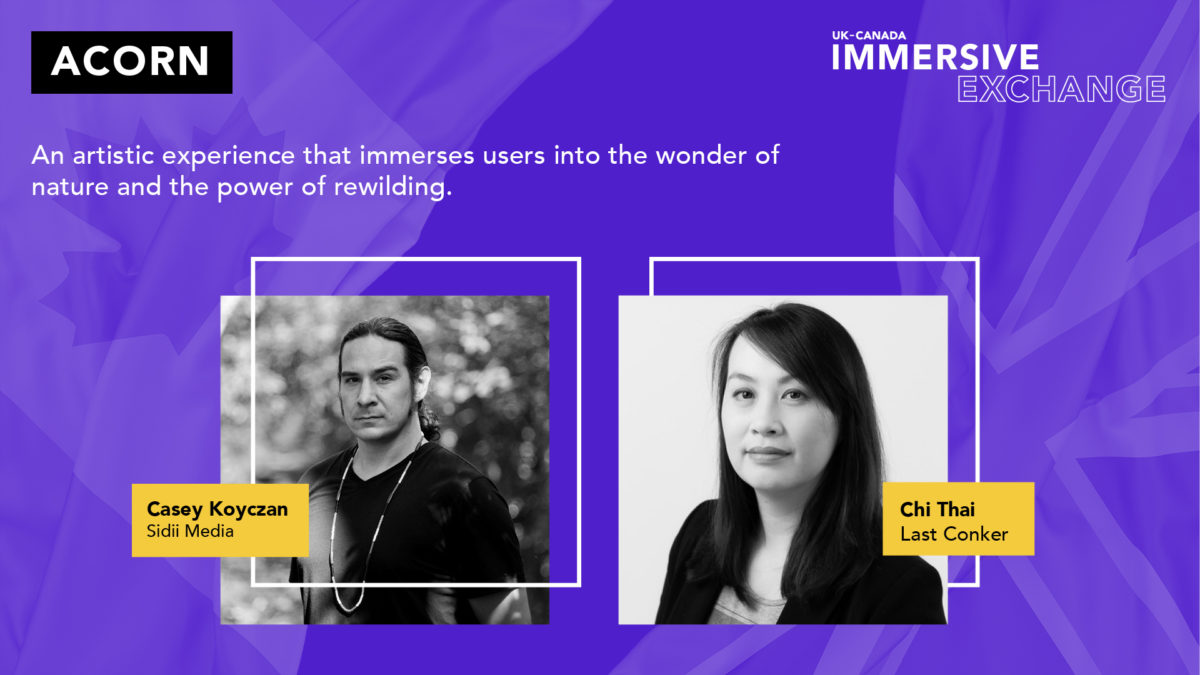 ACORN - an artistic experience that immerses users into the wonder of nature and the power of rewilding.
Led by CHI THAI, Founder of Last Conker, a BFI Vision awarded production company working across international film and television, animation and immersive, and CASEY KOYCZAN, interdisciplinary artist, composer, and VR/360/XR producer.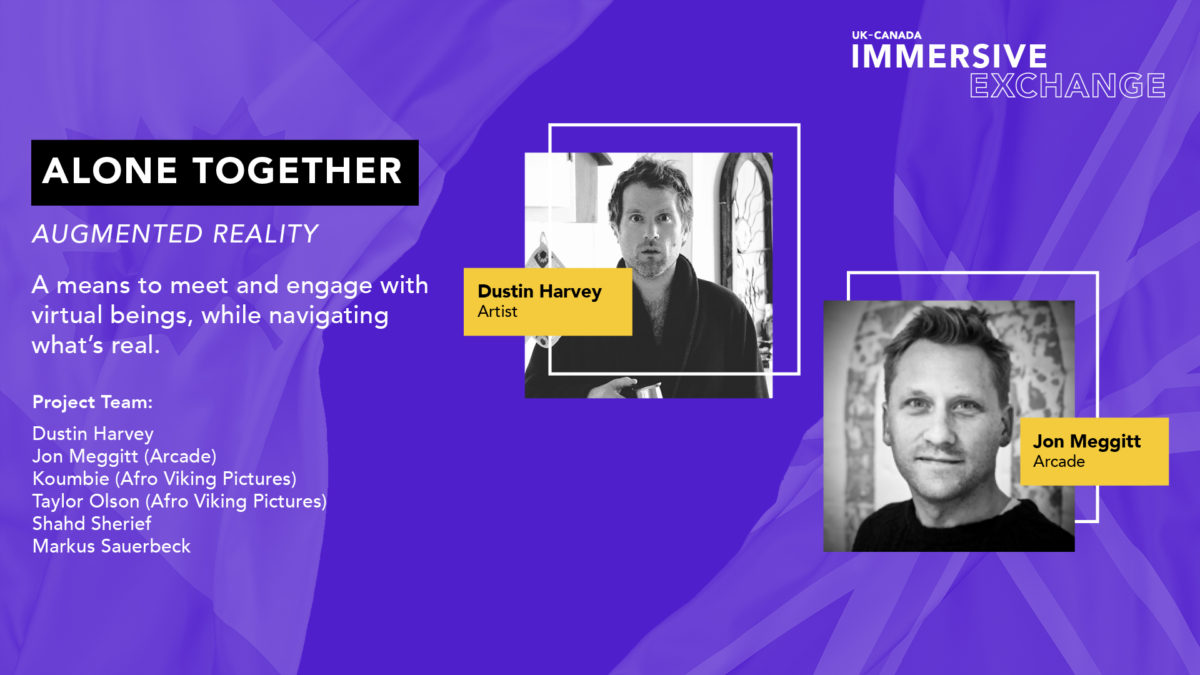 ALONE TOGETHER - a means to meet and engage with virtual beings, while navigating what's real.
Produced by DUSTIN HARVEY, theatre maker and creative director; project curator of XOSECRET, and JON MEGGITT, co-founder, Arcade, a digital practice specializing in immersive technology. The wider creative team includes Koumbie (Afro Viking Pictures) and Taylor Olson (Afro Viking Pictures).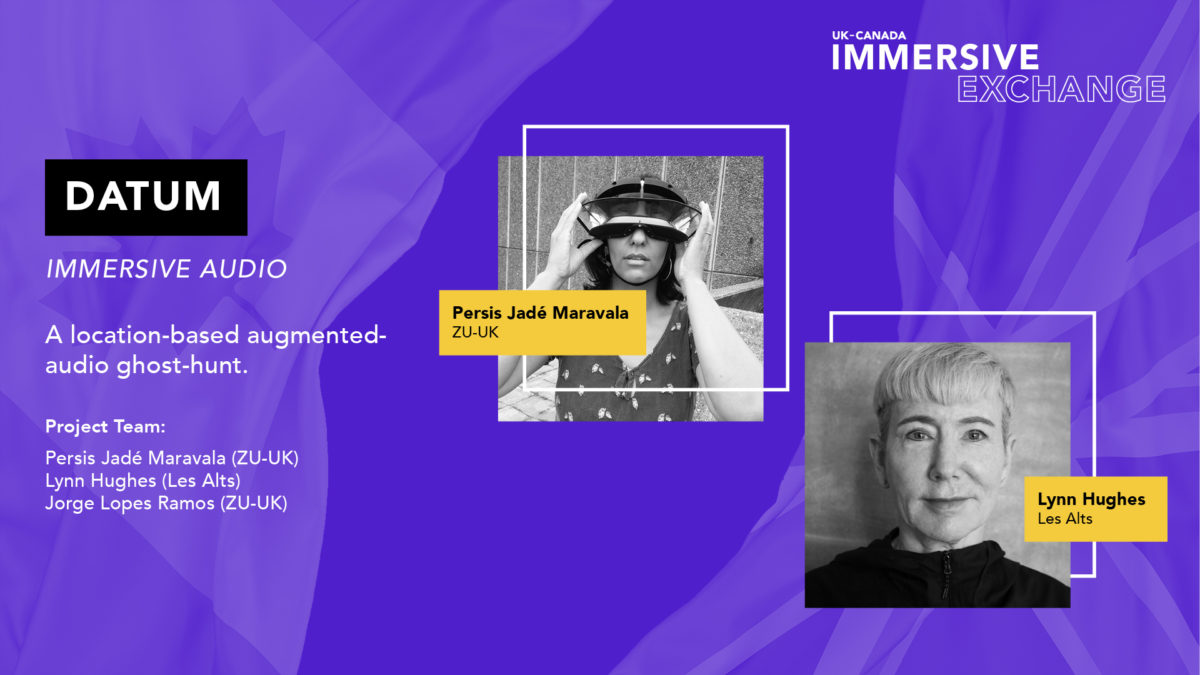 DATUM - a location-based augmented-audio ghost-hunt.
Jointly led by PERSIS JADÉ MARAVALA, artistic director of ZU-UK, working in games, performance and technology; writer and director of Hotel Medea, Binaural Dinner Date, Pick Me Up (& Hold Me Tight); making playable art for the Post Normal, and LYNN HUGHES, part of the creative team behind immersive and narrative experience Les Alts. Datum will be developed with Jorge Lopes Ramos, ZU-UK.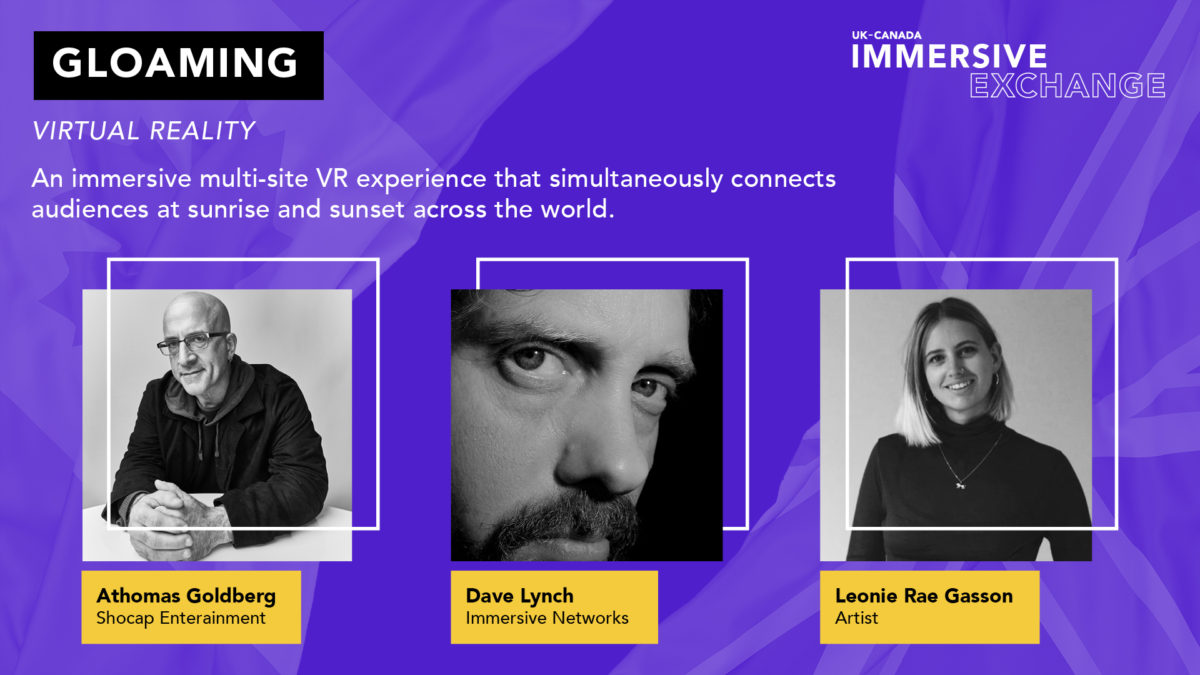 GLOAMING - an immersive multi-site VR experience that simultaneously connects audiences at sunrise and sunset across the world.
A creative partnership between DAVE LYNCH, artist, director, researcher and co-founder of Immersive Networks; creators of multisensory stories and performances across art, science, society and technology, LEONIE RAE GASSON, director of cross reality experiences, 360 film and live performance; Joint Artistic Director, Produced Moon, an interactive digital art company, and ATHOMAS GOLDBERG, VR creator and producer; co-founder, Shocap Entertainment, an entertainment production company specializing in live XR events and performances.
For more information on the UK-Canada Immersive Exchange, please click the button below
More info
Share this article: